Finder is committed to editorial independence. While we receive compensation when you click links to partners, they do not influence our content.
10 Italian leather boots that are stylish AND waterproof
Say ciao to great style through rain, snow and shine.
There's nothing worse than getting caught in bad weather when you're wearing your favorite pair of less-than-durable boots. Walking barefoot through the rain to save delicate suede? We've been there.
But it doesn't need to be that way. Aquatalia treats its Italian leather with a unique, waterproofing solution — down to each and every stitch — so you never need to dread snow days again.
Our favorites
Top 10 waterproof Italian leather boots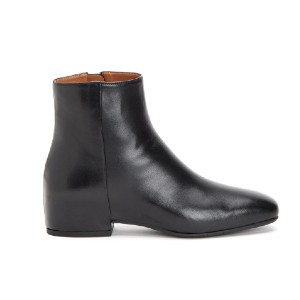 Ulyssaa
Sleek black booties from Aquatalia that add a chic, sophisticated touch to any outfit, with a hidden wedge for a boost. Pair them with wool tights for extra warmth, or slim-cut pants for a balanced, professional look.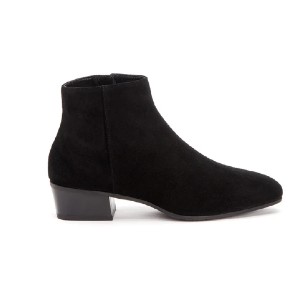 Fuoco
This versatile Italian suede bootie comes in black, navy, espresso, bark and taupe. It has a pointy toe for a hint of attitude and a short, stacked leather heel. Consider Fuoco your "go-anywhere" booties, since they're super comfy and transition from work to date night with ease.
Isaac
Every man needs a sturdy pair of lace-up boots in his closet. We like these because they're nice enough to wear for a date, client meeting or lunch with the parents, but you don't need to worry about ruining the leather if Mother Nature isn't on your side.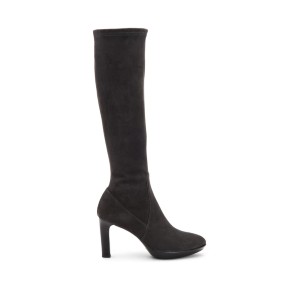 Rhumba
You won't regret buying the Rhumba boots, because every time you get dressed up — for a wedding, anniversary dinner or drinks with the girls — you'll know exactly what to wear. And thanks to the rubber sole, slipping on ice, snow or loose gravel won't be part of the festivities.
Tomas
These Italian leather boots are for the minimalist, modern gent. Pair with skinny jeans for a neo-urban look, or with straight-leg pants to keep it classy.
Nova
The Nova offers a simple silhouette that's as timeless as it is chic — call it a sole mate for your knee-length dresses and skirts. The elastic back was designed to hug your calves, while the side zipper makes stepping in and out a breeze.
Patrizio
Ladies — this is the boot to buy for your brother, boyfriend or dad! It's simple enough that even men who balk at the word fashion won't be intimidated, and those that favor true craftsmanship will be over the moon.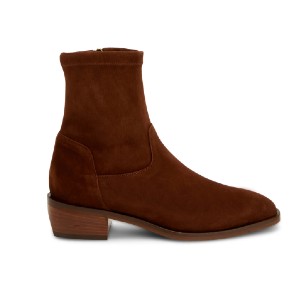 Fallan
We're getting Western vibes from this stretch suede bootie, which comes in both brown and black. Suave sisters will pair these with cropped pants, while bohemian babes might prefer a skirt that hits mid-calf.
Kyla
Nothing cramps our style like having cold feet. The Kyla boot will keep you toasty even on the harshest nights with its shearling lining and thick rubber sole. It's warm, stylish and one of our favorite pairs of waterproof Italian boots. Add a thermos of hot cocoa for the perfect winter's eve.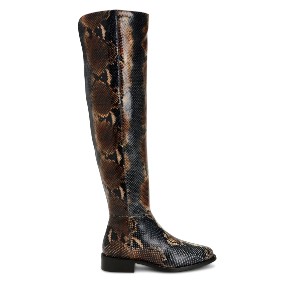 Nahla
This is the boot fashion dreams are made of. The embossed snakeskin is on-trend without being audacious, ideal for days when you're feeling a tad eclectic. Wear these, and you'll be the envy of every shoe-obsessed woman in the room.
What is Italian leather — and how is it different from regular leather?
You might be wondering whether it's worth dropping the extra dough for Italian leather boots, when you could spend less for plain old leather. The short answer? Italian leather is more pliable and durable than regular leather, due to the old-school tanning techniques used to treat the hide.
We'll break down each unique element of Italian leather, to better help you decide:
Trademarked techniques. Italian leather is not mass-produced in a factory. It's carefully crafted by expert leatherworkers using only all-natural vegetables and plant-based extracts.
Highly durable. Thanks to the tanning process, Italian leather is hearty enough to withstand significant wear and tear. Most stains, nicks and scratches can be wiped away, and the ones that can't will only add personality to your boots — like your favorite pair of jeans.
Perfectly imperfect. Since Italian leather is made in small batches rather than on giant factory lines, each pair will look slightly different. It's like buying an original painting, rather than a mass-produced print.
If you consider boots to be an investment and want to buy a pair that will be a closet staple for years to come, it's worth the splurge. But if you just want a trendy pair of shoes to get through the next few months, you could get away with something cheaper.
Is Italian leather sourced from Italy?
Not necessarily. The key to Italian leather is that it's treated in Italy using methods developed in Tuscany, but the hides may be sourced from other countries around the world.
Top Aquatalia deals and coupons