Walmart Tops Amazon in Black Friday App Downloads for the First Time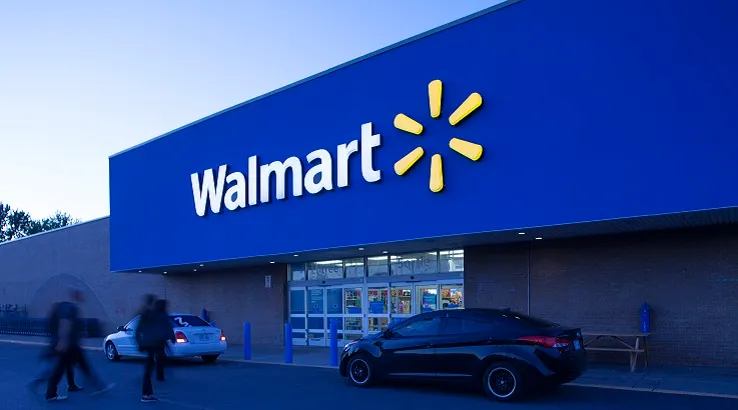 A potential indication of things to come, Walmart's app is downloaded more time in the US than Amazon's.
The retail world is in the midst of a clash of titans. According to one analysis, e-commerce giant Amazon is poised to dethrone Walmart as the nation's largest retailer by 2022. With Amazon's sales outpacing Walmart's, half of the nation's e-commerce sales will be Amazon's by 2022.
Walmart, however, is refusing to go down without a fight. Walmart — buoyed by its "click and collect" grocery pickup and grocery delivery options — is gaining in online sales. A recent survey by First Insight found that 55% of respondents indicated they preferred to shop at Walmart over Amazon. This is an increase from 47% the year prior.
According to an analysis from SensorTower, new shopping app installs on Black Friday increased 11% over last year. The top shopping app downloaded in the United States was Walmart, marking the first year the brick-and-mortar big-box store topped Amazon. Walmart's shopping app was downloaded 113,000 times on Black Friday, compared to 102,000 downloads with Amazon.
Amazon, however, maintained its dominance globally, taking the most downloads in the App Store. The company's US numbers represent a 10% decline in downloads, despite an 8% increase of year to year in shopping apps.
"This holiday season we're staying focused on what our customers care about most — incredible prices on quality brands and convenience," Steve Bratspies, executive vice president and chief merchandising officer for Walmart US, wrote in a blog post. "I'm happy to report that's exactly what our Black Friday event delivered. Our customers found amazing savings with plenty of the most sought-after items available and the flexibility to shop the big event however they wanted, whether that was with our early deals online or in our stores on Thanksgiving night."
However, app downloads do not necessarily translate into sales. Walmart's app, for example, allowed users to locate items in the physical store and to check out without having to go to the registers. Amazon reported Cyber Monday as the biggest shopping day in the company's history. Without giving specific figures on sales totals, Amazon claimed it reached record sales on toys, devices, fashion, and health and personal care items.
A Fight Among Giants
Logistically, Amazon faces a steep challenge with Walmart. Walmart invested a significant amount of capital into beefing up its e-commerce business — including experimenting with blockchain to improve its supply chain operations — to bring its legacy system up to speed. With an existing nationwide network of distribution centers and brick-and-mortar storefronts, Walmart has a physical presence in more communities than does Amazon.
This is important, because a growing segment of the e-commerce business is same-day delivery and pickup. Amazon announced in October it will offer free two-hour delivery of groceries to its Amazon Prime members. This replaces the $14.99-a-month subscription to Amazon Fresh, the company's grocery delivery service. This move reflects the company's multibillion-dollar push to improve its delivery infrastructure.
Walmart, conversely, has been increasing its delivery options, including direct-to-refrigerator delivery, grocery pickup locations at physical stores and curbside delivery via third-party apps like Instacart.
"Despite Amazon's continued growth, Walmart does have advantages Amazon presently cannot match, even when accounting for Amazon's innovative incorporation of natural supermarket chain Whole Foods in 2017 or its partnership with department store retail chain Kohl's," Packaged Facts stated, per Supermarket News.
"Most notably, Walmart's in-store services strongly differentiate it from online competitors such as Amazon, which naturally cannot provide services, as well as from its brick-and-mortar competitors, many of which do not offer the same breadth of offerings or cannot match Walmart's pricing," Packaged Facts continues. "These services therefore not only produce revenue but also significantly drive traffic, which is even more vital at a time when brick-and-mortar retailers of all shapes and sizes seek to revitalize in-store traffic."