Finder is committed to editorial independence. While we receive compensation when you click links to partners, they do not influence our content.
Best wading boots for fly-fishing
Keep your feet dry, stable and comfortable while reeling in a catch.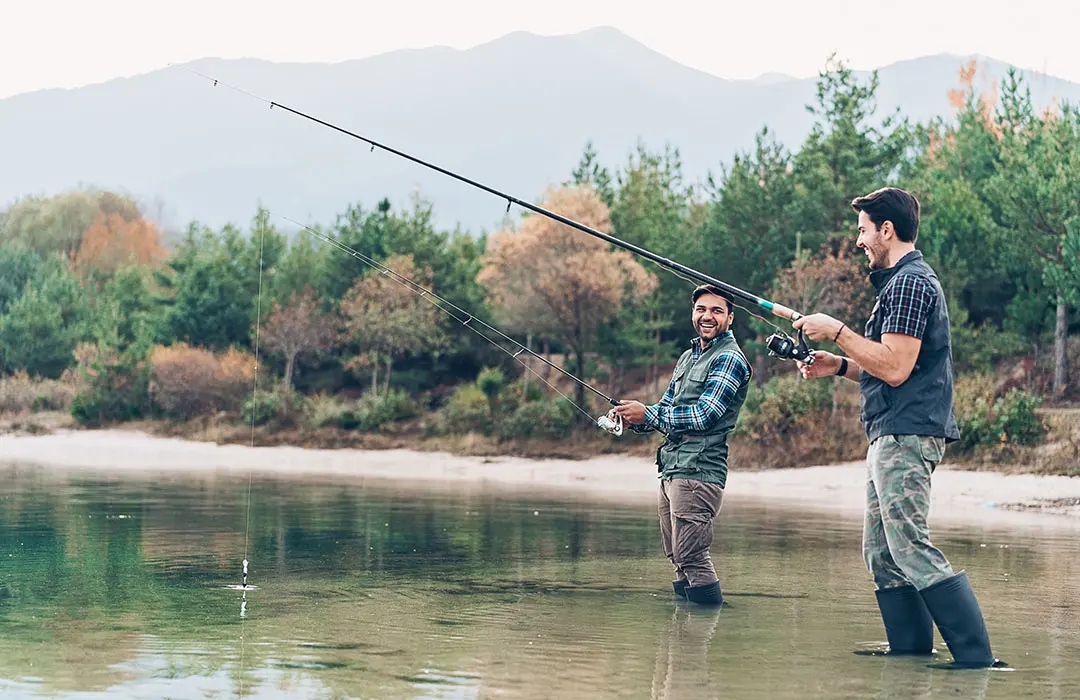 Wading boots have come a long way since the advent of stocking foot neoprene waders in the 1980s and the breathable waders of the early '90s. Today's wading boots have kept up with advances in modern materials to provide a great balance of durability and comfort.
Compare some of the best wading boots
Name
Average price
Sole type
Upper material
Closure
Purchase
Orvis Pro
$229
Michelin rubber sole
Polyurethane
Lace
Shop at Orvis
Orvis Boa Pivot
$198
Available in rubber or felt

Synthetic microfiber

Boa
Shop at Orvis
Simms G3 Guide
$230
Available in rubber or felt
Nubuck leather
Lace
Shop at Backcountry
Patagonia Ultralight Sticky
$189
Rubber sole with sticky technology

Synthetic leather and Venergy mesh

Lace
Shop at Patagonia
Korkers Wraptr Omni Trax Klingon Sole
$200
Interchangeable sole system

Wraptr tech construction with

ultra abrasion resistance

Lace
Shop at Sportsman's Warehouse
L.L. Bean Emerger
$149
Rubber

Closed-cell padding and EVA foam

Lace
Shop at L.L Bean
Reddington Skagit River
$120
Rubber
Mesh paneling
Lace
Shop at Sportsman's Warehouse
Cabela's Ultralight
$80
Rubber
Nylon/synthetic
Lace
Shop at Cabela's
Data obtained September 2019. Prices are subject to change and should be used only as a general guide.
Types of wading boots
Most differences between wading boots lie within the sole, which are generally felt or rubber. In some regions of the country, felt is frowned upon or even banned. Invasive microscopic aquatic organisms can become trapped in the woven structures of the felt, allowing them to be transported from one watershed to another.
The right type of sole depends largely on where you'll be fishing and what you're looking for in a wading boot.
Type
Best for
Pros
Cons
Felt soles
Anglers who fish slippery, rock-covered riverbeds

Less slippery than rubber soles

Not as durable
Banned in some states

Rubber soles
Anglers looking for a durable, long-lasting boot or those who fish areas where felt soles are not allowed

More slippery than felt soles
Titanium and other metallic studs are available for both felt- and rubber-soled boots to help with traction. While some boots come with studs already attached, you can also buy screw-in versions and install them yourself with a screw gun.
How to compare wading boots
Consider these important features when shopping for wading boots:
Price. A quality pair of wading boots can cost anywhere from $60 to over $200. Find a pair that's in your budget and offers the durability, support and comfort you need.
Sole material. Use the table above to help you decide if felt or rubber soles are best for your needs, keeping in mind that felt soles might be discouraged in certain areas. Some brands like Korkers have interchangeable and replaceable soles for varying wading conditions, such as slippery rocks, sand and mud.
Traction. Consider adding metal studs to the soles of your boots for added traction. Orvis released a far less slippery Pro wading boot, which features a rubber sole made in collaboration with tire manufacturer Michelin. Most other premium brands also now have a "sticky" rubber sole version similar to the Orvis Pro.
Upper material. Upper materials are now more lightweight, mold resistant and durable than in the past. Look for high-quality, water-resistant materials that will stand the test of time.
Laces and lacing system. Most wading boots use traditional boot laces, but some come with a boa closure — a concept popularized with downhill ski boots that includes stainless steel wires and an opening/closing knob. This allows you to put on the boot and simply turn the knob to tighten.
Sizing. Most wading boots come in both men's and women's sizes, and some in youth sizes. But some models are only available in men's sizing.
Case study: John's experience

John Pastorek
Editor, Slate Drake newsletter and longtime fly angler
Wading boots have long been viewed as necessary, yet unspectacular, purchases for the fly angler. While we can get excited about the latest features and styles on fishing vests, rods, reels and even waders, wading boots, to me, have always been a matter of picking a brand and model and getting the size right. Not so with the purchase of the Orvis Pivot Wading Boot with Boa Closures!
If you've never worn boots with the Boa closures, you're in for a treat of convenience! Putting boots on without re-lacing the uppers and then doing it in reverse when done with fishing saves time and many grunts and groans while tying laces and then untying the wet knots.
But that isn't the only great thing about the Pivot boot. The injection-molded insole is as comfortable as I've found in a wading boot, and the materials and construction used in the upper make it a durable product. My Orvis Pivot boots are three years old, and I log more than 50 days a year on rocky-bottomed freestone streams.
The only negative is that the outer Vibram sole is still very slippery when wet, despite the proprietary lug pattern and Orvis's claims of stellar traction. However, the addition of Posi-Grip Screw-in Studs remedies the slickness fairly well.
I've had many pairs of wading boots, but never the same brand/model twice. That'll change whenever I finally wear out my Orvis Pivots!
Safety tips while wading
When wading in high or fast-moving water, always practice good safety habits.
Wear proper footwear. Tennis shoes are not a good choice, as they're extremely slippery on wet surfaces. Good wading boots are a must, preferably with metal studs properly inserted into the sole.
Stay shallow. When the current is swift, don't wade deeper than knee high.
Have a plan. Before you wade into unfamiliar water or even rivers that you fish often but that look unfamiliar in higher water, analyze the situation. From the streambank, scout out the safest crossing area, locate steep river bottom drop-offs and unsafe current lines, and look for areas of slack water outside the main current. Keep an eye out for areas you could escape to if you slip under the water.
Wear an approved flotation device. A number of fishing vests now come with a quick inflation device than converts your vest into an emergency flotation device. Streamlined life vests are also available that will fit under or over your fishing vest.
Always wear a wading belt. And take the time to snugly cinch the belt! If you slip into the water, the wading belt will prevent water from cascading past your waist and down into the legs. Water-filled waders make it harder to stand up or maneuver.
Carry and use a wading staff. Wading staffs help stabilize your body and provide a third point of contact with the stream bottom. A number of commercial wading staffs are lightweight and convenient to use. Most are made of aluminum and are foldable or shock-corded and collapsible. Others are made from sturdy wood and easily clip onto your wading belt.
Pay attention to how you walk. Always walk perpendicular to the current when wading, resisting the temptation to wade facing the current or with your back to it. Move one foot at a time, securing a firm foothold on the riverbed before moving the other one. And never cross one foot over the other.
Know how to swim. Unfortunately, angler drownings are not uncommon. If you ever have to swim to safety, don't hesitate to let go of your fly rod or other equipment — those items can be replaced!
Bottom line
Wading boots come in a variety of types, styles and price ranges. Look for durable materials and a sole type that's a match for your style of fly fishing — whether on slippery river rocks or in the sand or mud.
Ready to buy? Compare top wading boots
Need a pair of waders to go with your new wading boots? Compare some of the best fishing waders to find the perfect match.
How did we choose these products?
To compile our list of the best wading boots, we considered the sole type, upper material, lace system, price and extra features of some of the most popular boot brands. We also considered third-party online reviews, as well as our own personal experiences with these products.
Frequently asked questions
More guides on Finder