Finder makes money from featured partners, but editorial opinions are our own.

Advertiser disclosure
How to finance a Volvo
Unlock prices, warranties and more for this reliable Swedish car brand.
This Swedish automaker has earned a reputation for building secure and reliable premium cars. But they come at a hefty price. Luckily, you have a few financing options to consider — from securing a loan through an online lender or going directly through your Volvo dealer.
How can I finance a Volvo?
If you're prepared to use the car you're buying as collateral, a secured car loan from a bank, credit union or online lender will usually offer the most competitive rates. However, it can take a few days to compare lenders and complete the application process.
Another option is to take out an unsecured personal loan. This will likely come with higher rates, though, since your car won't be used as collateral.
More concerned about getting behind the wheel of your new Volvo as fast as possible? Then financing directly through Volvo Car Financial Services may be your best bet.
While financing will typically come with higher rates, you can often pick out your car, secure financing and drive home all in the same day. You have two options to consider:
Financing through Volvo Car Financial Services. Volvo offers financing directly through its authorized dealers. While promotions vary depending on where you live, past offers include a $6,000 purchase bonus on the 2018 V90 Cross Country.*
Leasing through Volvo Car Financial Services. This is ideal if you like to switch up your car every few years. It's essentially like renting a Volvo for a specified number of miles and years. At the end of the contract, you can return the car, upgrade to a new model or buy it outright. Past offers include leasing the 2019 XC90 for $545 a month for 39 months with $4,645 due at signing.
You may find that your local dealership offers its own special promotions as well. And as always, the rates and terms you qualify for will depend on your credit history and personal financial situation.
*Rates as of December 6, 2018.
How to apply with Volvo Car Financial Services
While you can't apply online, Volvo Car Financial Services does let you request a quote from a local dealership:
Visit the Volvo Car Financial Services website and choose Volvo Shopping Tools under the Shopping Tools menu.
Select Receive a quote.
Choose the model you're interested in, enter your contact info and select your preferred dealership. Hit Submit.
The authorized Volvo dealership you selected should contact you with more information within one business day.
Volvo Car Financial Services pros and cons
Pros:
Discounts for military members, recent college grads and more
Can combine financing, maintenance and insurance costs into one bill
Late payments might come with a grace period
Cons:
No online application
No discounts for first responders
No information on potential rates or loan terms
Compare car loans to finance a Volvo
Use our comparison table for a side-by-side view of the lenders available to help get you behind the wheel of a new Volvo. Select up to four loan providers at once.
Does Volvo offer special discounts or programs?
Volvo offers special deals for military members who buy a new car while deployed overseas. Volvo also offers Volvo Care, which combines maintenance costs and insurance with your monthly car payment. See your Volvo dealership for more details.
How much will a new Volvo cost me?
When you're looking for a Volvo, you can expect to pay anywhere from $33,700 to $52,300 or more for the basic trim of a 2019 model. However, the actual price you pay for your new Volvo will depend on where you live, your negotiating skills and any special promotions you qualify for.
Choose a type
Cars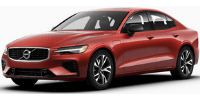 S60
Starting MSRP: $

35,800

Build: Sedan
City/highway MPG: 24/36
S90
Starting MSRP: $

48,100

Build: Sedan
City/highway MPG: 24/34
SUVs
XC40
Starting MSRP: $

33,700

Build: SUV
City/highway MPG: 23/33
V60
Starting MSRP: $

38,900

Build: SUV
City/highway MPG: Not available
XC60
Starting MSRP: $

39,800

Build: SUV
City/highway MPG: 22/29
XC90
Starting MSRP: $

47,700

Build: SUV
City/highway MPG: 21/29
V90
Starting MSRP: $

52,300

Build: SUV
City/highway MPG:

23/31
SUVs
Volvo XC90. This SUV is a serious rival to the Range Rover and other luxury brands. Top-of-the-line Excellence models feature massage- and temperature-controlled seats as well as a fridge with room for two wine bottles.
Volvo XC60. This midsize luxury SUV has won several awards including World Car of the Year for 2018. It features advanced driving assists and safety technology that rival the competition.
Volvo XC40. Options for this compact SUV include adaptive cruise control, parking assist, a 360-degree camera and an upgraded sound system, among others.
Wagons
Volvo V90 Cross Country. This crossover is perfect for those living in or traveling to areas less ventured, including unpaved roads and rough tracks.
Volvo V60 Cross Country. A practical and well-received wagon with all of Volvo's trademark technology.
Sedans
Volvo S90. An executive sedan version of the V90 wagon, this car has won awards for its roomier backseat that rivals the competition.
Volvo S60.

A smaller sedan with several trim options from the everyday Momentum specification to the performance-enhanced Polestar model.
Average insurance rates for driving a Volvo
Does a new Volvo come with a warranty?
Yes, all new Volvos come with a four-year, 50,000-mile limited and powertrain warranty. And it goes one step further to offer an industry-leading three-year, 36,000-mile complimentary scheduled maintenance plan as well.
Volvo paves the way in safety
Volvo has pioneered many safety features that are now industry standards. For example, the company developed the first three-point seat belt in 1959, but then admirably gave up the patent rights so that all car makers could adopt this life-saving invention.
The luxury car brand also created the rear-facing child safety seat, side-impact airbags and blind-spot monitoring. Volvo continues to be an early adopter, announcing that starting in 2019, all new Volvo models will be electric or hybrid powered.
Bottom line
Volvo is known as one of the most innovative brands in the business, and it's easy to see why. If you've got your heart set on one, you can finance it on your own through a bank or online lender to score a more competitive rate. But if speed is your main concern, you may want to go directly through an authorized Volvo dealer.
Compare lenders and learn more about how car loans work with our comprehensive guide.
Frequently asked questions about Volvo financing
Should I buy a new or used Volvo?
New Volvos offer a long warranty and support from a dealer with the option to tailor the color, trim and features to create the exact car you want. Buying from the manufacturer is often easier than arranging your own financing and handling all the ensuing paperwork. However, the downside to buying a new car is the high sticker price and depreciation when it comes to selling it.
On the other hand, if you opt for a used but well-loved Volvo, you could save on depreciation. But there's the risk you're purchasing from an untrustworthy seller who's passing you a lemon. If you don't know much about cars, take someone along with you who does.
Which Volvo should I buy?
This really depends on your personal taste and circumstances. If you have a family and want a bit more room, go for one of the SUV or wagon models. Volvo wagons are legendary for their safety, reliability and high build quality.
I'm looking for a luxury SUV. Is Volvo a good choice?
Yes. The XC90 is a true Range Rover competitor with a fridge and massage seats, though these comforts come at a premium price.
Image source: shutterstock and Volvo's official page