New Spanish-first mobile bank for Latinos ready to launch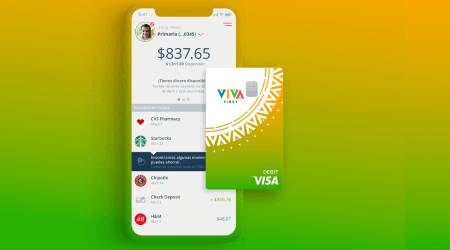 Viva First is another new waitlisted app and Visa card set to roll out sometime in 2022.
Another new mobile bank is planning to hit the market sometime this quarter, beginning in Texas border towns. But what sets Viva First apart from others is its focus on Spanish.
Like the recently announced Greenwood Bank for Blacks and Latinos, Viva First has a waitlist for interested customers but hasn't launched just yet.
Much earlier this year, Cuentas released a mobile bank account and a prepaid debit card.
Here's what we know about Viva First and how it compares.
At a glance
Name: Viva First
Type: FDIC-insured mobile bank account with Visa debit card
Cost: Free account with no overdraft fees or other "sneaky charges"
Features: Industry-leading security, smart saving recommendations, highly personalized messaging, app toggle switch to turn off your card if it's lost or stolen
Deposit options: Mobile check deposit and cash deposit wherever Green Dot is accepted, including Walmart, CVS, Kroger and Family Dollar
How Viva First compares to others
Viva First targets the estimated 52 million-strong Latino community through a Spanish-first mobile app and Visa debit card that sport the no-fee approach to digital banking that has become the norm.
"The Latino community has largely been banked in the wrong way with misguided practices. We're going to deliver a banking solution that truly speaks their language and gives them every account feature they could ever expect," said Chief Evangelist Natalia Muñoz-Moore in announcing the new account.
Besides an innovative savings feature and the safeguard of a mobile on-off switch, though, Viva First doesn't go into detail about what account features the brand is aiming to provide.
Greenwood Bank, on the other hand, has a full savings account that comes with the spending account, plus two-day early direct deposit and peer-to-peer transfers. It also has some celebrity backing in rapper Michael "Killer Mike" Render, among others.
But in both cases, interest rates and other specifics are still unknown.
Cuentas is aligned with Mastercard rather than Visa, and its primary aim is to help lower the barrier to getting a bank account for those who don't have the documentation traditionally required. Comparatively, its feature set is also quite basic.
How to sign up for Viva First
Join the waitlist by visiting vivafirst.com and entering your name and email address. The brand will then notify you when it opens up in your area. Latinos in El Paso, San Antonio and parts of the Rio Grande valley are slated to get access first.
Photo: Supplied