Finder is committed to editorial independence. While we receive compensation when you click links to partners, they do not influence our content.
Tips for traveling in Vietnam
Learn how to get a taxi and see the sights — just don't forget the snake wine.
I thought I had experienced Vietnam without ever having to go further than the Pho restaurant around the corner.
I was very, very mistaken. Real life Vietnam is far from the version I was raised on, but after traveling there I learned a thing or two that might prove helpful for fellow travelers.
Prep work: Booking flights, accommodation and your visa
I spent a total of 10 days, 9 nights in Vietnam, starting in Ho Chi Minh city followed by Hoi An, rounding out the trip in Hanoi. Flights ate up a large chunk of my trip expenses and the accommodation were relatively cheap — eating there is a steal.
The best bit of advice I can give for booking flights is to do your research before forking over any cash.
Finding cheap airfare to Vietnam
I was prepared to fly budget, but I found an airline that was having a sale and basically matched the lowest prices available. I booked together with the people I traveled with and put all of the flights on my rewards credit card — which means I scored a bunch of reward points in the process.
In the end, my flights cost me about $1,000 including the two short flights within Vietnam itself. I traveled in May which isn't peak season and that helped with prices too.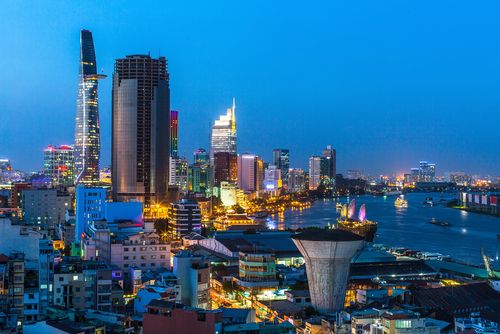 How much does it cost to stay in Hoi An?
Choosing where to stay was a bit tricky. Don't bother looking for hostels to stay at as the hotel prices are pretty low anyway.
Hoi An is a small town and the prices reflect that; split with friends, I ended up paying less than $30 a night there on our hotel room — and it was really nice.
The other hotels we stayed at were a bit less luxurious, but all three provided a buffet breakfast. Prepare to see Pho and noodles on the menu for breakfast wherever you go.
You'll need a visa when heading to Vietnam
You've got a few options to do this, but the easiest is to get it done online. There are a lot of scam websites out there that will offer Vietnam visas but not deliver, so be careful. Personally, I used Vietnam-eVisa.org on a recommendation from a friend and I received my visa request in an email a few days after I applied and paid.
Another must before flying to Vietnam is protecting yourself with travel insurance. In Vietnam, you can rent a jet ski for half an hour for about $25, but it comes with a life jacket and nothing else — no boundaries, no rules. It's fun, sure, but I wouldn't do it without insurance as my safety net in case anything happens (like crashing into a fishing boat which can — and to me, almost did — happen).
Book a hotel for your stay
First impressions
After a nine hour flight, I got my baggage and went through immigration. Landing in Ho Chi Minh, we had to head off to a small counter after baggage claim to receive our visa on arrival before heading outside.
You'll stumble upon some outdoor ATMs that charge marginally less than those inside the airport. Cash is necessary if you want to enjoy Vietnam on the cheap, as many restaurants and stores prefer cash. It converts roughly so that 20,000 Vietnamese Dong is just short of a dollar.
As soon as you step outside, taxi drivers will swarm you. There are two golden rules you have to follow when you get a taxi in Vietnam: one — never get in one without first agreeing on the price, and two — never accept the first price you get.
I made my first big mistake when we arrived at our hotel. I had booked the accommodation with my rewards credit card but I hadn't brought that card with me — don't do that.
Luckily, I knew my credit card number by heart and had my passport as proof of identity which they accepted, otherwise I have no clue what I would have done.
What to do during your stay and how to pay for it
To truly enjoy Vietnam, you're going to have to learn to haggle. The normal tourist tax is about a 70% to 100% markup, so always start your bids for at least half of the asking price. This goes for everything: taxi rides, cart and stall food and souvenirs.
The worst that can happen when bargaining is you get told it's a set price. At best, you save some cash.
The Cu Chi tunnels (pictured) are really interesting and I fully recommend a day tour there.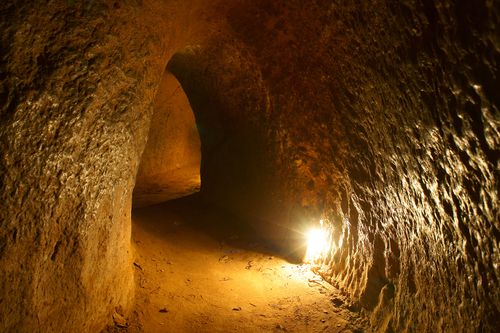 And the ruins at My Son are also breathtaking, so make sure to visit them.
The one thing you may want to pay for with your credit or travel card are the tours and travel packages.
You can avoid credit card fees and get a straight price if you have a card with no currency conversion fees. You'll have to pay for most everything else in cash though.
Key places to visit in Vietnam
Hanoi has an especially good night market that you must visit, while Ho Chi Minh and Hoi An both have huge, sprawling markets set up during the day. Make sure you pick up a bottle of snake wine here; bit tricky to get past customs, but it makes a great souvenir.
There are also beautiful shrines and temples littered throughout the cities that you have got to see. Most you can just walk into off the street and enjoy for free, but some will require a "donation" to enter. Vietnam is bursting at the seams with culture you're sure to enjoy.
Bring Flip-flops or closed waterproof shoes
When it rains in Vietnam, it pours. Usually the showers only last less than an hour before it becomes muggy and hot again, but it'll drench your shoes and leave them grimy if they're made of canvas or similar materials.
Using your phone in Vietnam
Don't bother packing a travel sim card to save on roaming charges; everywhere in Vietnam has free fast and stable Wi-Fi. Even the beach and parks have free public Wi-Fi.
Download Skype or set up your iTunes account for Facetime before you leave and you'll be all set.
Bottom line
There you have it — a traveler's guide to Vietnam complete with travel money, shopping and fashion advice. Before you go, browse travel deals to save money on your Vietnam vacation.
Frequently asked questions