Finder is committed to editorial independence. While we receive compensation when you click links to partners, they do not influence our content.
Verifone VX 520 review
This simple card reader has all your customers need to swipe, dip and tap.
Point-of-sale (POS) hardware options are plentiful, and finding the best fit for your business depends on what you need your hardware to do. The Verifone VX 520 is a straightforward card reader equipped to handle credit and debit card payments, but make sure it integrates with your payment processor before committing to a purchase.
Choose this terminal if you want a no-frills EMV-enabled card reader.
Consider something else if you need an all-in-one tabletop POS solution.
Details
| | |
| --- | --- |
| Connectivity | Dial-up, Ethernet |
| Accepted card types | Magnetic stripe, EMV chip, Contactless |
| Dimensions | L 20.3 cm x W 8.7 cm x H 6.2 cm |
| Screen | Non-touch 2.6" monochrome LCD |
| Keypad | 3 x 4 numeric backlit keypad |
| Receipt | Printed |
| Power Supply | Battery, Plug-in |
| Battery Information | 1800 mA lithium-Ion Smart battery |
| Cost | Ranges from $140 on Amazon to $225 from Gravity Payments. |
Features
The Verifone VX 520 is a countertop card reader designed to take payments at the point of sale. It's EMV-, NFC- and MSR-enabled and boasts 160 MB of memory. It has a 400 MHz, ARM11 32-bit RISC processor and it can connect through dialup, USB, Ethernet and Wi-Fi.
How much does it cost?
It's not clear whether you can purchase the terminal directly from Verifone, as there are no prices listed on its website and the listing doesn't provide any purchase options. We called on multiple occasions to ask about the price of this card reader but the Verifone reps we spoke to couldn't supply the information we requested.
Third-party provider prices for the Verifone VX 520 range from $140 on Amazon to $225 from Gravity Payments.
How can I get it for free?
Some payment processors offer free point-of-sale hardware as a perk for new clients. If you're looking to get your hands on a Verifone VX 520, as of January 2020 the following processors offer this device for free when you sign up for payment processing:
Global Merchant
Advanced Merchant Services
National Bankcard
Pros and cons
Pros
EMV-ready. The EMV-compliant Verifone VX 520 allows you to accept chip and magstripe cards.
Secure. This card reader uses VeriShield Total Protect to encrypt transactions from end-to-end.
Expandable memory. The Verifone VX 520 features expandable memory in the event you need to surpass its 160 MB memory.
Cons
No prices. Verifone isn't forthcoming about the price of its devices on its website or over the phone
No touchscreen. If you're seeking a tech-savvy card reader with a touchscreen, you may want to pass on the Verifone VX 520.
Limited features. The Verifone VX 520 is a straightforward card reader and offers no additional POS features.
Verifone VX 520 reviews and complaints
Verifone is not a Better Business Bureau (BBB) accredited business but does receive an A- BBB rating. On Amazon, the Verifone VX 520 has 53 positive reviews and 19 critical reviews, as of October 2020.
Merchants report that the machine is easy to use and set up, but complain that the device isn't compatible with all payment processing platforms.
What's in the box?
Here's what comes with the Verifone VX 520:
Verifone VX 520 card reader
Power cord
Phone line cable
Roll of receipt paper
One-year manufacturer warranty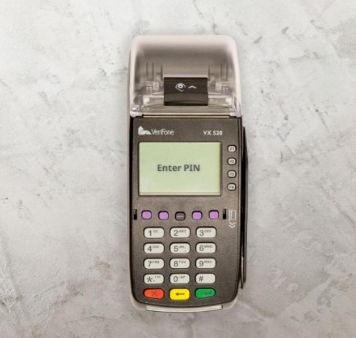 Image source: supplied, Photographer: Verifone
Setup
Expect set up time to take between 10 and 20 minutes.
Open the printer cover at the top of the terminal and insert the roll of paper so that the paper feeds up from the bottom of the roll.
Close the printer cover and tear off any extra paper.
Remove the power cord, unlock the rear cover and connect the power adapter to the round port.
Connect the phone cable to the phone port or an ethernet cable to the ethernet port.
If using an ethernet port, connect the ethernet cable to an open numbered port on an available router.
If using the phone port, connect the cord to an analog wall jack not shared with other devices.
Press the F3 button to select SOFTPAY-FDMS and enter the main menu.
How do I contact Verifone support?
Access Verifone support by:
Phone. Call 800-837-4366 weekdays from 9 a.m. to 6 p.m., ET.
Email. Fill out a secure online form on Verifone's website for an email response within one to two business days.
Live chat. Verifone's technical support is available through its live chat feature 24 hours a day.
Compare payment processors
Bottom line
The Verifone VX 520 helps you process debit and credit cards at the point-of-sale. It can be purchased from third-party providers and has a setup process that's simple to navigate and quick to complete. But you'll want to ensure it can integrate with your chosen payment processor before you purchase it.
Explore your point-of-sale hardware options with other providers to find the best equipment for your business.
Frequently asked questions
Is the Verifone VX 520 PCI-compliant?
Yes, the Verifone VX 520 is PCI PTS 3.X-certified.
How do I settle my Verifone VX 520?
Most accounts are programmed to batch out automatically but if you'd like to manually settle a batch, press the leftmost purple key below the screen. Next, press the F2 button for settlement. Your terminal will print a report with completed transactions and total sales.
Who do I contact for Verifone VX 520 technical support?
Verifone technical support is available by phone 24 hours a day at 800-837-4366.