Finder is committed to editorial independence. While we receive compensation when you click links to partners, they do not influence our content.
Vayama coupon codes
Plan a trip overseas with ease.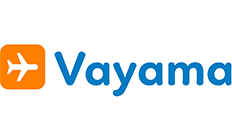 How do I use my promo code?
To use your Vayama promo code, follow these steps.
Visit the Vayama website.
Enter your travel details and click Search for flights.
Choose an option and click Book flight.
Enter passenger information, and click Next to continue to payment.
Click Enter coupon code, enter your code and click Add.
Vayama only offers promo codes for purchases of flights, though you can still take advantage of its discounted rates for hotel rooms, car rentals and airport transfers.
Why is my promo code not working?
Make sure the promo code is valid and applicable to your trip, including destination and dates.
Contact Vayama directly for help using a specific code.
Cancellation, refund and change policies for flight tickets
Cancellation and refund policies vary depending on the airline you booked with. Click View flight details & conditions at checkout for details — and note Vayama offers free cancellation flexibility as an optional add-on at checkout.
Most airlines let you cancel a ticket within 24 hours of purchase for a full refund. If you book a ticket more than seven days from departure, you can call Vayama to request a penalty-free refund.
But if you cancel tickets after that initial 24-hour period — or you booked less than seven days from departure — Vayama charges a fee of up to $200 per person. If you want to change your tickets, you'll have to cover the difference in fare, plus any penalties charged by the airline and Vayama's $100 change fee.
For low-cost airlines, contact the carrier directly to change or cancel a ticket.
Log into your account to manage your Vayama bookings.
Cancellation, refund and change policies for hotels, car rentals and airport transfers
Vayama's cancellation policies for hotels vary by provider, though most hotels will let you cancel free of charge at least 24 hours before check-in.
You can cancel or change most car rental reservations and airport transfers without penalty. But regardless of what you're booking, read the terms and conditions in advance to understand the exact policies.
Top competitor coupon codes
If you're looking for better deals than what Vayama has to offer, shop around:
Traveling during COVID-19
The CDC advises postponing travel to protect yourself and your family from getting or spreading COVID-19. If you plan to travel during the pandemic, monitor the
risk assessment levels for your destination
when planning your trip, before departure and on arrival. Follow safety measures that include wearing a mask in public, social distancing and washing your hands. If you are diagnosed with, have symptoms of or are waiting for test results for COVID-19 — or are otherwise at risk of illness — do not attend gatherings or travel for 14 days.
Frequently asked questions
Does Vayama charge service fees for plane tickets?
Yes. Vayama may charge service fees up to $25 per domestic ticket and $50 per international ticket.
Can I buy travel insurance when I make a purchase with Vayama?
Yes. You should get the option to opt in to travel insurance at checkout. Vayama's travel insurance is provided by AIG.
What can I buy through Vayama?
Vayama helps you search for and book the following:
Flight tickets
Hotel rooms
Car rentals
Airport transfers
More guides on Finder