Finder is committed to editorial independence. While we receive compensation when you click links to partners, they do not influence our content.
Varidesk ProDesk 60 Electric review
This American company stretches out of its comfort zone with its first electric standing desk.
When you're diligently working in an office or at home for eight or more hours a day, you want your workstation zenned out — and that includes your desk. Choosing one that gives you the option to sit or stand allows you to work comfortably and can alleviate the risks associated with parking yourself all day in one position.
Known widely for its desks and desktop converters, Varidesk upped its game by rolling out its first electric standing desk in early March 2018: the ProDesk 60 Electric — priced at $995.
The desk is a part of the established ProSeries, which means Varidesk did well with most of its design features. But the company may want to resolve a stumbling block or two for the next model.
VariDesk sent us a desk for free so we could try it out. Regardless, you're getting my honest, unbiased opinion.
Kyle Morgan
Varidesk ProDesk 60 Electric
| | |
| --- | --- |
| Minimum height | 25.5″ |
| Maximum height | 50.5″ |
| Range | 25″ |
| Dimensions | 60″ wide, 30″ deep, 1.25″ thick |
| Weight capacity | 250 lbs. |
| Weight | 141.5 lbs. |
| Desktop finishes | Black, Butcher Block, Darkwood, Reclaimed Wood and White |
| Leg finishes | Silver and Slate |
| Desktop material | Laminate |
| Accessories | Cable management tray, hanging clips and coaster |
| Controller | 3 programmable presets for height adjustment |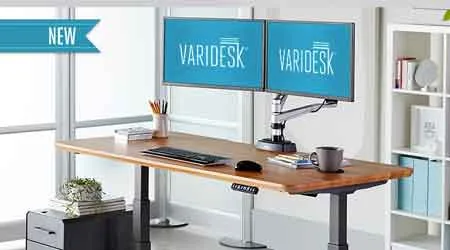 PRODESK® 60 Electric
The Pro Desk assembles in about 5 minutes with no tools required and goes from sitting to standing in just three seconds.
Powerful, quiet motor makes it easy to go from sitting to standing
Holds up to 250 lb (113.4 kg)
Watch our unboxing
Packaging
The ProDesk Electric 60 is expertly packed and arrived to the finder office intact. However, you might need a hand to move the two boxes it's in — it's too heavy for just one person.
One box contains the desktop surface, and the other is packed with two legs, a cable management tray, a cross-support bar, the few tools you need to put the desk together plus some desk hooks and a coaster.
Assembly
For an electric standing desk, Varidesk outshines many of its competitors in ease of assembly. It was harder getting everything out of the box than it was to put the desk together.
With the mount already attached to the bottom of the desktop, you've a handful of quick steps for assembly:
Slip each leg into the metal grooves — labeled left and right, so you can't mess it up — and tighten two screws to secure each leg with the Allen wrench provided.
Click the power supply cables into each other.
Slide the cable management tray into its bracket.
Attach and hammer in the cross-support bar with the rubber mallet until it's snug.
Flip the desk over, and it's just about ready for eight hours of typing and surfing the Internet.
Plug in and initialize the programmable controller by holding the up and down buttons.
Though Varidesk says that the ProDesk 60 Electric can be assembled in five minutes, it took us about 10 minutes.
Features
Desks are no longer just flat surfaces with four legs. The office furniture industry puts more thought into desk design than ever before to provide the user with an efficient, relaxed workspace.
Here's what stands out on the ProDesk Electric 60:
Desktop. The size of the desktop and how much weight it can support results in an accommodating workstation for nearly any home or office. It's easy to clean and tough to scratch, plus the stylish colors and smooth beveled edges add a touch of sophistication.
Programmable height presets. Once you find your sweet spot for sitting and standing within the desk's 25-inch range, save up to three height adjustments with a push of two buttons on the LED control panel. The motor quietly raises and lowers the desk at about 1.28 inches per second.

Customizable finishes. Choose from five desktop finishes for just the right look the matches your workspace. For the frame, you get the style Varidesk matches with the top.

Cable management tray. Organize your cables in the back tray to prevent wires from hanging off your desk like unruly jungle vines.
Accessories. Throwing in a coaster, desk hooks and Velcro straps to keep your cables together is a nice touch for your workstation.
Pros and cons
When buying a new piece of furniture — especially a pricey one — you'll want to know it can stand the test of time for your everyday needs. Among it's benefits are a few design drawbacks to keep in mind.
Pros
Easy assembly. You don't have to be handy to put this desk together. Varidesk includes the tools and a detailed instruction booklet that can guide nearly anyone through installation.
Five-year warranty. At the end of March 2018, Varidesk updated its one-year warranty to a generous five-year warranty, providing extended peace of mind.
Return policy. Use the desk for 30 days before deciding if it's the right fit for you. Even better, you'll get free return shipping and Varidesk will send a box to return it in if you didn't keep the original packaging.
Free shipping. It'd cost a pretty penny to ship a desk weighing more than 100 pounds. But Varidesk ships for free via FedEx anywhere in the continental US.
Cons
Crossbar placement. The crossbar found at the bottom of the desk's telescoping legs can result in two issues. At heights of 40 inches or more, the desk rocks slightly, which may get annoying. And because the bar is at knee height, you may smash your shins or knees when stretching out in a sitting position.
Trouble with monitor arms. Some jobs require the ease of multiple monitors. But the ProDesk 60 Electric isn't compatible with many monitor arm brands due to tight space near the cable management box. If you use a monitor arm, you'll either need to set it all the way to the side of the tray or buy from Varidesk.
Price. There's no way around it: At nearly $1,000, this is an expensive desk. Not every consumer can afford to drop that kind of cash on a desk when they can buy one elsewhere for a fraction of the price.
Bottom line
The Varidesk ProDesk 60 Electric can add versatility and quality to your workstation, allowing you to change up standing or sitting throughout the day. But it comes with a high price tag when compared with other office furniture.
Still, it's an efficient, quality desk with finishes that fit well into any home or office decor. And if you find it's not the right fit for you, send it back within 30 days for a hassle-free return.
Top VariDesk deals and coupons March 2021
It looks like we don't have any coupons at the moment.
Image: VariDesk
More guides on Finder