Get funding for your next recreational vehicle — with fixed APRs and flexible terms — from this highly trusted bank.
Looking to take on the open road on a motorcycle or in the comforts of an RV? Do you want to race the waters on a new jet ski, snowmobile or ATV? A loan from USAA could get you the money to buy your next recreational or leisure vehicle with competitive fixed rates and flexible terms from a top-rated bank. However, you'll need to be eligible for USAA membership in order to qualify.
What types of recreational or leisure vehicle loans does USAA offer?
USAA offers loans for four different types of vehicles: RVs, motorcycles, boats and other general leisure vehicles. The amount you can finance varies by vehicle and your terms will depend on your credit score and other financial information you provide.
RV loans. You can use a loan from USAA to purchase the RV of your dream, from motorhomes to travel trailers. USAA's rates start as low as 5.25% and terms can extend up to 180 months.
Motorcycle loans. You can finance your next ride through a USAA motorcycle loan. Terms range from 24 to 72 months, and borrowers with excellent credit may qualify for a rate as low as 5.99%.
Boat loans. Borrowers with excellent credit may be able to finance a boat at a fixed rate of

5.75

%. Terms last between 48 to 180 months.
Leisure vehicle loans. Finance your new personal sport or leisure vehicle — ATV, UTV, snowmobile or jet ski — with fixed APRs as low as 5.99% and terms from 12 months to 72 months.
Compare other lenders offering loans for recreational and leisure vehicles
What are the benefits of a USAA leisure vehicle loan?
Competitive APRs. Whether your loan is for an RV, boat or ATV, rates are among the lowest you'll find with a big-name bank.
Minimal fees. There are no prepayment, application or other fees over the life of your loan.
Autopay discount. You can get a 0.25% discount on your APR if you sign up for autopay with your loan.
What to watch out for
Military only. USAA loans are only available to current and former members of the US military and their families.
Poor customer reviews. Over 90% of reviews on the Better Business Bureau (BBB) are negative and it scores a very low 3.4 out of 10 on Trustpilot.
Long terms not available for all loans. Your term length will be limited by the amount you're looking to finance and the vehicle you want to buy.
What do other customers have to say about USAA?
Although USAA isn't accredited by the Better Business Bureau (BBB), it has an A+ rating as of June 2018. However, it also has over 1,400 customer complaints, and 91% of its 344 customer reviews are negative. Many of these complaints center around issues with car and home insurance, although some mention problems with auto loans not being paid out in a timely manner and having discrepancies between the loan amounts they applied for versus what they received.
On TrustPilot, the USAA receives a rating of 3.4 out of 10. Only 34% of customers rate it "Excellent," while 45% rating it "Bad." The nearly 30 reviews on the site are a mixed bag, with some praising the company's customer service and others complaining about unexpected account closures and improper processing of paperwork.
Am I eligible?
To apply for a recreational or leisure vehicle loan with USAA, you must
Be a USAA member — a member of the military or part of a military family
Have good to excellent credit
Be at least 18 years old
Be a US citizen or permanent resident
How do I apply?
To apply for a USAA recreational or leisure vehicle loan, you must be a member. Visit USAA online and click Join USAA to get started.
If you're already a member, log in to your account and navigate to USAA's RV, motorcycle and boat loans page. From here, you can select the type of loan you're looking for and start the application.
To apply, you'll need to enter some information about yourself.
Your personal information, including your date of birth and Social Security number
Your employment and financial information, including your bank account for autopay
Details about you or a family member's military service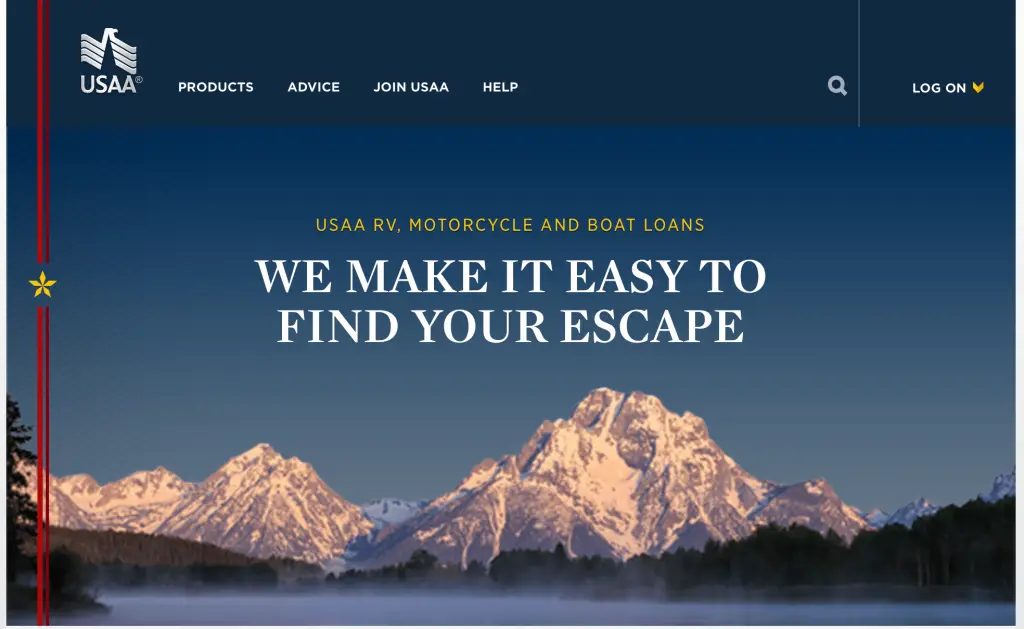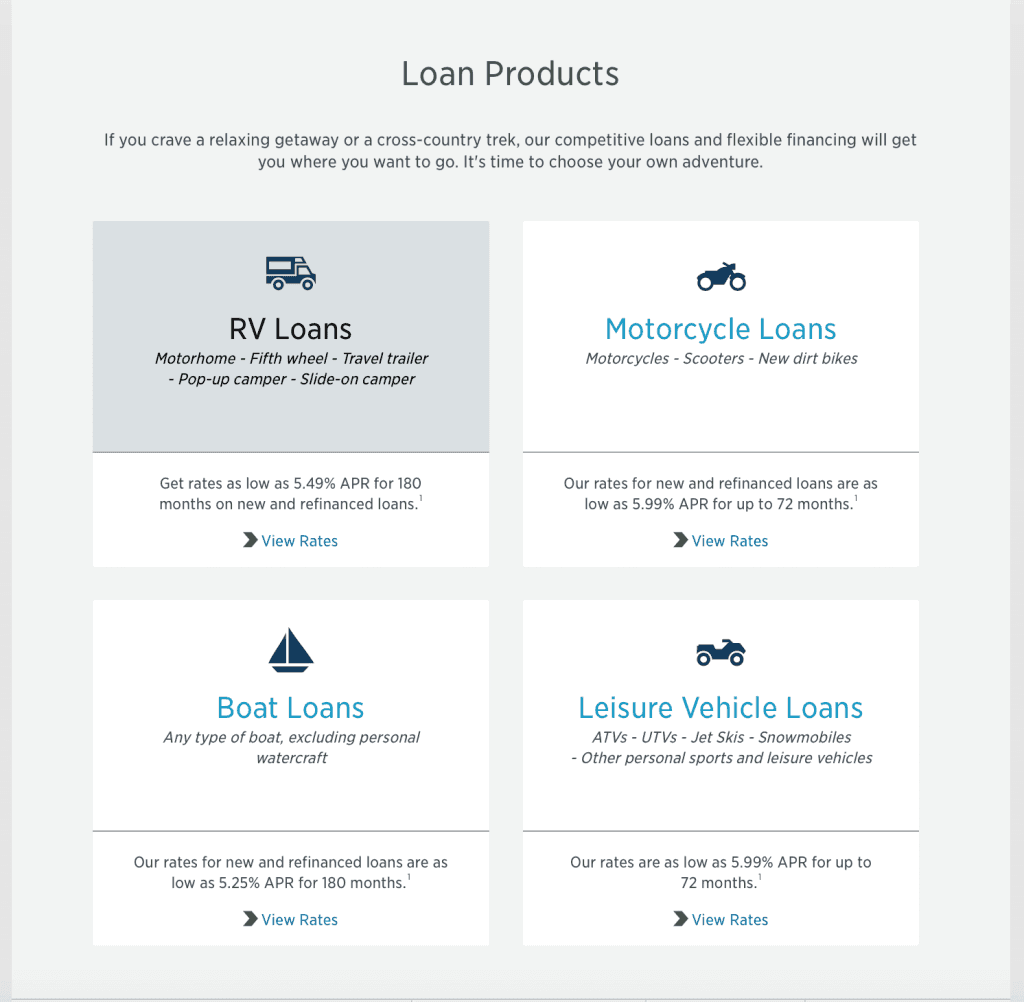 Once you've submitted your application, a specialist considers your loan request against. USAA typically notifies borrowers of a loan decision within one to two business days.
I got a USAA loan. Now what?
Now that you have your loan and can finance your next leisure vehicle, be sure to keep up with payments. Here are a few pieces of advice:
Make timely payments. Avoid any late payments by setting up autopay from a USAA checking account.
Pay more than the minimum. To avoid accruing excessive interest over the life of your loan, consider paying more than the minimum amount required each month.
Bottom line
A USAA RV, boat, motorcycle or general leisure vehicle loan could get you funding to get on the road for cross-country adventures to enhance your time away with family and friends — all with competitive rates and flexible terms from a trusted bank. But you'll need to be a USAA member. If you aren't affiliated with the military, compare other loan options to find a better match for you.
Frequently asked questions