US-UK travel corridor may open for the holidays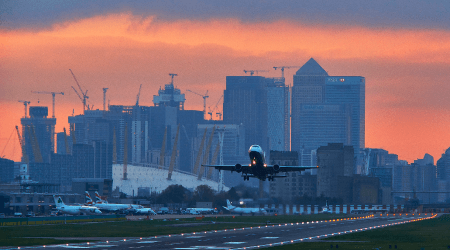 The two countries are working on final approvals for their plan.
Officials in the US and the UK are working together to open up travel between New York City and London in time for the holidays, according to a report from the Wall Street Journal. Currently, US travelers are allowed to fly to London but must undergo a 14-day quarantine upon arrival. The proposed corridor would allow people to travel back and forth with a shorter quarantine time as long as they test negative for COVID-19 before departure and after touching down.
We don't know all the details yet, as the two countries are still working out particulars. Transportation industry officials and an airline trade group suggest a 24-hour quarantine, but some federal officials are reportedly urging longer periods of isolation. One thing that everyone seems to agree on is mandatory COVID-19 testing at the airport.
Apparently, the National Security Council and the White House have already approved the corridor plan to move forward. But in order for it to become reality, the Department of Transportation, Department of Homeland Security and other government agencies will also need to give it the green light.
What does this mean for the future of travel?
If the US-UK travel corridor is approved, which we think is likely given the fact that the National Security Council is on board, this could set the precedent for transatlantic flights in the coming months — especially before a COVID-19 vaccine is widely available. It may also help the EU open up to US travelers (we've been banned from entering since the pandemic began).
This corridor would also be a boon for airlines that are suffering financially due to the COVID-19 pandemic. OAG, which analyzes international travel data, reported in 2018 that the NYC to London route brings in over $1 billion in yearly revenue for British Airways — the top revenue route in the world. This corridor would also help bring tourist dollars to the Big Apple and London, which could help businesses that are struggling to stay afloat due to restrictions during the coronavirus pandemic.
Aaron McMillan, the managing director of operations policy and support at United Airlines, has said that negative test results will be the norm in travel until a vaccine is widely available, at which point proof of vaccination may be the ticket.
Are there enough COVID tests for this?
The US is averaging around 30 million tests a month right now, while there were about 90 million tests available in September, according to the Department of Health and Human Services, as reported by the WSJ. While there isn't a shortage of COVID-19 tests at the moment, there are still some doubts about how accurate rapid testing actually is. That's part of the reason why government officials are urging longer periods of isolation upon arrival, even if a traveler tests negative for COVID-19 — just in case the test gets it wrong.
Photo: Getty Images