Finder is committed to editorial independence. While we receive compensation when you click links to partners, they do not influence our content.
US travel
Expert guides for planning an unforgettable adventure around our great — and incredibly diverse — 50 states.
From sea to shining sea and deep within the heartland, the US is one of the most dynamic nations on earth. You can see, taste, hear and experience so many unique cultures without leaving the country.
Our team of US travel pros has driven thousands of miles, flown across the country dozens of times and spent hundreds of hours researching the best strategies for seeing it all. Get expert tips for making the most of your time, whether you want to book a ski vacation, a family road trip or a romantic getaway. Plus, score deals to save money on US travel, including coupons for discounted rental cars, hotels, plane tickets, RV rental and more.
Traveling in the US
You don't need to leave the country to find rambling highlands, tropical beaches, spanning deserts, rustic villages and glittering cities.
Dive into diversity and enhance your perspective by traveling to a new-to-you region.
National and State Parks
Every year, your tax dollars go to support billions of acres of land, shared collectively by American residents. Take advantage of this stunning natural beauty by planning a trip to a publicly-owned oasis:
419 National Parks
154 National Forests
Over 10,200 State Parks
Activities
From adrenaline-fueled adventures to peaceful walking tours and lone ranger road trips, no matter your travel style there's plenty to do outdoors in the US.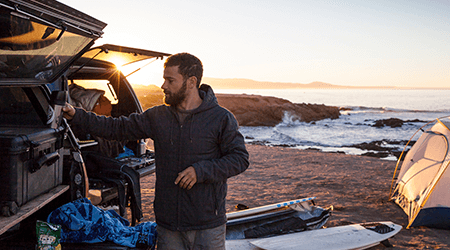 Road trips
Get up close and personal with flyover states on a road trip through the US. Consider renting a car, to make sure your vehicle is in tip-top shape before setting out. This fall you can see the changing leaves with a leaf peeping trip. Make sure to plan your trip ahead of time.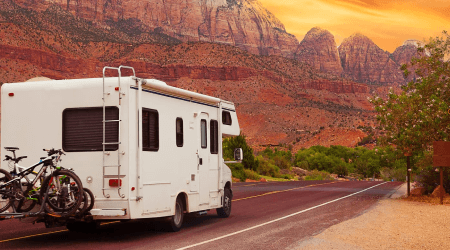 Recreational vehicles (RVs)
RVs combine accommodation and transportation into one efficient travel setup for a camping experience that feels like home. Insider tip? Most Walmart, Cracker Barrel and Cabela's locations offer free overnight parking for RVers — though you can always camp on National Forest land for free.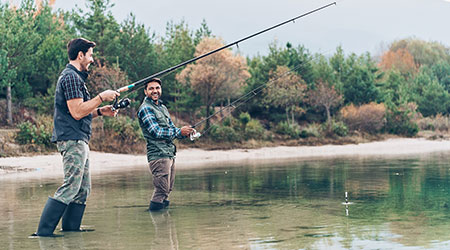 Fishing
Sit back, relax and cast a line. But remember to research about whether or not you need a permit.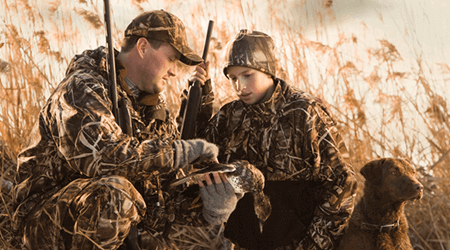 Hunting
Did you know that there are almost one million acres of public land available for hunting in Texas alone? Avid hunters may want to visit states with ample hunting land, like Alaska, Nevada or the Lone Star State.
Hiking
It's a rare form of exercise that rewards you with jaw-dropping views. That's why we love hiking — in National Parks, State Parks, City Parks and, yes, private property (when we have permission).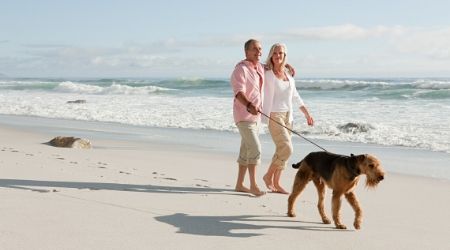 Beaches
Soak in the sunshine, go for a swim and enjoy a day lazing, reading, playing or napping on the sand. Get yourself a vacation rental on the beach for maximum sun and sand.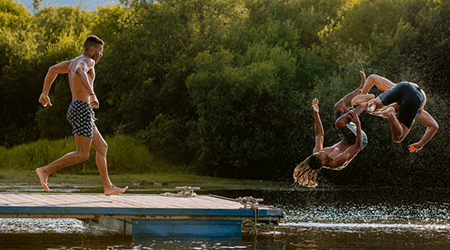 Swimming
Splash around and cool off at an ocean, lake or pool. Look for public beaches to go swimming for free.
Fun fact: There are over 1,000 water parks across the US — we've even compiled a list of over 25 places like Great Wolf Lodge, where you can zip down water slides.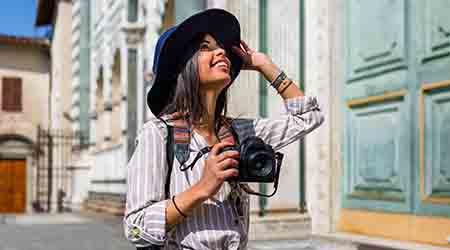 Guided tours
There's nothing like seeing a new location through the eyes of an expert guide. You can book day tours, activity tours or overnight tours, depending on how much time you have — and how much free time you prefer.
Traveling during COVID-19
The CDC continues to advise caution when traveling within or outside the US, However, it
no longer requires self-quarantine or a COVID-19 test
for fully vaccinated domestic travelers as of April 2021. International travelers need to get tested three days prior to flying out of the US and within three days after returning, even if you are fully vaccinated. It recommends that you delay travel if you're not fully vaccinated to protect yourself and your family from getting or spreading the virus.
If you're planning a trip outside the US, bear in mind that many countries have placed restrictions on US tourists. Check the US embassy website for updates
before booking international travel
.
How to get there
Get to your destination via car, plane or train. You could also plan an epic cross-country bike trip, or an interstate backpacking hike — but we'll stop before we get carried away.
Flight deals
Do you need a passport to fly in the US?
No, passports aren't required for flying within the US. However, you will need to present a valid form of identification at the airport, and a passport can work in a pinch if you can't find your driver's license or non-driver ID card.
What about to Puerto Rico?
You don't need a passport to fly to Puerto Rico from the US, if you're a US citizen.
Car and RV rentals
RV and camping trailer rentals starting at just $81/night
Everything from motorhomes to campervans, travel trailers and fifth wheels available all across the US.
Train and bus deals
Where to stay
Was this content helpful to you?
Thank you for your feedback!
Amy Stoltenberg is a staff writer covering all things travel, shopping and lifestyle. After earning a BA at Savannah College of Art and Design, she worked as technical designer in corporate fashion before opting for a career with unlimited travel time. When her laptop's closed, you can find her wandering around Los Angeles looking for hole-in-the-wall eateries and plotting her way to all 50 states (she's currently at 28).
More guides on Finder