U.S. Ranks Among the Most Expensive Nations for Internet Access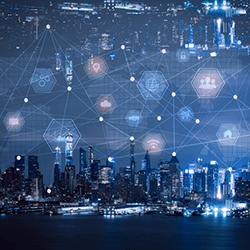 Americans pay more to get online, on average, than those in other developed nations.
When it comes to Internet access prices, domestic costs are illogical. Typically, prices go up in response to infrastructure: the less developed a network is and the harder it is to deliver the service to the end user, the more expensive it should be.
So, in the United States, where most of the Internet's legacy backbone and servers are located, access should be the cheapest, right? Based on data from the comparison website Cable, no: That honor belongs to Ukraine. At $5.00 per Internet package and $0.04 per megabyte (MB), the country has the cheapest Internet access in the world. Winding up the top five are Sri Lanka, Iran, Russia and Belarus.
The United States comes in 119th out of 195 nations with an average 2018 Internet package costing $67.69 a month and a per-MB price of $1.26. Mexico ($33.32 per package), Germany ($36.68), Japan ($37.15), China ($41.29), Brazil ($48.00), Australia ($52.77) and Canada ($57.66) all provide Internet access equal to the United States' at a lower cost.
There is little relief for those that choose to use mobile data instead of cable-based ISPs. Cable found that at $12.37 per GB, as of 2019, the United States is one of the most expensive nations. The US is ahead of Switzerland and South Korea in price efficiency, but behind India, Russia, Australia, Brazil, the United Kingdom, Germany, China and Canada.
So, why is Internet access so expensive in this country? This is a complicated issue, but the simplified answer is that there is not enough competition.
The Question of Access
In 2014, then-Federal Communications Commission Chairman Tom Wheeler offered remarks about the reality of broadband competition in the United States. "The question with which we as Americans must wrestle is whether broadband will continue to be responsive to competitive forces in order to produce the advances that consumers and our economy increasingly demand," the chairman asked.
As the chairman pointed out, many of the upgrades in services the American Internet network has experienced were in response to increased local competition. For example, when Google Fiber set up operations in Kansas City and Austin, local cable Internet providers installed their own gigabit fiber networks. The year before Wheeler gave his speech, Cox Cable announced it would not be offering fiber-to-the-home. However, after Google and CenturyLink started offering it, Cox changed its stance.
"I am hopeful this growth in competitive, high-speed wired broadband will continue," Wheeler continued. "These gigabit developments are positive, but they are not yet pervasive. Looking across the broadband landscape, we can only conclude that, while competition has driven broadband deployment, it has not yet done so a way that necessarily provides competitive choices for most Americans."
In much of the United States, there are only 1 or 2 choices for high-speed access. For most Americans, no other options are available if one is unhappy with their Internet service provider.
A key part of this lies in the FCC's definition of "broadband." Prior to 2015, broadband was defined as Internet access above 4 Mbps and included DSL. Many cable ISPs would point to DSL providers, like the local telephone company or a locally based DSL reseller, as competition, meeting the FCC's requirements for local competition. When the FCC changed the definition to at least 25 Mbps, however, the lack of investment in high-speed infrastructure became apparent.
In many midsized cities — like Madison, Indianapolis, Syracuse and Eugene — access to Internet speeds of more than 25 Mbps is typically limited to the local cable provider. As laying fiber is expensive, most providers must be forced to make this investment through government pressure or competition.
The nation's biggest problem may be that it has not decided what the Internet is yet. "As a country we still haven't decided whether high-speed Internet falls closer to running water or Tyrion Lannister on the hierarchy of needs," Rafi Letzer wrote for Business Insider.
"Government still puts up barriers that restrict the ISP market to a few wealthy, powerful megacorps — often the same ones that provide premium cable, like Comcast, Verizon, and Time Warner. Then when the FCC steps in to demand a higher quality of service, politicians complain about invasions of the free market ± an argument that only works if the Internet is an inessential service."