Unstoppable Domains review and guide
Claim an NFT domain with no annual renewal fees; but do you need one?
No domain renewal fees
Domains start at $5+
Domains support 280+ cryptocurrencies
Simplifies crypto payments
Disclaimer: This page is not financial advice or an endorsement of digital assets, providers or services. Digital assets are volatile and risky, and past performance is no guarantee of future results. Potential regulations or policies can affect their availability and services provided. Talk with a financial professional before making a decision. Finder or the author may own cryptocurrency discussed on this page.
Pros and cons of Unstoppable Domains
Pros
Buy domains without renewing. The platform lets you buy a domain name for a one-time fee, and there's no need to annually renew your domain name.
Many domains to choose from. You can choose a domin on .crypto, .zil, .blockchain and more.
Multiple payment methods. Payment methods include cryptocurrency, credit card, PayPal and the Crypto.com App.
You can sell domains. You can list your NFT domains for sale on OpenSea, Mintable, or on the platform itself.
Cons
Prices vary. Prices can be anywhere from $100 to $15,000, depending on the domain you choose and what's available.
Geared toward developers and business. If you're simply a collector of NFTs and don't send or receive cryptocurrency on a regular basis, or you're not developing a blockchain application, then you likely don't need to purchase an NFT domain.
Unstoppable Domains is "on a mission to return the power of the internet to the people." The platform says their domains aren't traditional domains — they have superpowers.
Our take on Unstoppable Domains
Unstoppable Domains is a company that provides blockchain-based domain names — aptly named.
The San Francisco-based company started by providing domains ending in .crypto (based on Ethereum) and .zil (based on the Zilliqa blockchain).
In 2021, Unstoppable Domains added more domain name choices, including .blockchain, .bitcoin, .dao, .nft and .coin.
These domain names are registered on the blockchain, making them censorship-resistant and permanent. Unlike traditional domain names in which the host can pull them down, blockchain-based domains are yours forever once you acquire them.
You only pay a one-time fee for blockchain-based domain names and you don't ever need to renew it.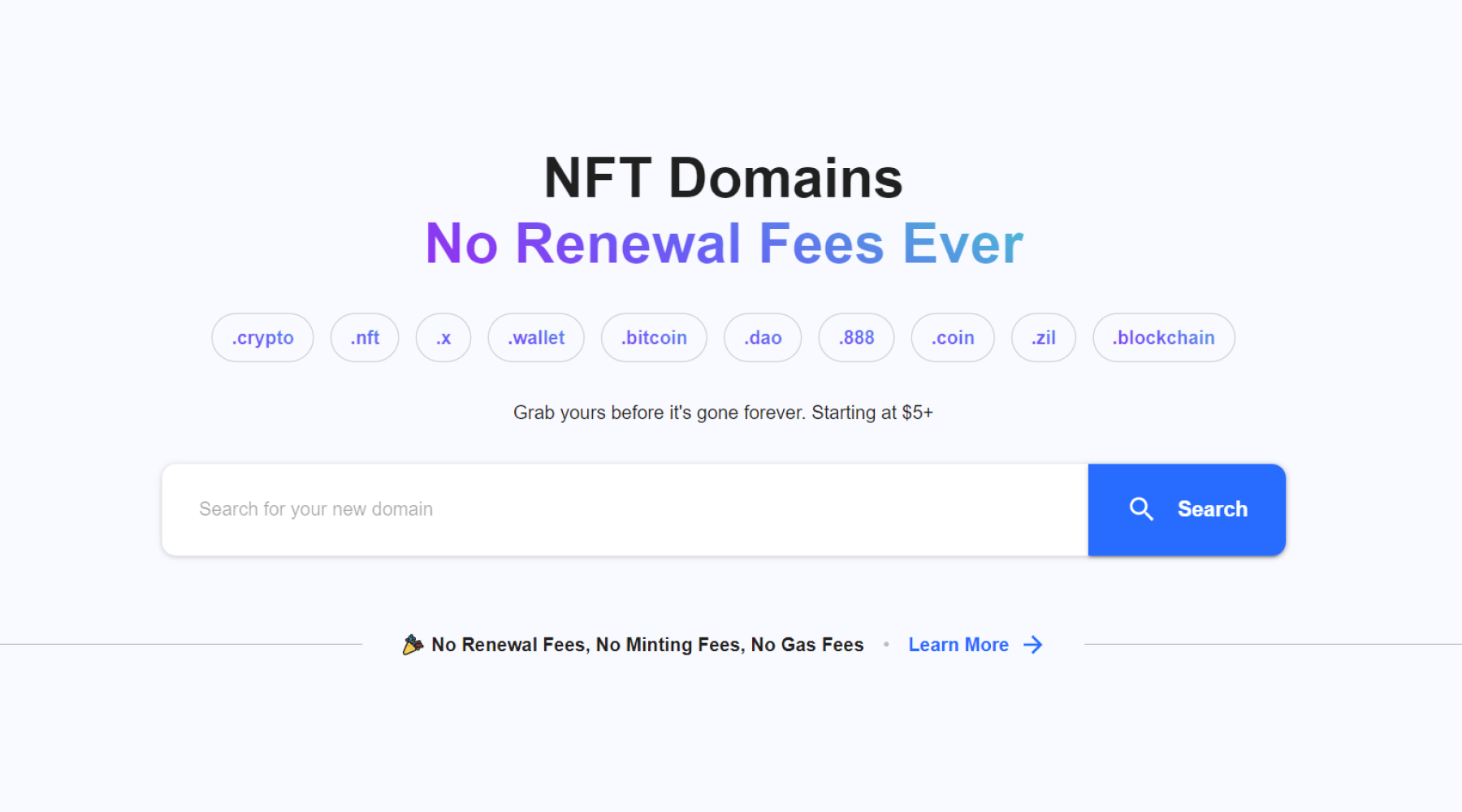 Image source: Unstoppable Domains
Domains from Unstoppable Domains are minted and sold as NFTs. They feature infrastructure that enables people to transact cryptocurrency using a human-readable name — instead of the rather unwieldy alphanumeric string of characters representing public keys.
The platform reported in February 2022 that it issued over two million registered domains, and nearly 150 projects have also added support for NFT domains.
About Unstoppable Domains
The goal of Unstoppable Domains is to ultimately create a more decentralized web.
Unstoppable Domains grants users domain names that can't be controlled or censored. The domain owner is entirely in charge of the domain, and not even the provider can influence any aspect of the domain. Users pay a one-time fee and do not need to renew the subscription — hence the tagline "domains with superpowers."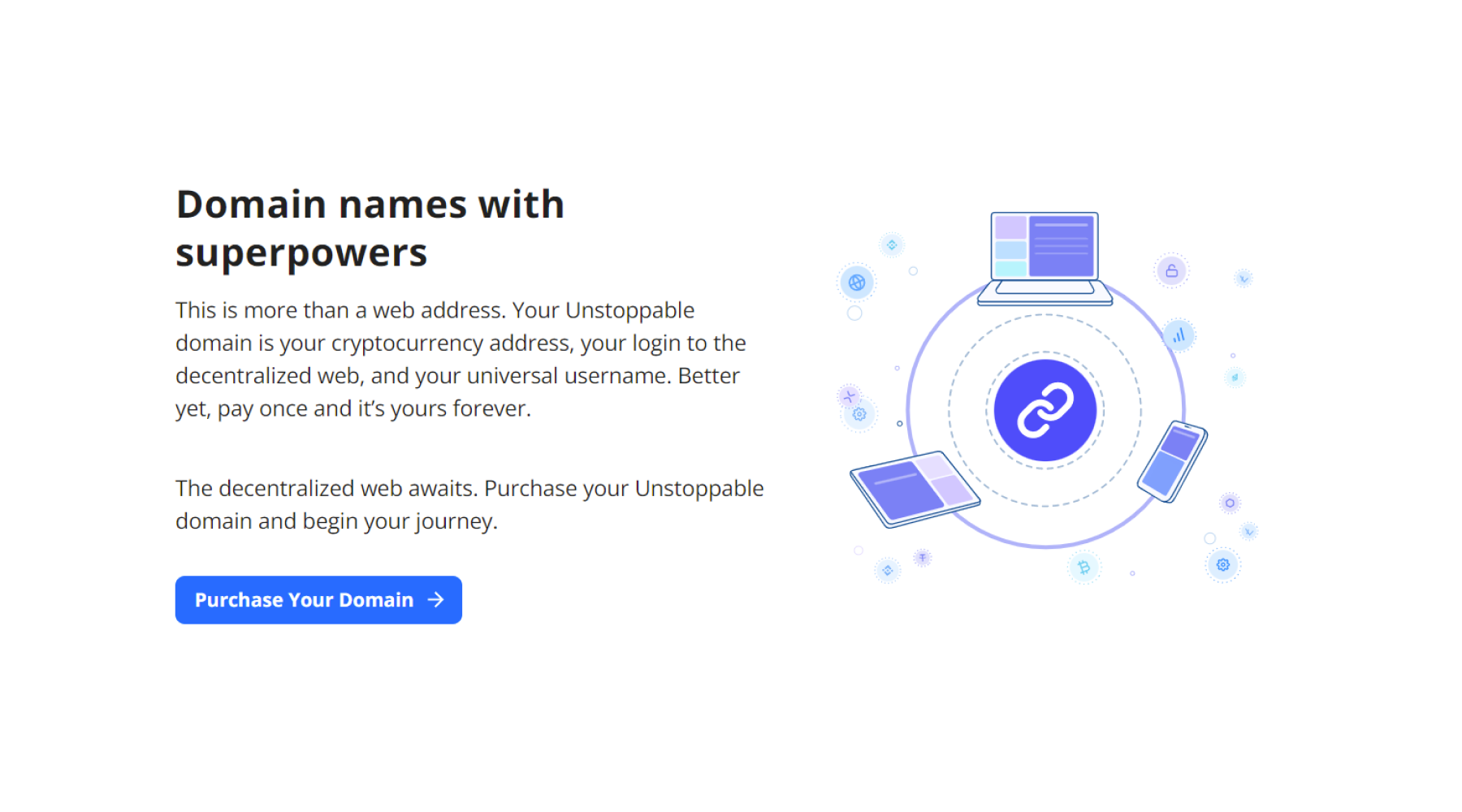 Image source: Unstoppable Domains
Unstoppable Domains lets crypto wallet holders use their domains to make cryptocurrency transactions. The technology provides simple usernames to replace lengthy and error-prone public addresses that are made of numbers and letters.
For example, instead of sending money to Vitalik Buterin's Ethereum address (0xab5801a7d398351b8be11c439e05c5b3259aec9b), if the domain vitalik.crypto was owned by that address, users would simply be able to send money to vitalik.crypto.
In 2021, domains from Unstoppable Domains are supported by Brave, Opera, Chrome and Firefox browsers. More than 285 cryptocurrencies can be sent to a domain, allowing users a high degree of freedom.
Unstoppable Domains has partnered with the ".wallet Alliance" to support users across a range of crypto wallets. In order to send money to a domain like vitalik.crypto, your cryptocurrency wallet has to be able to interpret that domain and turn it into the right address.
Unstoppable Domains blockchain and currency
All the domains offered on Unstoppable Domains are on the Ethereum blockchain and Polygon Network, except .zil which is on Zilliqa.
As of 2022, Unstoppable Domains does not have its own native token, and there is no mention by the development team of one in the pipeline.
Unstoppable Domains accepts core cryptocurrencies for payment: Bitcoin, Bitcoin Cash and Ethereum.
What types of NFTs are available on Unstoppable Domains
The NFTs on Unstoppable Domains are web extensions, either on the Ethereum blockchain, Polygon Network or Zilliqa.
When you buy a domain on the platform, you own the domain for life — unless you sell it, of course, which you can do on Unstoppable domains or on the secondary market.
The NFT domains on Unstoppable Domains have self-custody, meaning you have total control over your purchased domain. Self-custody NFT domains have these "superpowers":
Your domain can't be seized by any third party
You can enable decentralized applications or websites
You can transfer the domain anywhere without permission from a third party
You can add crypto addresses to the domain
In short, you're the sole owner of your domain, and the NFT domain is an asset that's stored in your crypto wallet.
How to buy NFTs on Unstoppable Domains
Buying domains on the platform is simple. You'll need to create an Unstoppable Domains account and have a crypto wallet at the ready.
Head to the site. Go to UnstoppableDomains.com.
Search a domain. If you already have an idea for your domain name, enter it in the search bar. A new page will open with a list of possible extensions. The ones labeled "Protected" are unavailable. The platform suggests several available extensions, and prices vary.
Image source: Unstoppable Domains
Add to cart. Choose the extension you want and click on the cart.
Payment. Choose a payment method, such as one of the supported cryptocurrencies, Crypto.com App, PayPal or a credit card.
Image source: Unstoppable Domains
Complete the transaction. Once your payment has been processed, the domain is now yours!
Remember that you'll need a crypto wallet to house your new NFT domain, such as MetaMask, TrustWallet, Wallet Connect or Ledger. For many users, NFTs are purchased with cryptocurrency with a crypto wallet. Ether (ETH), Etheruem's native asset, is a popular NFT purchasing currency, available on most major cryptocurrency exchanges.
Read review
Start trading crypto with: Gemini Cryptocurrency Exchange
Wide range of exchangeable currencies
User friendly
Newcomer incentives
Insurance on currency balances up to $250k
Balances can earn interest
High fees on mobile app
Missing some notable top 20 currencies
No linked debit cards available
Gemini is a cryptocurrency exchange with a simple UI that's user-friendly and accommodating to newcomers and experienced traders.
Gemini's strongest point is its Gemini Earn program, which allows users to earn up to 7.4% interest on specified cryptocurrency balances.
Gemini has a wide selection of cryptos available for exchange on the platform. However, some notable entries from the top 20 by market cap are missing, such as Cardano and Solana.
Deposit Methods

Bank transfer (ACH)
Cryptocurrency
Debit card
PayPal
Apple Pay
Google Pay
SWIFT


Deposit Fees

Cryptocurrency: None
Bank transfer (ACH): None, bank fees may apply
Wire Transfer: Determined by your bank
Debit Card: 3.49% + Trading Fees
Paypal: 2.50% of total deposit amount + Trading Fees

Withdrawal Fees

Cryptocurrency: None (for 10 withdrawals and below per month)
Others: None (for 10 withdrawals and below per month)

Trading Fees

≤ $10.00: $0.99
> $10.00 but ≤ $25.00: $1.49
> $25.00 but ≤ $50.00: $1.99
> $50.00 but ≤ $200.00: $2.99
> $200.00: 1.49% of your Web Order value
How to sell NFTs on Unstoppable Domains
You can sell your NFT domains on Unstoppable Domains, or on secondary marketplaces like OpenSea or Mintable, depending on the extension.
Sell on Unstoppable Domains
Head to the platform and select My Domains, then Manage. Click on the Sell Domain tab and enter your email address, check the box labeled Mark this domain as 'Listed for sale' on Unstoppable domains search, then select List for Sale.
Sell on OpenSea
Head to OpenSea and login. Access your profile, select the NFT domain you want to sell, and simply select the blue Sell button and choose your sale method. Read our OpenSea review for more information on selling NFTs on the platform. You can't sell .zil extensions on OpenSea.
Sell on Mintable
To sell .zil domains, you can head to Mintable and login. Then, select Sell, and if the NFT domain is already in your wallet, select The NFT is already in my wallet, then select the tile labeled Unstoppable Domains. ZilPay will open and you can list the NFT for sale. For more information on this platform, read our Mintable review and guide.
Unstoppable Domains fees
Unstoppable Domains doesn't charge any renewal fees to keep possession of your domains.
There are gas fees when purchasing domains, and prices can be anywhere from $100 to $15,000 a pop. However, when minting on the Polygon Network, there are no minting fees or gas fees.
How the Unstoppable Domains app works
Unstoppable Domains does have a mobile app for both Android and iOS devices. The app is free to install, and allows you to mint new domains, manage your assets, view your domain details and more.
The Google Play app store shows a 3.5-star rating, and Apple's store shows a 2.7-star rating — both pretty mediocre overall ratings.
Many users cite frequent app crashes, NFT claims railing and issues managing domains. The iOS app has considerably more one-star reviews than the Google Play store.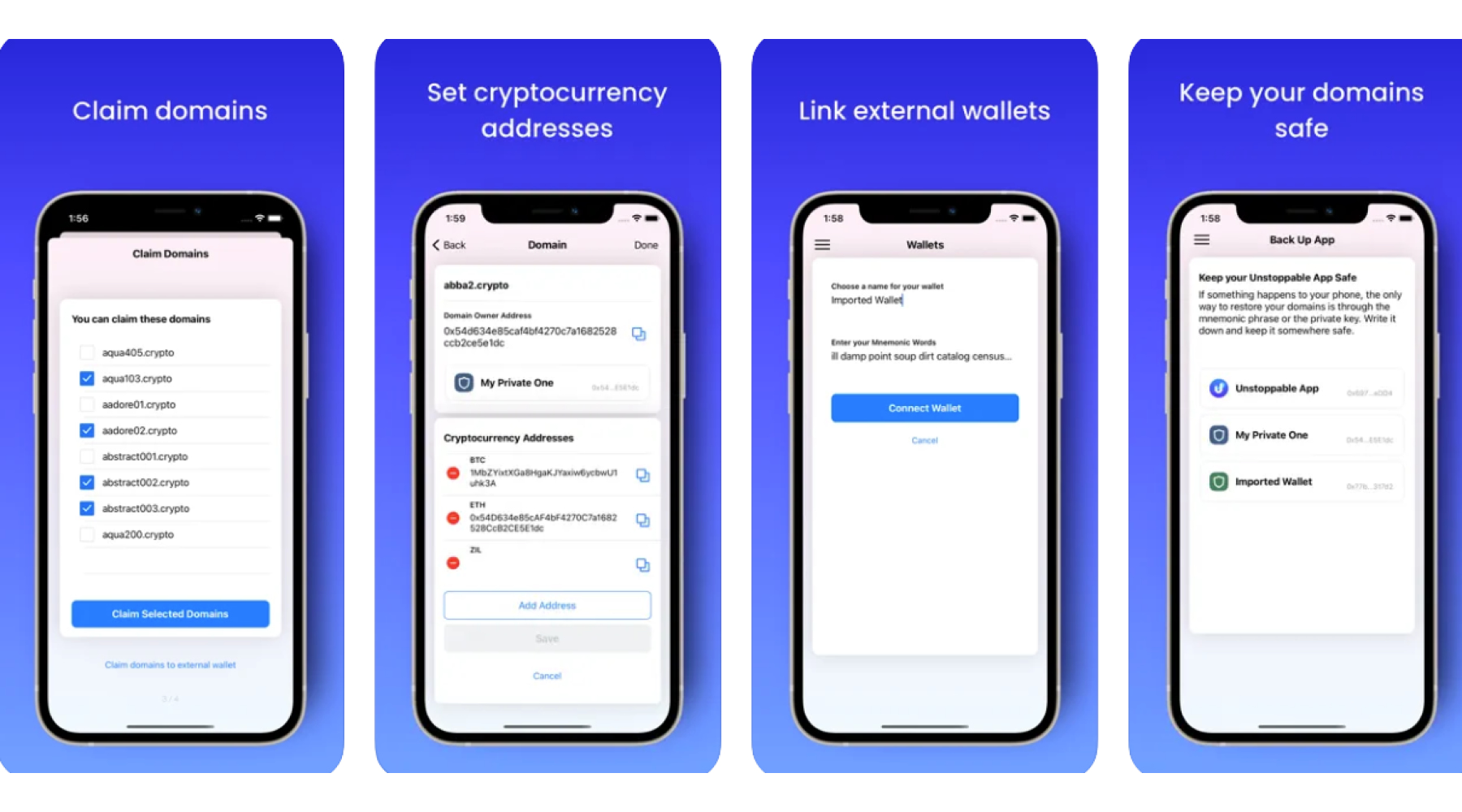 Image source: App Store
Is Unstoppable Domains legit?
Unstoppable Domains is a legitimate NFT marketplace for buying and selling domains. It launched in 2018, and the general consensus is that it's a secure site with no evidence of a sitewide hack as of June 2022.
Since domains from Unstoppable Domains are decentralized, they are considered safer than traditional domains. These domains are more protected against privacy breaches or distributed denial-of-service (DDoS) attacks, which is network attack in which a server or network is targeted and overwhelmed with fake traffic.
However, since your NFT domains are stored in your crypto wallet, keeping your assets secure is largely your responsibility. If you lose access to your wallet, your private key is compromised, you could lose your NFT domain forever.
Whenever you're dealing with cryptocurrency or NFTs, wallet security is a must, regardless of the platform you use to buy those assets.
Other marketplaces to buy NFTs
Bottom line
Unstoppable Domains is attempting to make the concept of blockchain and cryptocurrency more friendly to users. By supporting simple and user-friendly addresses, a decentralized web is the next frontier in blockchain, and companies like Unstoppable Domains are at the forefront of manifesting that reality.
Buying an NFT domain can be useful for businesses or blockchain developers that want to skip yearly renewal fees, and convenient for those that send and receive crypto on a daily basis. But if you're a casual crypto enthusiast, gamer or simple investor, an NFT domain probably isn't necessary.