With unemployment on the rise, here's how to protect your finances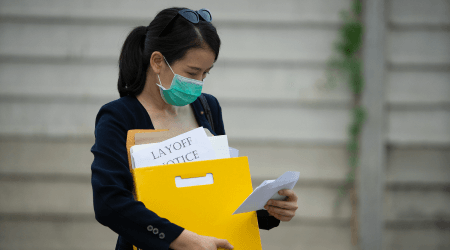 If you lose your job, pause repayments right away and look for low-cost relief to cover expenses.
Some 898,000 Americans applied for unemployment last week, the Department of Labor reported Thursday. Up about 53,000 from the week before, this continues a trend of rising unemployment claims.
With jobless benefits running dry, there are fewer resources for unemployed Americans than during the beginning of the pandemic, and some 8 million people have crossed the poverty line since May.
Everyone can benefit from taking steps to protect their finances right now. But it's especially important if you've lost your job.
Contact your creditors
Reach out to your creditors to learn what your options are if you've lost your job — or even if you think you might. Most are offering deferment or forbearance to customers who are impacted by the coronavirus outbreak. But how long it lasts and who can qualify varies depending on the customer.
The sooner you get in touch, the better. Lenders tend to see this as a sign that you're a responsible borrower. They might be willing to be more flexible than they would be with someone who's already missed a repayment.
Have a plan for federal student loans
Federal student loan repayments might be on hold now, but they're slated to start back up again in January 2021. While it's possible that they'll be deferred longer, be prepared for the off chance that they aren't.
Read up on your options, weigh the risks and know what steps to take should you need to change repayments. You might want to consider the following options.
Unemployment deferment
If you've been laid off, you're probably eligible for unemployment deferment. With federal student loans, this pays your repayments for up to three years in six-month increments. But unlike the current deferment forbearance program, interest continues to add up during this time and gets added to your loan balance once repayments resume.
Income-driven repayment
There are several different income-driven repayment plans, or IDRs, that most borrowers can choose from. These give you repayments based on your salary and effectively pause repayments any time you lose your job. The Department of Education forgives any balance left after 20 to 25 years, depending on the plan.
Extended repayment plans
These plans draw out your repayment term to 25 years and significantly lower your monthly expenses. This can be a good option if you've lost income but don't qualify for income-driven repayment. The main drawback is the total cost. In some cases, you might ultimately pay as much as you borrowed in interest, or more.
Boost your credit score
Having good credit isn't only helpful when you want a loan or credit card. Some employers run credit checks on prospective hires. Landlords sometimes also run a credit check when you apply to live in a new apartment.
Stay on top of your bills, deferring what you can, and sign up for a program like Experian Boost, which lets you self-report regular payments like utility bills and even streaming accounts to eek in a few extra points.
It's especially effective if you have bad credit. Experian found that some 64% of poor credit users saw their credit scores jump into the fair credit range in a March 2020 study. On average, users saw an increase of 21 points.
Look to grants, loans and local resources for financing
You won't be able to qualify for a loan with a legitimate lender if you're unemployed, but it's possible to find grants and hardship loans through your local government, nonprofit organizations, community banks and credit unions. If you apply for a loan, look for one with deferred repayments and make sure you can qualify while you don't have a job.
Hyper-local mutual aid organizations have sprung up across the country, setting up free community fridges, free meals and other assistance that can help cut down on your expenses.
Avoid payday loans
The Consumer Financial Protection Bureau no longer requires payday lenders to check your ability to repay, but even if you can get one of these loans while you're unemployed, that doesn't mean it's a good idea.
The real cost of payday loans comes when you renew or roll over the loan to the next month. With such high fees, it's easy to get trapped in a cycle of debt. Try to find other types of financing or make room in your budget by signing up for assistance programs instead.
Sign up for credit counseling if you're struggling with debt
Nonprofit credit counseling agencies offer free or low-cost assistance to people who are struggling with personal debt. If you sign up for a credit counseling session, an expert will go over your finances with you and help you come up with a plan to pay off your creditors.
You can find a government-approved agency on the Department of Justice's website.
A new stimulus package could increase unemployment benefits and send out another round of checks, but it's unclear when that will happen. If you still have your job, put part of your paycheck toward an emergency fund if possible. As this year has shown, it helps to be prepared for the unexpected.
Photo: Getty Images