Finder is committed to editorial independence. While we receive compensation when you click links to partners, they do not influence our content.
Understanding baby clothes sizes
From onesies to overalls, find a safe, snug fit for that bundle of joy.
Whether you're a first-time parent to a little one or buying a gift for another person's new arrival, it can be tricky to navigate the world of baby clothes sizes. It turns out that fit depends on a baby's age and size.
Baby clothes sizing guide
Preemie
The smallest on the market, preemie clothing is designed to fit babies who arrived early or are simply small. Generally, these clothes are designed babies who weigh under 6 pounds and measure under 17 inches long.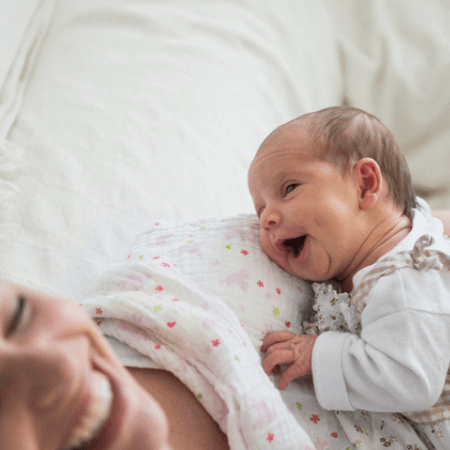 Newborn
If you're buying clothes for the average newcomer, newborn size is a safe bet — unless you've heard they're smaller or bigger than average. Newborn fits babies of 6 to 9 pounds and around 21.5 inches.
0 to 3 months
This size is a good choice for babies who aren't yet 3 months old. But most newborns can grow into this size, if you just can't help yourself. It generally fits babies that weight 9 to 12.5 pounds and measure 21.5 to 24 inches long.
3 to 6 months
At this size range, you're in for shopping fun with broader options of tops, bottoms and outfits. This size fits little ones who weigh up to 17 pounds and measure 24 to 26.5 inches long.
6 to 9 months
You'll find lots of options in this size across retailers, making it a baby shower gift to grow into. It's intended for babies weighing up to 21 pounds and measuring up to 28.5 inches.
9 to 12 months
Hello first birthday! Gift this size or plan ahead for your new 1-year-old weighing up to 25 pounds and measuring up to 30.5 inches.
18 months
If you're looking at this size, your baby may be well into toddlerhood. It fits a kid between an average 25 to 28 pounds and measuring up to 32.5 inches.
24 months
The largest "baby" size fits active kiddos who weigh between 28 and 30 pounds and measure from 32.5 to 34 inches. It coincides with measurements for 2T toddler clothing.
5 tips for buying clothes for baby
You've worked out the sizing, now clothe your cutie in adorable and useful duds with smart guidance in mind.
1. Go big
When in doubt, opt for a larger size that gives baby room to grow into. And Mom or Dad options for sudden growth spurts.
2. Keep weather in mind
With how quickly kids grow, there's little use buying a sundress in winter when it likely won't fit by the time summer rolls back around.
3. Resist gendered gear
You're under no obligation to stick to "boy" or "girl" colors or styles. Embrace all the cheery colors of the rainbow.
4. Keep it simple
Fluffy ears and a bunny tail is ridiculously adorable, sure. But hoods and attachments can be a hazard to newborns and keep them from the deep sleep they need.
5. Think practical.
The only thing more difficult than changing a squirming baby is clothing that's a challenge to remove. Any new parent appreciates useful, easy-off outfits.
Editor's Pick
PatPat
Adorable outfits and onesies for babies, from 0 to 24 months and beyond.
No crying here! PatPat pairs consistently low prices with dependable quality and a 30-day return policy, which means you can stock up on all the baby clothes your doting heart desires — without making your wallet wail. For instance, pick up a lovely cotton/linen blend two-piece set for just $10.
Top baby clothing deals and coupons
Frequently asked questions
More guides on Finder