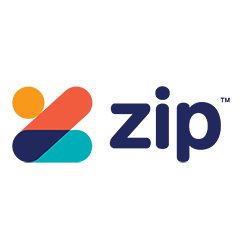 Zip review: Shop now, pay in four equal chunks
Zip closed its UK service in 2022. Find out alternatives in our comparison guide - linked below.
Zip UK was an interest-free buy now, pay later (BNPL) service but in 2022, it closed its operations in the UK. The rest of this review describes the service that previously operated in the UK.
To see alternatives to Zip, use our buy now, pay later comparison guide.
How does Zip work?
Zip partners with retailers to allow customers to buy items there and then, while paying for the goods later down the line.
Shoppers browse their chosen store as usual. Once they get to checkout, if Zip is available, customers can choose to pay later with Zip as their payment method, instead of using a credit or debit card. At this point, users will need to create an account and provide bank or card details in order to complete the purchase. The payment will then be spread across four equal fortnightly chunks. It's important to be aware that Zip charges late fees – not all BNPL services do this.
Which retailers offer Zip?
You can check out our full list of Zip retailers and find out where you can buy now and pay later.
Features of shopping with Zip
Zero interest. Each purchase made through Zip is interest free.
Pay in four. Spread your purchase across four equal fortnightly payments.
Use both in-store and online. With Zip you can pay for your goods later when shopping over the web, as well as when you're in a bricks and mortar store.
Upcoming payment reminders. Zip will email you a few days before your payment is due on your account to remind you.
No early repayment charges. Zip will collect your payments fortnightly but additional payments can be made earlier without a fee.
Warning: Late repayments can cause you serious money problems. For help, contact the government's free money advice website, MoneyHelper.
How much does Zip cost to use?
Zip costs absoutely nothing to use, so long as you pay on time (every fortnight). If you fail to cover a scheduled payment, you will be charged a £6 late fee and further fees for every week the payment is outstanding, capped at £18.
If you keep failing to clear your balance, your details may be passed on to a collections agency and your credit score negatively impacted.
Does Zip perform a credit check?
In short, yes. Zip considers a number of factors as part of its assessment process. When you apply for a Zip account, identity checks and a "soft" credit check are undertaken to verify your details and confirm you can make repayments. Credit checks are performed by third-party companies Equifax and illion.
Is Zip safe?
Absolutely. Zip's website is SSL secure and does not store your full debit card details. All payments are handled by Payment Express, a secure PCI compliant UK-based payment gateway.
How to sign up for Zip
Click through to checkout at your chosen store and if that retailer offers Zip, you'll be able to choose it as your payment method. As you are guided through this mini application, you are also creating your Zip account.
What can I do if something goes wrong?
On the off chance that you encounter a problem with Zip, we suggest taking a look at the list of frequently asked questions on the site. Can't find your query on there? Give Zip a call on 020 3319 6601, or email the team at uk@care.zip.co.
Pros and cons of Zip
Buy it now, pay for it later. With Zip you can order your chosen item when you want it and cover the costs later on, without having to wait until pay day.
Interest free. Zip charges shoppers no interest whatsoever.
No early repayment charges. If you wish to clear your balance earlier than your scheduled repayment date, you can do so free of charge.
Use in-store or online. Unlike some other buy now, pay later providers, you can use Zip both in bricks and mortar stores and when shopping online.
No hidden fees. You will never be surprised with nasty fees. The only time you may pay more than the item itself is if you make a late payment.
Can affect your credit score. If you fail to make a payment you will be charged £6 in the first instance and £6 further for every week you do not clear your balance after that, up to £18. If this is still not resolved, your details may be passed on to a collections agency and it's likely your credit score will be negatively impacted.
Limited payment plans. Unlike some other buy now, pay later providers which offer a variety of plans, Zip only allows users to split payments into four equal chunks at 25% of the overall cost of the item.
Partnered with fewer retailers. At the moment, Zip is not paired with a wide range of well-known high-street retailers.
The verdict
Zip is an alternative to the likes of Klarna and Clearpay in the UK and around the world, although it is yet to partner with many well-known high-street retailers and, unlike several other BNPL services such as Klarna, it charges late fees.
Have more questions about Zip?