No.1 Currency Travel Money
Find out more about No.1 Currency travel money options with our useful guide.
No.1 Currency is one of the UK's most popular foreign exchange retailers, with a network of stores across the country. Local service and customer commitment are the two main features of No.1 Currency's service.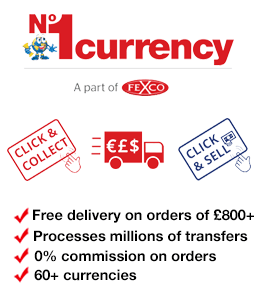 No.1 Currency
Free delivery on all orders of £800 and over. All orders are dispatched fully insured through Royal Mail Special Delivery.
Charges 0% commission from it's customers
It provides services like Travel money Card, Click and Collect, Home Delivery and Click & Sell Services.
There is no minimum order amount while ordering for travel money.
Above above £800 home delivery is free
What services does No.1 Currency offer?
No.1 Currency offers four travel money services:
Home Delivery. Order online and have cash delivered to your door.
Click & Collect. Order online and collect at your local store.
Click & Sell. Sell your unused currency back to No.1 Currency.
Travel Money Cards. Euro, US Dollar, and Sterling cards available.
What currencies can I order through No.1 Currency?
Here's a list of the countries available to order travel money for:
Euro (EUR)
US Dollar (USD)
East Caribbean Dollar (XCD)
Australian Dollar (AUD)
Bahraini Dinar (BHD)
Barbados Dollar (BBD)
Norwegian Krone (NOK)
Brazilian Real (BRL)
Brunei Dollar (BND)
Bulgarian Lev (BGN)
Canadian Dollar (CAD)
Chilean Peso (CLP)
Chinese Yuan Renmibi (CNY)
New Zealand Dollar (NZD)
Costa Rican Colon (CRC)
Croatian Kuna (HRK)
Czech Koruna (CZK)
Danish Krone (DKK)
Dominican Peso (DOP)
El Salvador Colon (SVC)
Fiji Dollar (FJD)
Haitian Gourde (HTG)
Hong Kong Dollar (HKD)
Hungarian Forint (HUF)
Iceland Krona (ISK)
Indonesaian Rupiah (IDR)
New Israeli Sheqel (ILS)
Jamaican Dollar (JMD)
Japanese Yen (JPY)
Jordanian Dinar (JOD)
Kenyan Shilling (KES)
Kuwaiti Dinar (KWD)
Lesotho Loti (LSL)
Swiss Franc (CHF)
Malaysian Ringgit (MYR)
Mauritius Rupee (MUR)
Mexican Peso (MXN)
Namibia Dollar (NAD)
Omani Rial (OMR)
Panamanian balboa (PAB)
Peruvian Nuevo Sol (PEN)
Philippine Peso (PHP)
Polish Zloty (PLN)
Qatari Rial (QAR)
Russian Ruble (RUB)
Saudi Riyal (SAR)
Singapore Dollar (SGD)
South African Rand (ZAR)
South Korean Won (KRW)
Swedish Krona (SEK)
New Taiwan Dollar (TWD)
Thai Baht (THB)
Trinidad and Tobago Dollar (TTD)
Turkish Lira (TRY)
UAE Dirham (AED)
How much can I exchange with No.1 Currency?
The limit you can order is £2,500, but if you need a larger amount you can call 0800 840 2886 Monday to Saturday 9am-5pm.
The minimum amount that can ordered for a home delivery is £400. There is no minimum order for our Click and Collect service, and the minimum order for our Travel Money cards is initial load £200 (you can top up with as little as £30 thereafter).
How soon can I get my money?
Orders received before 12 noon may be available for next day delivery! (Monday to Friday, excluding bank holidays).
Travel Money cards take between 5-10 days to be delivered.
How safe is my money?
As one of the UK's most popular travel money providers, your money is in good hands. If, however, there is a problem with your order you can contact No.1 Currency directly and they will deal with your issue.
Are there any fees I might have to pay?
There is no fee for home delivery orders of £800 and over. A postage charge of £4.95 will apply to smaller orders. There is a £4.95 charge for Travel Money cards loaded with less than £400, but cards loaded by £400 or more are free. The click and collect service is free.
Home delivery orders are dispatched fully-insured through Royal Mail Special Delivery – a signature will be required upon delivery.
More guides on Finder