Vancouver attractions and things to do
Visit Vancouver and see the best sights in and around the city for an adventure-packed holiday.
Vancouver is the ideal spot for outdoors and adventure lovers. From kayaking with orcas to hiking through the mountains, Vancouver is home to a wide range of activities. But for those who wish to relax, Vancouver, Whistler and Banff also offer boutique shops, spas, art galleries and picturesque gardens.
We're sharing our favourite things to do in and around Vancouver with you.
---
Top Vancouver attractions and things to do
Get out and see Vancouver Island
Vancouver Island, located just off the coast, is a quick ferry ride from Vancouver. It's perfect for outdoor lovers as the island offers a number of activities like cave tours, kayaking and ziplining.
On the island, you can also encounter wildlife such as black and grizzly bears, cougars and wolves. Cruises from the island are popular for spotting marine wildlife such as orca whales and sea lions. Don't miss trying a chocolate-and-custard Nanaimo bar, a sweet Canadian treat.
There's also spas, golfing, fishing, gardens and local culture to explore.
---
Walk the Capilano Suspension Bridge
A must-do while in Vancouver is the picturesque Capilano Suspension Bridge that spans the Capilano River.
While visiting you can also try the Cliffwalk for views over the canyon, explore the area from the treetops and experience British Columbia's nature up close.
---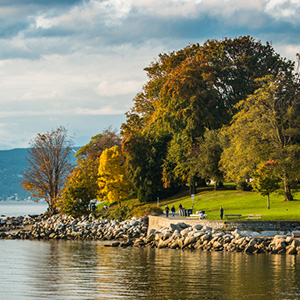 Catch the view from Stanley Park
Boasting scenic water views and verdant parklands, Stanley Park is beloved by both tourists and locals. It's the largest park in the city and comprises of 400 hectares of natural rainforest and numerous walking trails, beaches and historical sites.
Located in downtown Vancouver, Stanley Park is easily accessed by foot, bike, public transport and car and makes for a perfect (and free) day out.
---
Catch an ice hockey game
A visit to Canada isn't complete without seeing the game that Canadians love.
Experience an ice hockey game at the Rogers Arena for an entertainment-filled evening. You'll watch as the Vancouver Canucks skate around the ice and the audience goes wild with every call from the ref.
---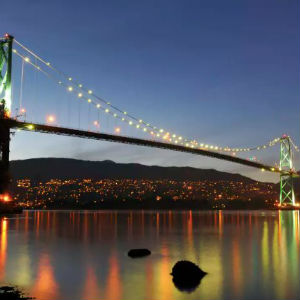 Relax and rewind on Vancouver Harbour
Vancouver Harbour is home to even more outdoor activities and spectacular views over the water.
Enjoy a sunset dinner over Vancouver's skyline for a relaxing evening or hop on a boat and experience Vancouver from the water as you speed around the city's waterways.
Don't miss the views of the Lions Gate Bridge from Stanley Park as it lights up at night.
---
See the city from the Vancouver Lookout
The Vancouver Lookout provides impressive views of the cityscape.
The 169-metre tower overlooks Stanley Park, Coal Harbour and the Olympic Peninsula mountains.
In the tower you'll find educational exhibits providing information about Vancouver's best sights.
---
Image: Whistler Tourism
Push powder at Whistler
Whistler is a stunning ski town that is also open in the off-ski season with hiking trails and wildlife spotting.
Whistler can be done as a day trip from Vancouver, a weekend getaway or longer.
Visit Whistler Village, the home of the 2010 Olympic Games, which is filled with boutique shops, fine dining and spas.
---
Image: BC Place
See a Whitecaps game
Check out some sport action during your visit to Vancouver by watching a local soccer game.
The Vancouver Whitecaps is the city's professional soccer team that competes in Major League Soccer.
You can see one of its games at BC Place.
---
Take the family to Vancouver Aquarium
In Vancouver Aquarium you can discover over 50,000 species of marine life.
The aquarium has interactive exhibits, a 4D theatre and shows, and you can learn about marine conservation at the Pacific Canada Pavilion.
You'll get to see African penguins, tree frogs, tropical fish, sharks and more.
---
Get cultured inside Vancouver Art Gallery
Vancouver Art Gallery is the fifth largest gallery in Canada and focuses on sharing the art of First Nations artists.
The gallery also features historical and contemporary art from British Columbia and international artists.
---
Go time on your hands? Take a sidetrip to Banff
A popular trip from Vancouver is Banff, a ski town nestled in the Rocky Mountains. It's here that you can see the famous Lake Louise, visit the hot springs, hike up mountains, ride gondolas to beautiful views and more.
The Town of Banff features fine dining and is lined with shops between the towering mountains.
Banff is a nine-hour drive from Vancouver, or it's an hour-and-20-minute flight to Calgary followed by an hour-and-a-half drive from Calgary to Banff.
---