Things to do in Japan
Japan is an exclusive getaway destination where ancient traditions and the modern world become one.
Japan is where neon lights along with temples and shrines come together to form a unique culture unlike any other.
It has both natural beauty and man-made sights worthy of any holiday. Sound fascinating? Then keep reading to learn how to do Japan without regrets.
---
Top things to do in Japan
See Mount Fuji
A must in Japan is setting your eyes on Mount Fuji, just east of Tokyo. Climb, drive, fly or see it from afar.
Clouds usually hide this 3,776-metre-tall mountain during the day but clears for jaw-dropping views during sunrise.
---
Catch cherry blossoms in bloom
Cherry blossoms are the elegant and colourful flower decorating Japan.Be sure to head to Japan in April for their prime season.
You can see cherry blossoms from Tokyo to Osaka. You can use our guide on cherry blossoms in Japan to help you choose the ideal spot to capture them.
---
Studio Ghibli Museum
Japan is arguably the home of anime and one of the biggest names in the field is Ghibli.The Ghibli Museum in Tokyo has everything from exclusive footage and storyboards to giant statues of the studio's popular characters.
---
Snow Monkeys
In Japan's most popular and unique onsen (hot spring), you'll find more than just people bathing. It is a natural habitat for the snow monkeys who have their own onsen. You're free to take pictures from afar at a safe distance. You'll find these monkey's on a quick day trip from Tokyo.
---
Japanese tea ceremony
Watch as you're guided through a traditional tea ceremony in Kyoto with techniques unique to Japan.
You'll learn about the history and utensils used before trying to make powdered green tea yourself.
---
Osaka Castle
Marvel at the immense stones used to build Osaka Castle.
It stands over the city of Osaka and holds many original relics inside detailing life in old Japan.
---
Sumo wrestling
What trip to Japan is complete without witnessing sumo wrestling?
As Japan's national sport, you simply have to experience the tradition and history behind this ancient sport while visiting Tokyo.
---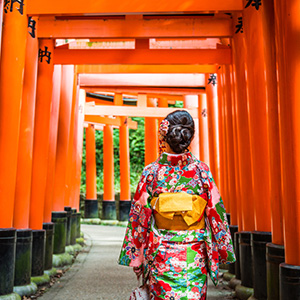 Fushimi Inari Shrine
This picture perfect shrine seems to stretch on for ages. At the base of the Inari Mountain in Kyoto, it is a part of a complex of multiple shrines.
Each of the shrine's gates were donated by a Japanese business as Inari was seen as the patron of business.
---
Tsukiji fish market
When in Tokyo, wake up early to watch locals busy themselves at the world's largest fish and seafood market.
But be quick as only 120 visitors are allowed in per day. Well worth it we say for fresh seafood cooked right before your eyes.
---