Top 8 things to do in Cambodia that you simply can't pass up
Walk through ancient ruins, navigate rivers, explore the countryside by motorbike and laze on the beach.
Cambodia's history attracts all manner of travellers, from adventurous backpackers to luxury tourists. Choose to ascend to the kingdom of the gods in Angkor Wat or reflect on the atrocities that occurred in the Killing Fields. Or, do both.
It's not all temple-complexes and historic ruins either. Cambodia offers natural wonders in the form of dense forests, lush farmlands and un-spoilt islands.
Here are the top 10 things to do in Cambodia on your next trip.
---
Top 8 things to do in Cambodia
1. Explore the beaches of Kep and Sihanoukville
With consistently warm temperatures throughout the year and a landscape of tropical jungle and coast, Cambodia has idyllic beaches that you could spend hours on.
Kep is a sleepy tropical corner of the country, shaped like a peninsula with hills of thick jungle and coconut trees. Known as the "Crab Village", it's famous for its grilled crabs, sunsets and greenery.
The port city of Sihanoukville is an obligatory stop. Ochheuteal Beach is the largest and most popular beach in the area. There are hundreds of beach bars to relax and feast on delicious seafood and fish barbeques.
---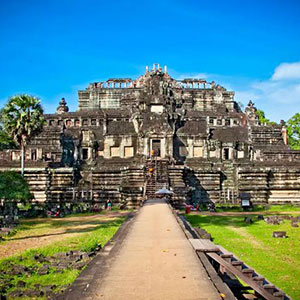 2. Visit the temples and ancient ruins
Built between the 10th and 15th centuries, the majestic temples and palaces of the Khmer Empire reveal the history of Cambodia, as well as its ancient traditions.
Most of the temple complexes and ruins are clustered around Siem Reap, with Angkor Wat and Banteay Srei being the most popular. It typically takes several days to explore them thoroughly, so it can be helpful to join a guided tour.
---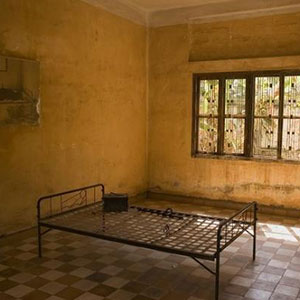 3. Reflect on Cambodia's sombre past at the Killing Fields
Just 40-minutes from Phnom Penh is where you'll find the Killing Fields. It's named such as it's where millions were executed and is where you'll find the largest mass graves in the country.
Pay a visit to the museum to learn more and pay tribute to those killed at the Buddhist stupa. It's a shrine with 8,000 skulls of the dead inside.
Toe learn more, visit the Killing Fields and Genocide Museum of Tuol Sleng through a half-day guided tour.
---
4. Sign up as a volunteer
Numerous volunteer projects are available to sign up to for travellers who wish to contribute to the nation while on holiday. Depending on your intention and your skill-set, projects you can be involved with include teaching children English, child and special needs care, computer support and medical support.
Independent tour companies, not-for-profit organisations and non-governmental organisations can offer volunteer opportunities for you.
Research before you commit to find the best suited to your needs and intentions.
---
5. Explore the Cambodian countryside on a motorcycle
Cambodia is a country that moves on two wheels. It's not uncommon to see four people squeezing onto a motorcycle or a cage of chickens tied to the back.
If you want to navigate Cambodia like a local, rent a motorbike and journey through the countryside. Travel to offbeat locations independently or book an organised motorcycle tour around Siem Reap or Phnom Penh.
---
6. Cruise the Mekong River
The Mekong River used to be the transport lifeline of Cambodia, offering the country access to neighbours including Thailand, Laos and Vietnam.
With the development of a quality road network, now used more for shorter journeys as well as tourism.
Long and short cruises are available along the Mekong River including day-long tours to Silk Island and short sunset cruises.
---
7. Shop local handmade products
You won't see many large malls in Cambodia, but what you will see are numerous markets.
Local markets offer everything from antiques and wicker baskets to betel boxes, rice paper decorations and Buddhist sculptures.
The Phnom Penh Night Market sits on a river bank and is a great for souvenirs, handicrafts and clothing. Other markets in Phnom Penh worth visiting are Olympic Market, Lucky Market, Russian Market and Sorya Market.
In Siem Reap, Angkor Street Market has 200 bamboo stalls selling goods such as clothing, silk paintings, puppets, recycled materials and silver carvings produced by local communities and non-governmental organisations. You can join an organised shopping tour to keep up with the action.
---
8. Find your zen at a yoga retreat
Rejuvenate and refresh at one of the many yoga retreats in Cambodia. Practice yoga at an affordable price in a laidback, natural atmosphere amidst the spirituality of the ancient temples.
Most yoga retreats in Cambodia are located around Siem Reap and can be pre-booked online.
---