The best cyberpunk movies to stream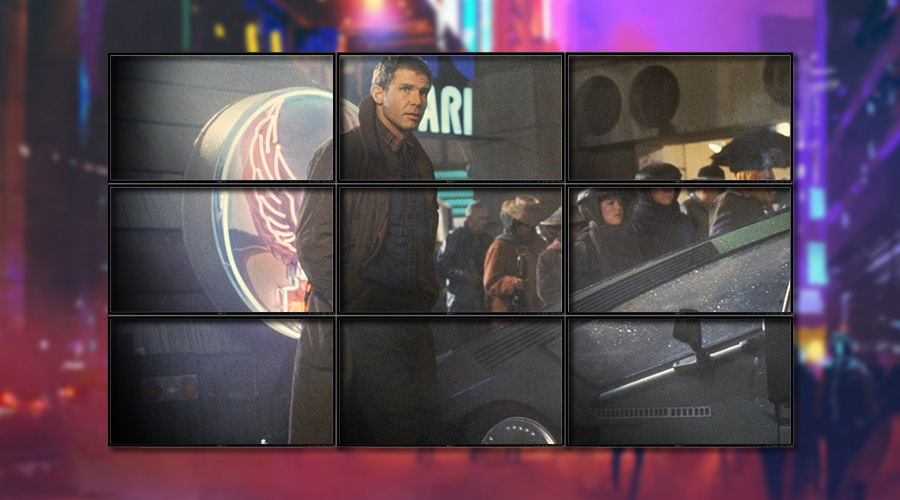 What is cyberpunk when it's at home? A genre of science fiction, typically featuring a lawless subculture in an oppressive society dominated by evil corporations and/or ill-advised advances in technology. Basically, the most awfully dark future folks 30 or 40 years ago could imagine for the human race. You know, a reality we're more or less living in right now, sans flying cars.
If that sounds like your kind of entertainment and you want nothing better than to wet your beak in some bleak, here's a quick best-of list to give you some inspiration.
1. Philip K Dick's Electric Dreams
---
Year of release: 2017
Cast: Steven Buscemi, Timothy Spall, Tuppence Middleton, Jack Reynor
---
You know what? If you want unadulterated cyberpunk, just go back to the source. Philip K. Dick, along with authors William Gibson and Bruce Bethke, is widely regarded as one of the fathers of the genre. You may not know it, but you've sampled Dick's work before in films like Blade Runner, Minority Report, A Scanner Darkly and Total Recall – and some of these are more bastardisations of the original source material than others. Electric Dreams is an anthology TV series that (more often than not) offers adaptations which are closer to Dick's greatest short stories. Unfortunately, the quality of the episodes in this 10-part series is very up and down.
The ones you need to beeline towards are as follows: Real Life (S01E01) is a fascinating look at VR, what constitutes reality and the human need to punish ourselves for our own sins, even when forgiveness has been given. Crazy Diamond (S01E04) is a kooky little number where Steve Buscemi tries to escape a dying island world by making shady deals with a replicant. Last but not least, you can't go past The Hoodmaker, the tale of a second-class telepathic citizen being paired with a hard-boiled cop, right as their two species are about to descend into civil war.
2. Blade Runner
---
Year: 1982
Cast: Harrison Ford, Sean Young, Rutger Hauer, Edward James Olmos
---
Come on. Was this ever not going to be on this list? Blade Runner is regarded as pretty much the archetypal cyberpunk film. It's a very loose adaption of Philip K. Dick's novel Do Androids Dream of Electric Sheep? and is known for its futuristic noir style, striking cinematography and an ambitious electronic soundtrack by Vangelis. Basically, director Ridley Scott changed the landscape of sci-fi with this landmark piece of filmmaking.
Harrison Ford stars as Rick Deckard, the titular Blade Runner (think: a hard-boiled detective with a licence to shut down androids) and his mission is to hunt down a posse of rogue "replicants" led by Roy Batty (Rutger Hauer). In an effort to get inside the mind of his quarry, Deckard interviews and establishes an emotional connection with Rachel (Sean Young), a legal replicant who, like the renegades, has a four-year expiration date to worry about.
I won't spoil any more than that for you newcomers. Go in fresh and enjoy the post-credits' questions you'll ask yourself regarding mortality, synthetic organisms surpassing their creators and what it truly means to have a soul. Also, enjoy "tears in rain", one of the best improvised speeches ever captured on film.
3. Robocop
---
Year: 1987
Cast: Peter Weller, Nancy Allen, Kurtwood Smith, Miguel Ferrer
---
If you haven't yet seen this ultra-violent, darkly comedic Paul Verhoeven classic, I question your Prime Directives. Don't let its age fool you; Robocop is still a potent piece of filmmaking – I'd stream it for a dollar. If only to see how presciently it depicts Detroit as a dangerous hellhole and all-round failed capitalism experiment.
Not to worry, though. Mega-corporation Omni Consumer Products has an urban renewal plan for the city, which, unfortunately, involves the privatisation of the outgunned local police force. This will be achieved by overworking and undersupplying said fuzz, at which point they'll be replaced by ED-209, a sociopathic robo-saurus thing that can walk a flight of steps about as well as Eddie Murphy's Aunt Bunny.
Our story centres on Alex Murphy (Peter Weller), a new cop on the block who wins the dead pool in record time, thanks to Clarence Boddicker (Kurtwood Smith). He's the lapdog of one Dick Jones, an OCP VP who, after a corporate coup, is forced to green light Murphy as the first recipient of an experimental cyber-enhancement. While the cutthroat corporate culture grows worse at OCP, Murphy, now Robocop, becomes increasingly self-aware. Basically, you'll come for the righteous, punk-splattering revenge tale, but stay for the hilarious fake TV ads.
4. The Terminator
---
Year: 1984
Cast: Arnold Schwarzenegger, Linda Hamilton, Michael Biehn, Earl Boen
---
Interesting bit of trivia: James Cameron came up with the idea for this film during a high-fever dream (or rather a nightmare). "I was sick at the time," Cameron says on the Blu-ray commentary track for the film. "I was just lying on the bed thinking and came up with all this bizarre imagery … I think also the idea that because I was in a foreign city [Rome] by myself and I felt very dissociated from humanity in general, it was very easy to project myself into these two characters from the future who were out of sync, out of time, out of place."
From that weird experience spawned the tale of Sarah Connor (Linda Hamilton), a nobody hunted by a remorseless cyborg, all because she'll eventually give birth to a resistance leader who'll crush our enemies in a future war against AI. The only thing stopping her from being murdered by a T-800 infiltrator unit (that's also somehow an extremely conspicuous 260-pound Austrian bodybuilder) is Kyle Reese (Michael Biehn), a time-travelling resistance fighter who's secretly had the longest of long-distance crushes on her. The Terminator may be a bit naff in terms of special effects, but there's still a lean efficiency to Cameron's storytelling which makes it an exhilarating and timeless classic as well as must-watch stuff.
5. Aeon Flux
---
Year: 2005
Cast: Charlize Theron, Marton Csokas, Frances McDormand, Sophie Okonedo
---
In the 25th century, the Earth's population has dwindled to 5 million following a devastating virus that almost resulted in the extinction of all human life 404 years earlier. The ones who made it are confined to a singular city-state called Bregna, an idyllic place on the surface, though most of the populace inexplicably suffer from nightmares and "undesirables" are made to disappear.
Enter Aeon Flux (Charlize Theron), a skilled warrior in league with a group of telepathy-gifted rebels led by Handler (Frances McDormand). This highly skilled band seeks to destroy the oppressive government, first, by assassinating a high-ranking chairman (Marton Csokas). As that primary objective unfolds, Aeon integrates herself in a world of deceit and mystery, slowly learning that the influence of The Man is more pervasive than originally thought.
To be perfectly honest, this live-action Aeon Flux pales in comparison to its raw, pure, animated forebear. But until that becomes available on a streaming service, this will do as an appetiser for curious mainstream viewers.
6. Elysium
---
Year: 2013
Cast: Matt Damon, Sharlto Copley, Jodie Foster, Alice Braga
---
This Neill Blomkamp extravaganza may eschew noir and the rainy neon city cliché, but it still wears a cyberpunk heart on its exo-suit sleeve. The year is 2154 and two classes of people exist: the absurdly wealthy, who live on an idyllic Club Med space station, and the rest, who subsist on a version of Earth that makes the one in Wall-E look like Switzerland. These terrestrial folk, including our protagonist, Max (Matt Damon), are desperate to escape the planet's crime and poverty, and there's also a critical need to use the state-of-the-art medical facilities on Elysium.
The slight problem standing in the way of their health care is the ice-queen administrator of the station (Jodie Foster) who's fond of using guided missiles against immigrants. Plus, when she learns that Max has located software he can use to slip past her security net (and has augmented himself with an exo-suit to see such a mission through), she engages the wet-work services of the similarly enhanced Kruger (Sharlto Copley). Admittedly, Elysium is what I'd call popcorn cyberpunk. That said, it serves as a more-than-competent gateway for newcomers into the genre.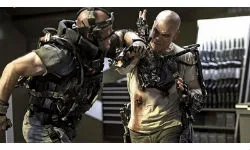 7. The Matrix
---
Year: 1999
Cast: Keanu Reeves, Carrie-Anne Moss, Laurence Fishburne, Hugo Weaving
---
The Wachowskis went into full cyberpunk geek-out mode when they coded together The Matrix. Not only did they deliver an incredibly stylish and action-packed mind-screw, but this well-read writer/director team included an absolute smorgasbord of references to influential cyberpunk literature. Humankind is an unwitting prisoner in a neural simulation, controlled and bred for energy-leeching purposes by a race of futuristic AI entities who've won a civil war and now run what little remains of planet Earth.
Neo (Keanu Reeves) is a clock-punching slave who cottons on and starts tailing a group of "freed" hackers. This motley crew has escaped the clutches of the machines and are searching, from the outside in, for the digital messiah who was promised. Resistance legends state that the prophesied One will deliver humanity from bondage, and ye shall know him by his catchphrase of "woah" and yay, he shall doest much kung fu with guns (lots of guns). Aside from the chunky, click-open mobiles and the existence of payphones, this first Matrix film stands the test of time incredibly well. Technically, it's a part of a trilogy, and you could see how far the rabbit hole goes, but I suggest you take the blue pill now and stay blissfully unaware of the existence of Reloaded and Revolutions.
8. Automata
---
Year: 2014
Cast: Antonio Banderas, Melanie Griffith, Dylan McDermott, Birgitte Sørensen
---
This is best described as a tale that borrows heavily from the concepts raised in Isaac Asimov's I, Robot but goes completely off-road with them in a very un-Asimov direction. The world is a very different place in 2044 and if you're not rocking sunscreen of SPF 10,000 or higher, you're gonna have a bad time, thanks to the solar radiation that has eradicated 99% of us. Jacq Vaucan (Antonio Banderas) calls this hellscape home and works as an insurance agent for ROC Robotics, a corporation which has possibly created an abomination that can resist the supposedly unbreakable protocols of robotic life. (Essentially, a robot may not harm itself or any living thing, nor may it alter another robot.) His quest to find this rogue unit forces him to buddy up with Sean Wallace (Dylan McDermott), a beat cop in the wrong side of town.
Without spoiling too much, things progressively go from bad to worse when Jacq delves into this underworld and discovers how widespread protocol tampering has become. An ROC cover-up begins and all of a sudden, our hero becomes labelled as a risk that has to be managed with a bullet. All told, Automata proves to be a visually striking piece that puts forward one or two interesting ideas, but on the whole, too much of its circuitry is comprised of scavenged clichés.
9. Chappie
---
Year: 2015
Cast: Hugh Jackman, Yolandi Visser, Dev Patel, Sharlto Copley
---
Oh, Chappie, you had such potential. Great CGI and concept by Neill Blomkamp, just a shame that this cyberpunk story had to come with a side-order of an obnoxious real-life South African rapper cast to play himself. Not even the inclusion of the genuinely likeable Dev Patel, or Hugh Jackman as a villain with a fully sick mullet, could balance that decision out.
In this near-future fiction, the South African people are fed up with fighting against an oppressive robotic police force. To aid in a much-needed uprising, a single police droid, Chappie, is captured and hacked to become the first of his kind to have free will. His child-like discovery of the world is soon interrupted when his extra-legal monkeyshines are detected by The Man and he's quickly deemed a threat to the status quo. At this point, and as per Blomkamp tradition, all of the sweet firearms, bad-arse mechs and gory deaths roll out. Like Elysium, this is popcorn cyberpunk that should only be consumed after you sample the true greats of the genre.
10. Altered Carbon
---
Year of Release: 2018
Cast: Joel Kinnaman, Martha Higareda, Dichen Lachman, James Purefoy
---
Altered Carbon is Netflix Original's answer to a Blade Runner replicant. Aesthetically speaking, at least. You get the same flying cop cars, the overlarge trench-coat collars and the steamy lower levels of a megacity stuccoed with retina-retarding advertising. Heck, Blade Runner's mythical horse fixation gets a big stinky wink, too, thanks to the odd inclusion of a bright pink Hello Unicorn backpack.
The source material, Richard K. Morgan's 2002 novel, certainly reads like a love letter to Phillip K. Dick, what with its hard-boiled investigator, Takeshi Kovacs, snooping through a neo-California where the uber rich play God. But rather than anchor the drama on clones-gone-wild, Altered Carbon's future shock of choice is humankind's ability to digitally copy consciousness to host bodies, and the arrogance and depravity that comes with that man-made immortality.
Is it worth jacking into? Absolutely. Joel Kinnaman and Martha Higareda are solid leads as Kovacs and Detective Ortega, respectively. Just be aware that Altered Carbon is closer to sci-fi than true cyberpunk, what with its prefab dystopia that wants for proper world-building. You should also go in knowing its promising murder/suicide mystery runs out of steam before the end.