Streaming services let you watch television and movies and listen to music without fully downloading the content, meaning that you can binge watch a TV series in an afternoon, watch the entire Harry Potter series over a weekend or sing along to your favourite songs on a road trip. There are a number of streaming services available here in the UK, and additional ones that you can only access in some countries. You can invest in a lot of these — in fact, 3 of them are FAANG stocks (Apple, Amazon and Netflix). Here's how you can invest in some of the most popular streaming stocks.
What are streaming stocks?
Streaming stocks are the shares of companies that offer streaming services. These are typically subscription-based services, where you pay a monthly amount to get access to all of the content available on the service. Streaming services have become incredibly popular due to their convenience in recent years.
How to invest in streaming service stocks
Choose stocks to invest in. You can check out some streaming service stocks above and find out more about them.
Choose an investment platform. You'll need one that lets you invest in the stock exchange that your chosen stocks are listed on.
Sign up and fund your account. You might need to wait for your account to be verified and for your funds to hit the account before you can begin.
Find your chosen stock. You can search its name or ticker.
Review and buy. It's as easy as that!
UK streaming service stocks
Most streaming services originate from the US, so you'll find some of the most popular streaming services in the next section. If you'd prefer to invest in a UK streaming service, there are options.
Britbox (ITV)
Britbox is an online streaming service that offers British television series and films. It is a joint venture between ITV and the BBC, with series and films supplied from the BBC, ITV, Channel 4 and Channel 5.
ITV owns 90% of Britbox UK and 50% of Britbox International, so by investing in ITV, you're able to get exposure to Britbox. You would also be investing in ITV's other ventures, including television programs it releases and other companies it owns, so make sure you do your research on the entire company, not just the streaming element.
Compare brokers to buy Britbox (ITV) shares
Investing in streaming service stocks from the UK
Streaming stocks are mostly tech stocks, which are often based in the US. Broadening your range to include overseas and US stocks would give you access to more streaming stocks than if you only invest in UK stocks. Here are some of the popular ones:
Amazon Prime Video and Prime Music (Amazon)
Amazon has a couple of streaming services — Prime Video and Prime Music, both of which are included in the Amazon Prime subscription that gets you access to one-day delivery on your Amazon orders. As an add-on to the Prime Music service, customers can also access Amazon Music Unlimited, which gets access to more music on demand.
Compare brokers to buy Amazon shares
Netflix
Netflix is a streaming service that's based in America, but operates worldwide. It's got more than 220 million subscribers in 190 countries. Netflix is part of the Fortune 500, S&P 500, S&P 100 and NASDAQ-100. It's also one of the FAANG stocks.
Compare brokers to buy Netflix shares
Disney+ (Walt Disney)
Disney launched a subscription service in 2019, bringing it to the UK in March 2020. It contains content from a range of Disney's studios, including Walt Disney Pictures, Walt Disney Animation Studios, Pixar, Marvel and National Geographic. You can watch around 7,000 TV episodes and 500 films on the service.
Compare brokers to buy Disney+ shares
Roku
Roku produces hardware media players that gets its customers access to a range of streaming services. Initially Roku players were created in collaboration with Netflix, but you can access Disney+, BBC iPlayer, ITV Player, Spotify and many other services with the players. Roku has partnerships with smart TV manufacturers to build smart TVs that have its functionality.
Compare brokers to buy Roku shares
Now (Comcast)
Now, known as Now TV, is a streaming service operated by Sky. It offers streaming services without a monthly subscription fee, plus add-ons to get access to additional films and TV, marketed as packages, including a "Sports" package, an "Entertainment" pass and "Sky Cinema" pass. You can access Now TV through Roku-based streaming players, on desktop, on mobile phones and some games consoles.
Compare brokers to buy Now (Comcast) shares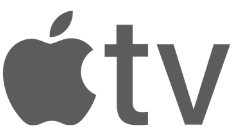 Apple TV+ (Apple)
Apple TV+ is a subscription service operated by Apple which offers a range of its own original production film and TV series known as "Apple Originals". The service can be accessed through a web browser, on Apple devices and on some streaming players. Customers can get access to additional TV series and films through bundles.
Compare brokers to buy Apple TV+ (Apple) shares
HBO Max (AT&T)
HBO Max is a streaming service owned by Warner Media. The service is currently not available in the UK, but it has been launched in the US, Latin America, the Caribbean, Andorra, Spain and the Nordic countries. The service contains WarnerMedia's films and television series. It also has additional third-party content.
Compare brokers to buy HBO Max (AT&T) shares
Why invest in streaming service stocks?
As you can see, streaming services are typically created by existing technology companies that have seen success elsewhere or in a similar industry. This means that there's not many stocks that are strictly streaming stocks, such as Netflix and Spotify.
The improvement of internet connectivity and technology means that these services are convenient and easy to access. According to Statista, there are approximately 1.49 billion video-on-demand users worldwide.
The risks of streaming service stocks
Streaming services are becoming increasingly popular — but as more technology companies release their own service, customers are subscribing to several different services to access all of the content available. This increases competition between the service providers. Each provider needs to be able to keep their content fresh to keep subscribers from turning off.
All investing should be regarded as longer term. The value of your investments can go up and down, and you may get back less than you invest. Past performance is no guarantee of future results. If you're not sure which investments are right for you, please seek out a financial adviser. Capital at risk.
Bottom line
These days, a night in binge-watching Netflix with a takeaway is just as appetising, if not more so, than a night out. The last few years have seen some new streaming services hit the market, which have been extremely popular.
The best way to get hold of most streaming stocks is by investing in the parent company of the company — we've listed some of the main ones above, but there are plenty more available to invest in.
Browse all media stock guides