Review: Small World money transfers
A worthwhile option for exotic currencies, flexible options and fast transfers.
Good for superfast transfers and flexible payment options
Not so good if you're looking for immediate 24/7 customer service
Expert review
Small World says it's on a journey to make a big world small for its customers across the world. With a network of more than 250,000 pick-up locations across 190 countries, a multilingual team of agents and a vast range of payment options, it's a worthwhile choice if you want flexibility and fast transfers. Exchange rates are competitive and fees are too, although they vary depending on how and where you're sending the money.
Registration is free, although it took a bit longer than some of Small World's competitors to get through the compliance process. But with its speedy delivery and many payment choices for both sender and recipient, Small World is worth considering.
Why should I consider Small World?
Fast transfers. Small World claims that payments are typically delivered in 15 minutes.
Multiple transfer options. You can even transfer money to a mobile wallet.
Send any amount. No minimum or maximum transfer limits.
Competitive exchange rates. Get a good deal for your transfer.
Reputable service. With over 100 million transactions under its belt, Small World offers a global service with multilingual support.
What to watch out for
No 24/7 support. The customer service team may take a while to get back to you and it's not open on Sundays.
Potentially lengthy compliance process. It took a while for my ID to be confirmed in the registration process.
Small World's exchange rates and fees
Small World makes its money from transfer fees and by padding the exchange rate for a profit.
Fees depend on where you're sending money and how it's sent and received. Online transfers are cheaper than bank-to-bank transfers and cash transfers are the most expensive option. But it often offers discounts for first-time users, such as your first transfer for free.
Which currencies can I send with Small World?
Small World offers transfers to 190 countries, but some of the most popular currencies include:
COP Colombian peso
CUP Cuban peso
DOP Dominican peso
EUR euro
INR Indian rupee
PHP Philippene peso
PKR Pakistani rupee
USD US dollar
Is Small World safe to use?
Small World is authorised by the Financial Conduct Authority (FCA) in the UK.
Part of the FCA's regulation requires Small World to keep its customers' funds separate from its own, in order to protect its users' money if the company runs into financial difficulties.
It claims to handle more than 1 million transactions a month and have more than 15 million customers worldwide.
What Small World's reviews say
Trustpilot: 4 out of 5 based on 5,705 customer reviews.
Reviews accurate as of 8 September 2020.
77% of these reviews were rated as "excellent" or "great", while 17% were rated "poor" or "bad". Complaints were mainly about slow customer service and slow transfers. Small World's customer care team answers these complaints on Trustpilot.
Common money transfer scams and how to stay safe
Which payment methods does Small World accept?
You have a range of payment choices, including debit card, credit card, bank transfer, cash, Ideal, Sorfort and ACH.
What are the ways I can send money with Small World?
There's also a huge range of choices for how you want your recipient to get the money.
Cash pick-up: Send money to over 250,000 pick-up locations.
Bank deposit: Transfer money to bank accounts in over 90 countries.
Home delivery: Get cash delivered to a home address.
Mobile top-up: Send mobile airtime.
Cash card reload: Top up a prepaid cash card.
What do I need to send money online through Small World?
To send money through Small World, you'll need the following:
A Small World account. It's free to register for a Small World account and should only take a few minutes.
Valid payment. You have the choice of paying for your transfer by debit card, credit card, bank transfer, cash, Ideal, Sorfort or ACH.
Recipient's name and contact information. To make sure your transfer goes smoothly, have your recipient's legal name, bank account information and contact information ready when setting up your transfer. The recipient will also need to bring their matching ID if they're picking the money up.
Valid identification. This usually must include your photograph, your full name and date of birth. Typically accepted forms of ID include:

UK or international passport
UK driver's licence
How do I make my first transfer with Small World?
Here's how to make your first transfer online:
Create an account. It's free and quick to register and you'll then have access to your online transfers dashboard.
Arrange your transfer. Give your recipient's legal name, bank account information and contact information, then choose which way you want them to receive the money.
Pay for your currency. You can pay by debit card, credit card, bank transfer, cash, Ideal, Sorfort or ACH.
Transfer complete. Small World will send your money to the recipient and you can opt to receive a payment confirmation as soon it has been sent.
You can also arrange the transfer over the phone on 020 7123 456 or in one of Small World's 11 branches (1 in Birmingham and 10 in London).

My experience with signing up
It was easy to sign up and upload the photo ID, but took a while for the ID to be confirmed through the compliance process.
How to track a Small World transfer
You can track your transfer throughout and see a history of previous payments by logging in to your account. You can also call the customer services team for an update.
Is there a Small World app?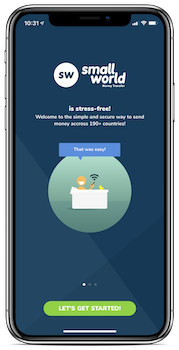 Yes, Small World has an app on both Google Play and the App Store. The app lets you:
Transfer money quickly and simply
Track the status of your transfers
Access all the latest promotions
Get customer support in various different languages
| Ratings collected on 8 September 2020 | |
| --- | --- |
| Apple App Store | 4.6 out of 5 from 3,100 customer ratings |
| Google Play Store | 3.8 out of 5 from 3,294 customer ratings |
Check out other money transfer apps

How does Small World compare to other services?
Table: sorted by promoted deals first
Our table below lets you compare services you can use to send money abroad. Compare fees, exchange rates and discounts from different money transfer services, and when you have made your choice, click Go to site.
Bottom line
With its fast delivery and many payment options, Small World is worth considering. But because there are many money transfer alternatives out there, it's worth shopping around first – use our guide to compare the fees, rates and details to find the best one for your transfer.
Frequently asked questions
Does Small World offer business transfers?
Yes. Online and via the app, just specify your beneficiary type as "business" when setting up its details. In a branch or over the phone, just tell the agent that the recipient is a business or company and not an individual.
How do I contact customer support?
You can call the customer support team on 020 3198 0387 between 9am and 7pm on Mondays to Fridays and on Saturdays from 9am to 4pm. Alternatively, you can contact it via email, Facebook and live chat.
How can I cancel my Small World transaction?
To cancel you need to contact the customer service team as soon as possible. If it can be cancelled you'll get a refund between three and five days later. Also, a money transfer will be automatically cancelled if it's not paid 48 hours after being created.