Sendwave money transfer review
A fee-free way to send money to Africa in 30 seconds.
The Sendwave (formerly Wave) app offers a secure way to transfer funds almost instantly to a mobile money account using your debit card to Ghana, Kenya, Nigeria, Senegal, Tanzania and Uganda.
GBP 0
Min. Transfer Amount
GBP 10,000
Max. Transfer Amount
Within an hour
Transfer Speed
Details
Product Name
Sendwave Money Transfers
Min. Transfer Amount
GBP 0
Max. Transfer Amount
GBP 10,000
Transfer Methods
Online
Transfer Speed

Minimum transfer time

Within an hour
Customer Service
Phone, Email
Available Currencies
CAD, EUR, GBP, GHS, KES, NGN, TZS, UGX, USD
| | |
| --- | --- |
| Online Transfer Fee | GBP 0 |
| Branch Transfer Fee | GBP 0 |
How much will I pay to send money with Sendwave?
Sendwave is one of those rare services that doesn't charge transfer fees. Instead, it makes money by offering you slightly worse than the mid-market rate when you exchange currency.
Disclaimer: Exchange rates change often. Confirm the total cost with the provider before transferring money.
Pro tip
The mid-market rate is what your money's worth compared to another currency. For example, the mid-market rate for pounds to euros could be 1 GBP = 1.12 EUR.
Charging above the mid-market rate means a company will convert your money for less than it's really worth – reducing the exchange rate to 1 GBP = 1.11 EUR, for example.
Keep in mind that big players like Western Union and MoneyGram make money on both exchange rate spreads and fees that can be higher for specific types of transactions, like paying with your debit card. With Sendwave, you cut out the fee altogether.
How are Sendwave's exchange rates?
Depending on your recipient's currency, you'll see a spread on the mid-market rate that appears to top out at about 4%.
To give you an idea of what you could pay on the exchange rate, here's what Sendwave advertised at the time we wrote this:
| | Mid-market rate | Sendwave's exchange rate | Markup |
| --- | --- | --- | --- |
| Ghana | 1 GBP = 7.08 GHS | 1 GBP = 6.87 GHS | 3% |
| Kenya | 1 GBP = 130.81 KES | 1 GBP = 127.59 KES | 2.5% |
| Nigeria | 1 GBP = 476.83 NGN | 1 GBP = 458 NGN | 3.9% |
| Senegal | 1 GBP = 731.17 CAF | 1 GBP = 710.86 CAF | 2.8% |
| Tanzania | 1 GBP = 2,832 TZS | 1 GBP = 2,763 TZS | 2.4% |
| Uganda | 1 GBP = 4,636 UGX | 1 GBP = 4,537 UGX | 2.1% |
What does this mean?
According to the mid-market rate, 1 GBP is worth 130.81 Kenyan shilling (KES). Yet when you transfer through Sendwave, 1 GBP is worth 127.59 KES.
Here's what that looks like when sending £100:
Your money is actually worth £100 x 130.81 = 13,081 KES.
Instead, your recipient receives £100 x 127.59 = 12,759 KES.
Sendwave profits the difference of 322 KES – or about £2.46.

How does Sendwave compare to other services?
Table: sorted by a combination of service offering and the amount your recipient will receive
Disclaimer: Exchange rates change often. Confirm the total cost with the provider before transferring money.
What types of transfers does Sendwave support?
Sendwave supports only debit card payments to mobile money accounts in Africa. You can send as little as £1 through Sendwave to Ghana, Kenya, Nigeria, Uganda, Senegal and Tanzania.
At the time of writing, Sendwave supports transferring your cash to M-Pesa, MTN and Airtel mobile money accounts, with plans to add others as it expands into other countries.
How do I send money through Sendwave?
Download the Sendwave app for iOS and Android and register for a free account. You can start sending money immediately – just enter your recipient's name and phone number.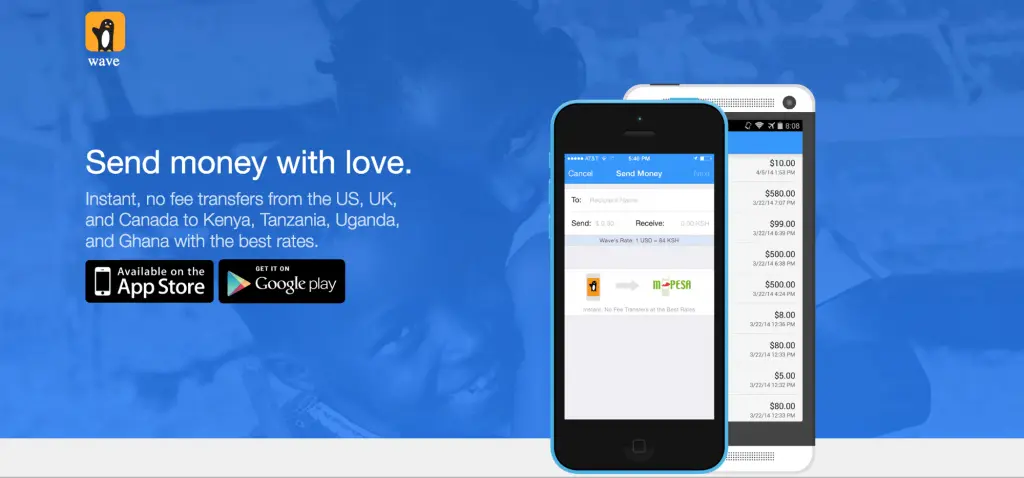 How do I track my Sendwave transfer?
Once the recipient receives your transfer, Sendwave emails you confirmation. And you'll see your transfer marked Funds Delivered in the app's transaction tab.
Benefits and drawbacks
Pros
Mobile app. No need for a desktop, you can transfer funds straight from your smartphone.
Easy signup. To get started, submit your name, email and phone number on Sendwave's site.
Low minimum transfer. Transfer as little as £1.
Quick transfers. According to Sendwave, transfers are instant.
Cons
Only for mobile. Sendwave is a mobile-only app.
Not for all African countries. Currently, you can send money to Nigeria, Kenya, Uganda, Ghana, Senegal and Tanzania.
No credit card or PayPal payments. Load funds from a debit card only.
How safe is Sendwave?
Sendwave is a licensed money transmitter in every country it operates in. It encrypts transactions through a 128-bit connection and doesn't store your personal or financial info in its databases.
Next steps
To get started with Sendwave, download the app on your mobile device. Then sign up for an account and enter your recipient's contact details to send money. If you need help at any point in the process, email help@wave.com.
Compare Sendwave to the competition
Bottom line
Sendwave is a simple way to get money to African countries not often served by other money transfer services. It charges no fees to transfer funds directly to mobile money accounts – and it's as easy sending a text.
Frequently asked questions