Samsung Gear S3 Review: Samsung's greatest smartwatch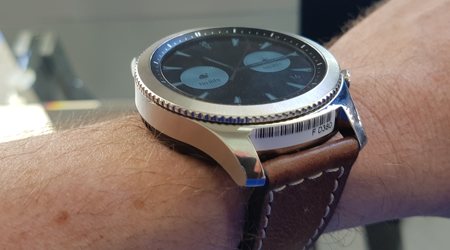 Samsung's Gear S3 is the company's best smartwatch to date, mixing solid style with mostly useful features.
Samsung announced the Gear S3 back in September at the IFA show in Berlin before launching it into UK stores on 18 November.
The Gear S3 isn't actually Samsung's 3rd smartwatch to date. We've honestly lost count amongst the Gears, Gear Neos and several others as well, but it's easily the best smartwatch the South Korean manufacturer has produced to date. That's largely because Samsung has taken what it has learned from earlier Samsung Gear models and applied them more to producing a watch that should appeal to folks who actually want to wear a watch, as distinct from technophiles who want to geek out about what's under the display.
Samsung Gear S3: Specifications
| Samsung | Gear S3 frontier | Gear S3 classic |
| --- | --- | --- |
| Display Size | 1.3in | 1.3in |
| Resolution | 360×360 | 360×360 |
| Display Density | 278ppi | 278ppi |
| Processor | Dual core 1.0 GHz | Dual core 1.0 GHz |
| OS | Tizen Based Wearable Platform 2.3.2 | Tizen Based Wearable Platform 2.3.2 |
| Size | 46 x 49 x 12.9 | 46 x 49 x 12.9 |
| Weight | 62g (without band) | 57g (without band) |
| Memory | 4GB Internal memory, 768MB RAM | 4GB Internal memory, 768MB RAM |
| Sensors | Accelerometer, Gyro, Barometer, HRM, Ambient light | Accelerometer, Gyro, Barometer, HRM, Ambient light |
| Battery | 380mAh | 380mAh |
| Price | £299.99 | £299.99 |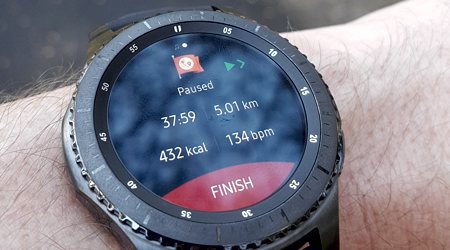 Upsides: Why you'd want the Samsung Gear S3
The style is right: We tested with the "Frontier" version of the Samsung Gear S3, as distinct from the "Classic" variant, but what both versions of the watch get right is actual watch style. Earlier Gear smartwatches looked more like technology prototypes than anything you might want to wear outside, but Samsung has clearly taken note of the types of styles that actual watch buyers might want to wear.
Takes a standard watch band: Don't like the style of the supplied band? The Gear S3 uses an ordinary 22mm watch band, so you can easily and painlessly switch it out for any style you'd like.
Waterproof and rugged: The Frontier we tested with is the more rugged looking of the Gear S3 family, but they're actually both rated for the same IP68 water resistance, meaning that they can be dunked in water without issue. There are caveat: the Bluetooth connectivity of the S3 typically won't work underwater, so they're not swimming watches, but it does make them much easier to clean after a hot and sweaty workout.
Rotating bezel works well: The Gear S2 introduced a rotating bezel for selections alongside the touchscreen, and it's still present in the Gear S3 model as well. You do get selection and back buttons on the side, but for quick adjustment the rotating bezel is seriously easy to use.
Inbuilt speaker for calls and voice commands: The Gear S3's speaker means that you can use it as a hands-free calling kit from your wrist. In our tests pickup was reasonable for basic calls, although you wouldn't want to teleconference with it. Likewise, you can also talk to the Gear S3 for basic tasks, and it will respond with a fair level of accuracy. Just like every other voice assistant, you may still feel awkward talking to your wrist, Dick Tracy style, but that's not the fault of the technology.
Always on display: The Gear S3 borrows a trick from the Galaxy S7 and Galaxy S7 Edge, with the option for a slightly dimmed display to remain on even when you're not directly glancing at the watchface. This gives it a much more watch-style appearance generally, as well as making it easier to quickly glance at the information on the watch face without fully waking it up.
Good battery life: Samsung advises that the Gear S3 can last for up to three days of battery life between charges. That's the benefit of having a larger watch body, because you can stuff more actual battery capacity in there. If you're using the Always On Display this drops to around a day and a half, but that's still very good for general smartwatches, excluding Pebble's e-ink displays which can often last up to a week.
Smart health apps: Samsung's S-Health app for Gear S3 does the basics you'd expect from a tracking app, such as step counts and heart rate, but it's also peppered with a lot of encouragement, whether it's hitting your step goal, floor levels walked up or simple activity reminders. They're bright and colourful rather than being stern and reminding, which is a great way to keep you fit, healthy and active.
Donwsides: Why you might not want the Samsung Gear S3
It's a chunky watch: You can only get the Gear S3 in one watch face size, and it's a big one. The style is usually called "masculine", but the reality here is that if you've got smaller wrists it's going to look immense on your arms.
It's a sweat trap: We took the Gear S3 out running frequently, and while we enjoyed the way that the S-Health app talks you through a run and gives you incentives to keep going, when we were done, the amount of sweat trapped under the band and watch body wasn't on the small side.
Some tracking is suspect: Most fitness trackers suffer from a bit of variance in their tracking, which is mildly annoying but in a general stats sense isn't likely to be a problem. The Gear S3's particular bugbear in our testing was its inbuilt GPS functionality. On a tracked 5km run, it persistently decided that we'd only run 4.8km instead when using its own GPS tracking. Competing devices, and even a Galaxy S7 picked 5km, but not the Gear S3.
Notifications are still the key benefit: Since the first smartwatches emerged, the main reason to wear one over a traditional watch, or no watch at all has been the ability to stay notified about texts, emails and social media. The Gear S3 handles these well, but then so does every other smartwatch you can buy.
No local LTE version: Samsung does produce an LTE-enabled version of the Gear S3, which means you can drop a SIM card into it and eschew a smartphone altogether. However, there are no plans to release that model locally.

Who is it best suited for? What are my alternatives?
The Gear S3 is easily the best smartwatch that Samsung has produced to date, and it's also a very compelling option against your other wearables choices. Obvious competitors include Motorola's Moto 360, Huawei's Watch wearables or, if you're happy with iOS-only compatibility, Apple's Watch. If you're more constrained in your budget and happy with a less stylised device, consider any of Pebble's wearables, or Fitbit's more activity-centric trackers.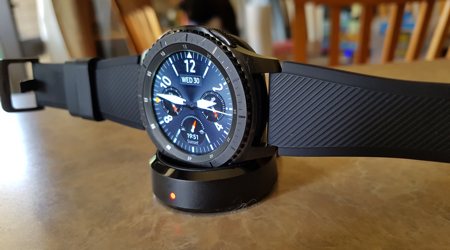 Where can I get it?
Samsung sells the Gear S3 through its website, as well as through several retailers for £299.99 for either the Classic or Frontier variants.