Rick and Morty: The ABCs of Beth review

Giving birth to doodoos.
When it comes to starring roles, we've been on quite the Rick and Morty streak this season (which, hey, makes perfect sense, given the title of the show). In episode 9, however, the focus finally shifts away from our portal-hopping duo and onto Beth, brilliant daughter of Rick Sanchez and recent escapee of possibly the worst marriage in the entire multi-verse. Sorry Jerry, but you suck.
She's no dimension-skipping bad-ass, but Beth is nonetheless an interesting character study. Even though she's fragile and damaged by Rick's exit early into her childhood, she's still equipped with his best (and worst) traits. The Sanchez intellect shines brightly but it comes with that side-order of ego. She can also easily manage the oft demanding Morty and Summer, but does so using an unhealthy amount of indifference towards them. Last of all, drinking doesn't so much run in the family as it does flow like a torrent. As Rick puts it: when the acorn fell, it plopped straight downwards. Save that mental image for a musical number arriving in a moment.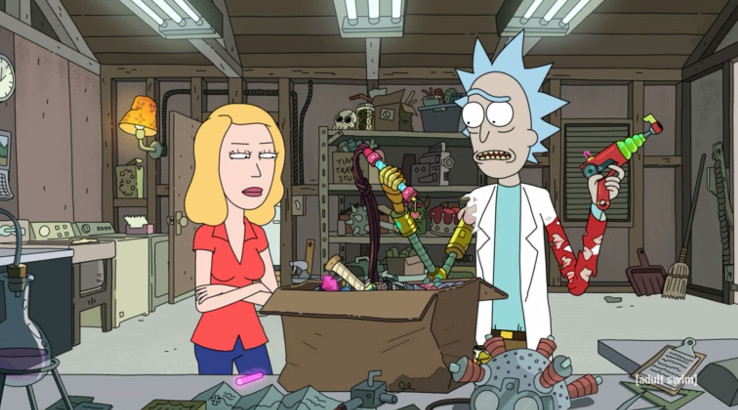 After hearing that the cannibalistic father of one of her childhood friends is about to face capital punishment (for eating said friend: Tommy), Beth suddenly recalls a vague memory from her childhood. Tommy disappeared in her imaginary world, Froopyland, which Rick reveals was in fact a sub-dimension he whipped up for babysitting purposes. Think: a Minecraft piss-take with procedurally-generated hills and the most rainbow texture pack available. Horrified, Beth wonders if her old playmate has somehow managed to survive there for all these years.
A crazy-eyed and disheveled Tommy has become de facto leader of this barely substantial place. The only way he can generate food is by humping the sentient animals around him to produce offspring that may be eaten (or mated with again). It's…uh, pretty dark stuff. Beth is understandably upset with both Rick's gross negligence and his casual acceptance of what an innocent child has become – ever the scientist, he counters that Tommy was probably always going to follow his father's monstrous footsteps anyway.
Beth takes the high road by insisting they should still free Tommy from this purgatory, and that people aren't necessarily slaves to their genetics. Hilariously, this theory is derailed when Tommy's spawn stage a play that effectively casts Beth as the Satan of their world. Young Beth, jealous of Tommy's loving parents and his Nintendo, deliberately stranded their father/king in this place. She calls "fake news", but Rick's not so sure and prepares to open a time capsule of memories…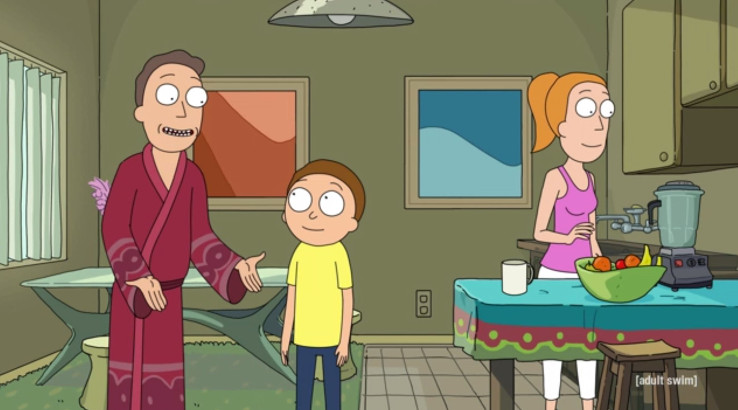 Elsewhere, Summer and Morty have been bubbled away to spend a weekend at their father's house (in a wonderful Bubble Bobble level-transition reference). To their surprise, Jerry has gotten his shit together – almost like he's gotten it all in a backpack, or something, so it's together. His typically squalid apartment is presentable and he's even learned telekinetic powers, courtesy of his new girlfriend, Keara. She's very much a rebound shag who's a parody and pastiche of various tribal and hypersexualized aliens (think: Predators, the Na' vi and the three-boobed hooker from Total Recall). The only thing she loves more than repeated and exhausting hunting sessions is Jerry. For his part, Jerry is a fan of her double genitals, but otherwise feels he shouldn't have entered into this physically-demanding soulbond. Cue: a few desperate and cowardly plans to get off the hook.
Back in sunny Froopyland, the storm clouds start to form when Rick reveals that Beth was quite the vicious problem child. This rainbow-verse wasn't so much a means for Rick to neglect his daughter as it was a tyke prison that could protect the world from her temper. Furthermore, as an attentive father he built her every toy she ever requested. The list is telling: a ray gun, a whip which forces people to like the bearer, invisibility cuffs, a parent leg-trap, a lightning gun, a teddy bear with anatomically correct innards, night-vision googily eye glasses, sound-erasing sneakers, false fingerprints, fall-asleep darts, a lie-detecting doll, an indestructible baseball bat, a ladybug-shaped taser, a fake police badge, location-tracking stickers, rainbow-coloured duct tape, mind-control hair-clips, poison gum and a pink sentient switchblade. Though it's been decades, the latter cheerfully says it's still down for some stabbin'.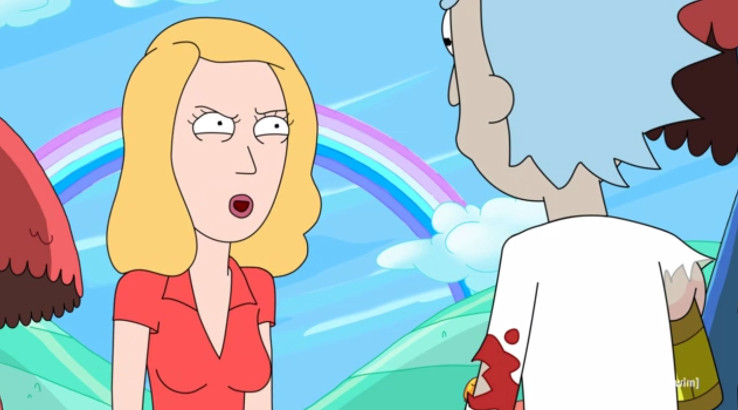 Beth accepts this different perspective on her past events. Father and daughter reconcile by cloning a new Tommy together. The tender mood of this arts 'n' crafts montage is, of course, ruined by a ridiculous song entitled "Doodoo in my Butt" The lyrics posit that every daughter is a doodoo from a dad's butt, though, biologically speaking, it's actually a nut. It closes by saying that fathers tend to father wrong and there isn't a song that can change that. Speaking of clones, Rick offers Beth an out: go find yourself in the multi-verse while a genetic doppleganger handles things at home. It's unclear which path she takes.
Last but not least, Jerry's ludicrous subplot rounds off by him admitting he's a closet racist, beta-male sexist, and a selfish person. An unamused Keara is about to add his head to her trophy wall when it's revealed why she's chosen earth as her hunting grounds. Her ex-boyfriend, Trandor appears and asks why she's decided to hunt and select a new mate on his Earthen domain (she had a choice of 300 galaxies). She starts with the excuses. Trandor says they're all total gorgon shit. Jerry gets a free deus-ex-machina escape. Roll credits.