Get movies and TV from anywhere in the world with PureVPN.
Unlock a world of movies, music, TV shows and games. Keep your personal information and browsing data confidential and do it all for a great price. PureVPN offers a comprehensive VPN service with an impressive list of features like the number of servers in different countries.
PureVPN offers VPN easy to use and affordable VPN services for business and everyday consumers. You can find out more about PureVPN and their services on this page.
It looks like we don't have any coupons at the moment.
---
---
Pure VPN promo codes and discount vouchers – October 2021
---
What are PureVPN's pricing and plans?
PureVPN offers the one VPN service. The longer you sign up, the cheaper the subscription gets. The 12 month VPN plan gives the best value for money.
Note: all prices are in US dollars
| Plan Length | Plan Cost | Main Features |
| --- | --- | --- |
| 1 Month | $10.95 – per month | This is the most expensive plan from PureVPN. |
| 6 Months | $53.70 – every 6 months | Cheaper than the monthly subscription with the same list of features. |
| 12 Months | $49.95 – every 12 months | This plan works out to be only $4.16 per month, which is pretty good value when you think about the free SmartDNS service when you sign up. |
Prices last updated August 2017
How do I set up SmartDNS on a Mac?
The process to set up a SmartDNS varies depending on your operating system. Here are some steps on how to do it on a Mac.
Log in to the PurnVPN Client Area.
Once you've logged in, look for the SmartDNS menu option in the Quick Navigation menu.
Get your local IP. A quick Google search for 'what's my IP' will let you know what your IP address is.
On the PureVPN SmartDNS page, copy your local IP address to the option titled 'IP to Whitelist'. Click on 'Allow your IP'.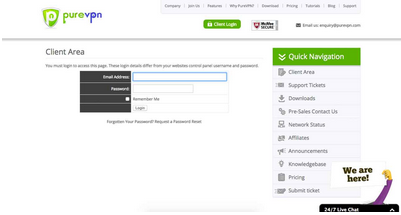 Go back to the 'Network' menu in 'System Preferences'.
Open the 'Network' menu and click on the 'DNS' Network menu option.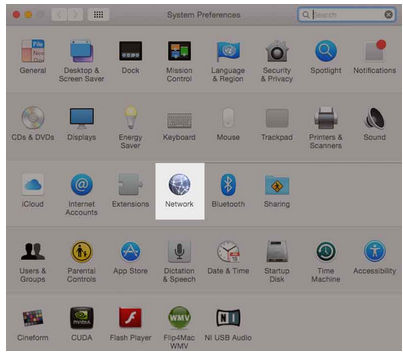 Click on the '+' icon in the DNS menu to add a primary and secondary DNS.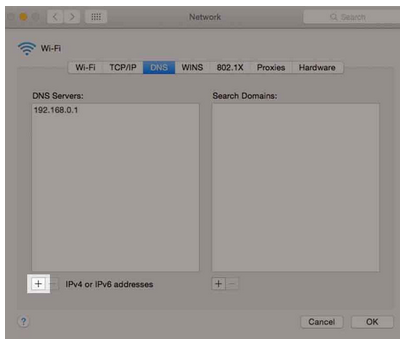 Copy and paste the PureVPN SmartDNS Primary and Secondary DNS from the PureVPN Client Area into the Network DNS Servers area.
Apply the setting.
If you have a system other than Mac, you can find out how to setup SmartDNS for your system on the PureVPN website.
---
PureVPN pros and cons
Pros
24/7 live chat – Live chat is a fantastic way of getting your troubleshooting problems fixed. You get assistance from a human who can walk you through whatever problem you're facing. The PureVPN live chat 'Technical Support Executive we spoke to was knowledgeable and able to answer any of our questions about the PureVPN service.
Cons
Short period for money back guarantee – PureVPN give you a three-day money back guarantee. If you subscribe to their service and you change your mind, you can get your money back in the first three days. Other providers offer a seven-day money back guarantee.
---
What are the benefits of using PureVPN?
A PureVPN subscription can give these benefits:
Unlimited data transfer – PureVPN offers unlimited data downloads and uploads using through their VPN service. You can stream as many hours of TV or watch as many movies as you can manage.
Multiple devices – You can add up to five devices to your PureVPN account. This means you can log on to your computer or your mobile devices and benefit from internet privacy and security no matter the device you're using.
Anonymity – Privacy can be precious on the internet. A VPN service masks your IP address and hides you browsing data. PureVPN services are completely untraceable and anonymous.
---
What is a Smart DNS?
SmartDNS is a great way to access content from all over the world without sacrificing on your connection speed. SmartDNS unblocks particular streaming channels on your Internet Service Provider's IP address so you can access multi-region websites.
PureVPN gives you free SmartDNS when you get the 12-month subscription.
Back to top
Frequently asked questions
Check the FAQs if you have a question about PureVPN. You can also ask us a question using the form below the FAQs.