What is Power Ledger? A step-by-step guide to POWR
A beginner's guide to the peer-to-peer energy trading platform and its cryptocurrency token, POWR.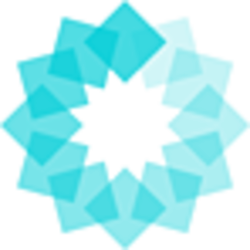 $0.58
Power Ledger is an Australian company with plans to transform the global energy industry. Built on blockchain technology, this peer-to-peer energy trading platform allows users to buy and sell renewable energy directly with one another.
In this guide we'll take a closer look at the tech behind Power Ledger, how the platform works and where POWR tokens fit into the worldwide energy landscape.
Disclaimer: This information should not be interpreted as an endorsement of cryptocurrency or any specific provider, service or offering. It is not a recommendation to trade.
Skip ahead:
POWR at a glance
| | |
| --- | --- |
| Ticker symbol | POWR |
| Use | Utility token |
| Year released | 2017 |
| Origin | Australia |
| Maximum supply | 1,000,000,000 |
| Consensus algorithm | Ethereum (Proof of work) |
| Notable team members | Dr Jemma Green, David Martin, John Bulich, Bill Tai |
| Notable partnerships | Origin Energy, Helpanswers, Kansai Electric Power Company, Greenwood Solutions, Fremantle Smart Cities Project, Northwestern University, Silicon Valley Power, Yolk Property Group |
| Mineable? | No |
---
What is Power Ledger?
Power Ledger is an energy trading platform that allows buyers and sellers to trade energy directly with one another and without the need to go through a power company.
Founded in May 2016, the company was created in response to a global energy technology revolution. In the UK and around the world, the rise of solar power systems, batteries, microgrids and other distributed energy resources is transforming the way we generate and access electricity. In fact, a 2015 Deutsche Bank report revealed that 30 countries around the world had reached "grid parity", which is where the cost of solar generation is equal to or less than local retail electricity prices.
The growth of this new tech has effectively caused a shift in the electricity industry, with power no longer monopolized by central authorities but increasingly in the hands of consumers. To complete this shift and send the solar revolution mainstream, Power Ledger offers a trustless trading platform where consumers can sell energy to their peers.
It allows consumers to:
Monetize the excess energy produced by their home energy systems
Access cheaper energy by buying it directly from their neighbours rather than from a big power company
Terminology explained: Trustless trading platform
While the term "trustless" conjures up negative connotations for some people, the trustless nature of blockchain-based systems is actually a good thing.
For example, while traditional trading platforms require users to entrust their data and funds to some sort of central authority or middleman, blockchain systems do not.
This concept is explained in the Power Ledger white paper: "a trustless system is one designed so that nobody has to trust anybody else in order for the system to function. It makes it possible to trust the outputs of a system without trusting any actor within it."
What is POWR?
Power Ledger operates a dual-token system that consists of the following:
POWR tokens. The fuel of the Power Ledger ecosystem, POWR is a utility token needed to access the platform. One billion POWR tokens have been created to incentivize participants to use the Power Ledger system. Find out more about the distribution of these tokens in Power Ledger's Token Paper.
Sparkz tokens. Sparkz tokens are issued against escrowed POWR tokens and are the electricity credits consumers will use to buy and sell energy. They can be redeemed for fiat currency.
As explained in Power Ledger's white paper:
Sparkz, the 'low-level' token, are specifically limited to representing the tokenized value of a unit of electricity in varying markets around the world. Sparkz and POWR tokens will be exchangeable, connecting the functions of the ecosystem. Sparkz maintain a steady exchange rate between local market electricity prices and the exchange-priced POWR token.
Design architecture for buying POWR through retail and P2P markets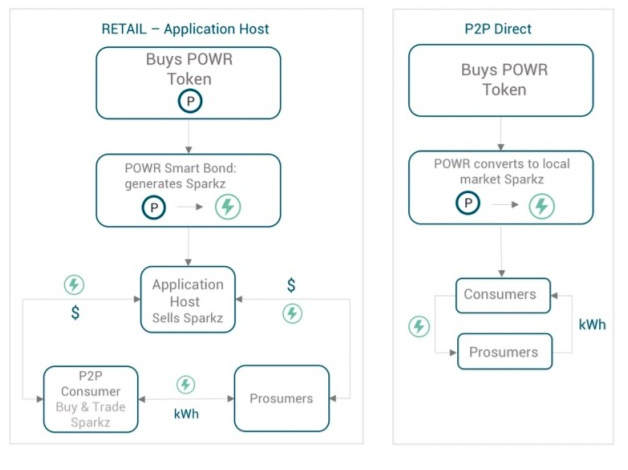 Retail model. Within existing market structures Application Hosts (eg an energy utility company) buy POWR tokens from an open market.
P2P direct model. In deregulated market structures peer to peer transactions take place.
Where to buy and sell POWR
Table: shows partner brands and other brands, sorted by popularity
Learn how to buy and sell POWR in our step-by-step guide.
Back to top
How Power Ledger works: The technology behind Power Ledger
Power Ledger's goal is to reimagine the current power supply network as a decentralized and trustless trading platform. To achieve this, the platform operates across two different blockchains: the "outer layer" is the Ethereum blockchain, while the "inner layer" is the EcoChain.
The Ethereum blockchain. The public Ethereum blockchain on which users can buy, sell, use and trade POWR tokens. By holding POWR tokens, users can access the EcoChain.
The EcoChain. A private consortium blockchain designed, built and operated by Power Ledger. It uses Sparkz tokens and is designed to directly interface with home and business energy facilities; for example, by automatically reading your meter at regular intervals and monitoring energy use.
The Ethereum blockchain layer is the same all over the world, while the EcoChain layer can be scaled for individual areas to work with different local regulations, to meet different consumer needs and to function anywhere. The connections and functions between these layers are operated with Ethereum smart contracts.
Sparkz tokens can be purchased with local fiat currencies and then used to purchase energy through the EcoChain blockchain at costs that vary based on supply and demand in each area. Sparkz tokens are destroyed in these transactions.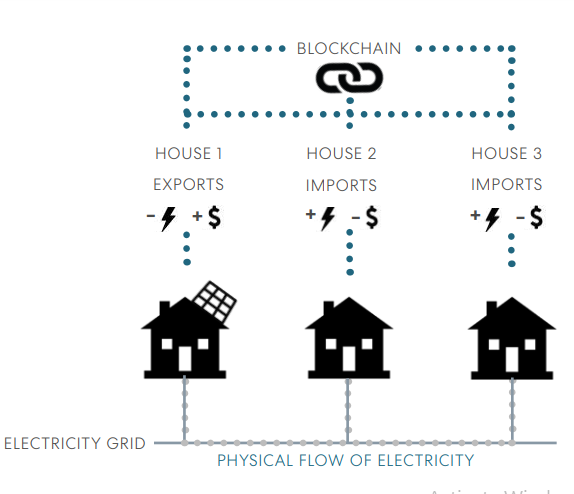 The platform is designed for a wide variety of users. For example, you might have the body corporate of a single apartment complex distributing energy from the building's rooftop solar panels among individual apartments, and then selling any surplus on the open market and distributing the earnings evenly among all tenants. Or, you might have a large energy company selling to the general public on the EcoChain.
The idea is that smaller and greener providers will be prioritized on the Power Ledger marketplace before larger ones, with the effect of gradually decentralizing energy supply and promoting renewables.
Though best known for peer-to-peer trading of electricity between consumers, the Power Ledger ecosystem can also support a wide range of energy trading applications. These include electric vehicle metering and settlement, carbon credits trading and asset generation events that allow communities to monetize their co-owned renewable energy assets.
Trading energy using Power Ledger
Margaret and Bob are neighbours. Margaret has solar panels on the roof of her house, Bob does not.
Margaret's solar system was installed when she had two teenage kids living at home and her electricity usage was much higher. Now that she's an empty-nester, Margaret's system is generating excess energy she has no use for. However, Bob would be happy to buy some of this excess energy from her and get a better price than his current power company offers.
Using Sparkz to pay for the transaction, Bob purchases a certain amount of electricity from Margaret via Power Ledger's peer-to-peer platform. Power Ledger's software connects to smart meters to measure the total electricity that is being consumed or generated and record this on the blockchain.
Bob's purchase is also recorded on the blockchain, which means Margaret receives real-time payment in Sparkz via the blockchain. She can then convert those tokens into GBP and generate additional income from her solar system.
Back to top
Power Ledger team and history
Established in May 2016, Power Ledger trialled Australia's first energy trading blockchain network in August of the same year. In its October 2017 initial coin offering (ICO), Power Ledger raised $34 million in funding before POWR started trading on exchanges the following month.
The company's board of directors is chaired by Dr Jemma Green, who has more than 15 years finance and risk advisory experience and is a research fellow at Curtin University Sustainability Policy (CUSP) Institute. Managing director David Martin has nearly 20 years' experience in the electricity industry, while well-known venture capitalist Bill Tai is listed as Power Ledger's global ambassador and advisor.
Notable partnerships
Power Ledger has struck several partnerships with companies in Australia and around the globe to trial and deploy its products in the real world. These include the following:
Origin Energy. In September 2017, Power Ledger announced that it was partnering with Origin Energy to explore the benefits and challenges of peer-to-peer energy trading across the regulated network.
Fremantle Smart Cities Project. In November 2017, Power Ledger was the recipient of part of an $8 million government grant to trial a blockchain-powered distributed energy and water system in Fremantle.
Helpanswers. Power Ledger joined forces with this American not-for-profit energy company in February 2018 to roll out its energy trading platform at hundreds of sites across North America.
Greenwood Solutions. Announced in March 2018, this partnership with the renewable energy auditing and installation company saw the installation of a number of solar panels across a selection of strata apartments and units.
Kansai Electric Power Co (KEPCO). In April 2018, Power Ledger revealed a partnership with Japan's second-largest electricity company to test distributed energy systems.
Northwestern University. As part of its partnership with Clean Energy Blockchain Network, Power Ledger has commercially deployed its energy trading system in the United States at Northwestern University Evanston campus.
Silicon Valley Power. In June 2018, along with Clean Energy Blockchain Network, Power Ledger partnered with Silicon Valley Power, City of Santa Clara to link renewable energy production and storage with community-based electric vehicle charging.
Yolk Property Group. This partnership, announced in July 2018, will see Power Ledger bring renewable energy trading to an entire apartment block in Fremantle.
Back to top
As with any new technology, Power Ledger will face a crucial battle to achieve widespread adoption. While the rise of rooftop solar and other renewable energy systems is undoubtedly redefining the energy landscape, the future remains uncertain.
For Power Ledger, it's all about the value proposition it offers to energy companies. As it becomes increasingly expensive for people to stay on the grid, networks and energy retailers need to find a way to hang on to their users. Power Ledger is at pains to point out that it wants to disrupt the energy industry, not destroy its value: "We provide utilities with the tools they need in order to provide access to low-cost, low-carbon energy to their consumers, giving consumers a better return on investment while also keeping them connected to the grid," is the official line from the company's website.
However, the question remains: will the big energy companies partner with Power Ledger and introduce its energy trading platform into their networks? Or will they work against Power Ledger and look for other ways to adapt to the changing energy climate?
Power Ledger has accrued an impressive list of partnerships with companies willing to trial and even deploy its technology, but widespread adoption is still a way off.
---
Bottom line
Power Ledger is an ambitious project but one that nonetheless has the potential to transform the energy industry around the world. While it remains to be seen whether the platform will fulfil that potential, the fact that it already has a working product (something so many other crypto projects can only dream of), and has trialled and deployed its technology in several countries, is very promising.
Will Power Ledger be the driving force behind a global energy revolution? Only time will tell, so do your research before deciding whether to buy any POWR.
Buy/sell POWR POWR at a glance
Disclaimer: Cryptocurrencies are speculative, complex and involve significant risks – they are highly volatile and sensitive to secondary activity. Performance is unpredictable and past performance is no guarantee of future performance. Consider your own circumstances, and obtain your own advice, before relying on this information. You should also verify the nature of any product or service (including its legal status and relevant regulatory requirements) and consult the relevant Regulators' websites before making any decision. Finder, or the author, may have holdings in the cryptocurrencies discussed.
Image sources: Shutterstock, Blockchain Wallet
Disclosure: At the time of writing, the author holds ADA, ICX, IOTA, POWR and XLM.