Plum app review: The AI assistant that helps you save money
The app that uses AI to help you set aside money and spend wisely.

Great for setting your money aside easily and automatically
It can take up to 24 hours to access your funds
Plum is a smart money management app designed to automatically set aside money without you even thinking about it. It was founded in 2016, and started as a Facebook Messenger chatbot. Plum then launched the app (available on Android and iOS) which is designed to make managing your money easy, but it's also effective for those who struggle to put that bit extra away. And the basic version is free.
Download Plum today
Plum automatically sets money aside for you
Helps you switch and save money on bills
Withdraw funds whenever you need
Analyse your spending to help you own your budget
How does Plum work?
Bank account access: Plum users give it access to their bank accounts in a read-only view using the latest biometric security measures.
Plum adapts to you: Plum's smart software analyses and understands patterns in your income and spending habits to recognise the most effective way for savings to be made.
Auto-deposits: Once Plum calculates a suitable amount to be put aside each week, this amount is automatically transferred through direct debit into your Plum account to be held until you withdraw it.
Notifications: The Plum app can send you notifications about the amounts you've put aside, daily or weekly balance updates, and bills you could switch to save money.
Flexibility and accessibility: You can withdraw or deposit more money, keep a record of your deposited amount and even invest your savings directly through the app.
Spending insights: Plum keeps you informed with customisable updates to monitor your account activity.
Investing with Plum
Plum also gives you the option to invest some, or all, of your deposited money. You can choose between a range of investment funds, kept in a stocks and shares ISA or a general investment account. You should consider carefully which of these portfolios (you can choose multiple) is best for you, depending on your expertise and risk appetite. You can start investing with just £1.
What can you invest in with Plum?
Through the Plum app, you can choose how much to invest in a range of investment funds, or automatically allocate a set percentage of your auto-deposits to go towards those funds. Examples of the investments funds available include "Tech Giants" (which includes shares of tech leaders such as Apple, Facebook and Google), or "Slow & Steady" (a mix of bonds and stocks).
Here are the portfolios available:
| Portfolio name | Types of investment | Risk |
| --- | --- | --- |
| Tech Giants | Invest in technology shares | 6/7 |
| Clean and Green | Invest in companies selected for their social responsibility | 5/7 |
| Rising Stars | Invest in the growth of new giants in Asia and Africa | 6/7 |
| The Medic | Invest in shares of healthcare, pharmaceuticals and biotechnology companies | 6/7 |
| Balanced Ethical | A mix of assets based on their environmental, social and governance (ESG) criteria | 5/7 |
| Growth ethical | Invest in global companies selected for their environmental, social and governance (ESG) track record | 5/7 |
| American Dream | Invest in US company shares that tracks the performance of the S&P total market index | 5/7 |
| Best of British | Invest in the 100 largest public companies in the UK | 5/7 |
| European Essentials | Invest in large and mid-sized companies in developed markets in Europe. | 5/7 |
| Slow and Steady | 20% shares and 80% bonds. This fund expects to get moderate returns and is better protected from losses. | 3/7 |
| Balanced Bundle | 60% shares and 40% bonds. This fund has a balanced combination of shares and bonds. | 4/7 |
| Growth Stack | 80% shares and 20% bonds. This fund has high potential returns but is higher risk. | 5/7 |
How do I withdraw my Plum investments?
In terms of withdrawals, you can withdraw your investments as often as you wish, although it can take up to 5 days for the money to return to your account.
If you do decide to invest, keep in mind that your capital is at risk and that you could get back less than you invested.
What investment accounts are available with Plum?
You can choose between 3 accounts:
Plum ISA
Plum general investment account
Plum self invested personal pension
Plum general investment account
This account is a standard investment account. There aren't any tax benefits, so people usually choose this one if they've used their ISA allowance already.
You can invest in the same portfolios as with the other accounts. You may be liable to pay tax on profits over £6,000 in each tax year.
Plum self invested personal pension
Plum has recently launched its SIPP, which lets you save up for your retirement. It's designed to be automated and flexible. You can pay into your SIPP the same way as with its other products, and you can move existing pensions into your Plum SIPP.
The main benefit is that you can see all of your accounts in one place and invest in its wide range of funds. SIPP investors can choose from 8 funds designed for those investing for retirement.
Pensions can't be cashed out until you turn55, but you do get tax relief from the government, which Plum applies for on your behalf.
Plum ISA
With Plum's ISA you can use your annual ISA allowance, which means that you can invest up to this amount each tax year without paying any tax on your profits. The allowance for the 2023/2024 tax year is £20,000.
Plum's fees and limits
It's free to start setting aside money with Plum. The free Plum Basic plan includes the app download and registration, as well as unlimited deposits and withdrawals, and the automatic deposit feature and bill analysis.
But there are fees for investing your money with Plum:
Investment fee. This is £1 per month after your first month (it's the fee for using Plum Plus, the minimum plan you'll need to subscribe to if you'd like to use Plum's investment features). There is no monthly investment fee for SIPP holders.
Fund management and provider fee. The fund management fee is between 0.06% and 0.90% a year, depending on which fund you choose. Additionally, there is a 0.15% annual provider fee. Both fees average to an annual fee of 0.48%. If you invest £1,500, Plum will cost you an average of £18 a year, regardless of how many buy or sell orders you make.
As well as Plum Basic (free) and Plum Plus (£1 a month), there's a third tier called Plum Pro, which costs £2.99 per month after a 30-day free trial. As well as the investment features you get with Plum Plus, you can unlock additional functionalities, such as cashback at certain retailers, a monthly spending "diagnostics" report and the "rainy day saver". We go into more detail about Plum Pro below.
What is Plum Pro?
This is the premium Plum account tier, which costs £2.99 per month after a 30-day free trial.
With Plum Pro, you'll get all the functionality available with Plum Basic and Plum Plus, as well as the following features:
Rainy day savings rule – literally an option you can choose to put more money aside on the days when it's forecast to rain
52-week saving challenge – this weekly, year-long savings option would see you put aside £1 more than the previous week
Pay days – this setting can be configured to deposit an additional lump sum into your Plum account when your salary first hits your bank
Diagnostics – a monthly report that shows your spending grouped by categories
True balance – calculates how much of your available balance is safe to spend once any regular bill payments have been accounted for
Cashback – this rewards you with up to 11% back when you use the app to shop with one of Plum's partner brands
Splitter tool – to automatically apportion your deposits between different Pockets
Interest Pockets (see our section below)
Plum's new Interest Pockets
In September 2020, Plum unveiled a new Interest Pockets feature, which enables its customers to earn interest on the money that they set aside in the app for the first time. When users create a new Pocket (which is a savings pot for a specific goal), they are now given the option to choose between a regular Pocket and one that pays interest.
Subscribers of the Plum Plus and Plum Pro plans can open an easy access Interest Pocket that currently pays interest of 0.55% AER. Plum Plus subscribers can open a single Interest Pocket, while those paying for Plum Pro are able to create multiple Interest Pockets.
In November 2020, easy access Interest Pockets were also extended to Plum Basic users, although the interest rate available to them is currently 0.35% AER.
Money set aside in Plum's new Interest Pockets will be held on trust with the Investec banking group, which means these funds will be protected by the Financial Services Compensation Scheme.
Compare savings accounts from Plum
What is Plum's "Naughty Rule" savings feature?
The "Naughty Rule" is a new feature which automatically sets money aside every time you buy something from a retailer you consider a "guilty pleasure". Initially available on Plum's Ultra subscription plan and to Plum Premium customers, the "Naughty Rule" covers a selection of the 50 most popular retailers used by Plum customers.
When you purchase something "naughty" from one of the specified retailers, Plum will automatically put aside a set amount into your savings. You can set the amount of money to be set aside, ranging from £1 ("Mildy Mischievous") to £10 ("Very Villanous").
Once the "Naughty Rule" has been fully enabled, Plum will make one extra saving per day when you spend at one of your chosen retailers.
Is Plum safe?
Apart from money deposited in Interest Pockets, funds held in a general Plum account are not specifically covered by the Financial Services Compensation Scheme (which protects deposits of up to £85,000), as the company is not a licensed bank. But Plum is authorised and regulated by the FCA as an e-wallet money agent of PayrNet (a subsidiary of Railsbank), which allows it to provide users with an e-wallet. Customer funds are held in a pooled account at a UK bank chosen by PayrNet and are protected by safeguarding rules.
Plum also considers its users' safety and security a top priority – and here are some of the ways Plum works to keep you safe:
Plum never stores, or accesses, your bank login details.
Plum receives read-only access to your transaction data, so has very limited information.
Plum only receives money through a direct debit, which you can cancel at any time.
Plum uses symmetric cryptography (AES) to store any sensitive data.
Plum uses state-of-the-art password algorithms.
Plum uses 256-bit TLS encryption to communicate between the browser and its servers.
Plum is a registered data controller and always acts in compliance with the Data Protection Act.
Plum runs its servers on Amazon's cloud, which is trusted by some of the biggest financial institutions in the world.
What does the Plum app look like?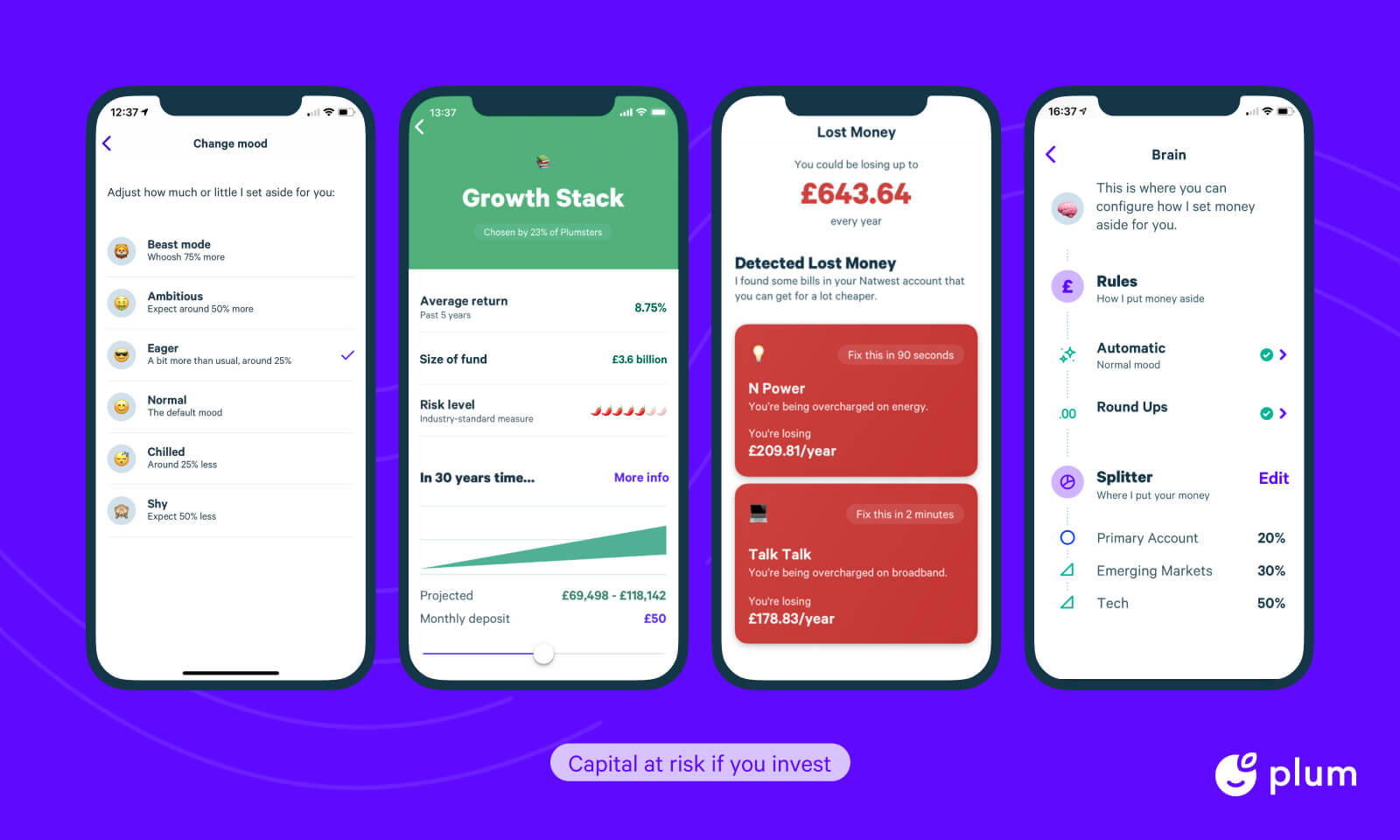 How does Plum make money?
Plum was heavily funded through its startup phase by crowdfunding campaigns. However, now it's established it looks to create its own revenue through two main revenue streams:
Charging fees for its investment options (including its monthly subscription fees for Plum Plus and Plum Pro).
Finding its customers better deals on their bills and getting an introductory fee for facilitating any switches.
Finder spoke to Plum to learn more.
Pros and cons of Plum
Pros
Set aside your money easily and automatically.
Free to register and use.
Contact Plum easily through its Android and iOS app.
Withdraw money 24/7 and receive it within 24 hours (and often, within 15 minutes).
Money in your Plum account is held by PayrNet, an EU-licensed e-money provider, which means the funds you have with Plum are safeguarded.
Plum's algorithm prevents auto-deposits taking you into your overdraft (unless you manually deposit money when you're in your overdraft).
Chance to grow your money by investing.
Option to open an interest-paying Interest Pocket.
Cons
If you choose to invest with Plum, you need to remember that as always when investing, your capital is at risk.
Customer funds are not protected by the

Financial Services Compensation Scheme (apart from the money in Interest Pockets, which is held on trust at the Investec banking group).

Access to money isn't instantaneous, it can take 24 hours.
Plum team is only contactable during office hours (09:00–17:00 from Monday to Friday and 10:00–16:00 on Saturday and Sunday).
Bottom line
Saving is not an especially fun task, and while we all want to be doing it, doing the actual maths and remembering to transfer the money every week or every month requires a lot of commitment. So why not have it done automatically by Plum?
It's a very smart concept, although there are a few drawbacks to consider. The main one is that Plum's general account does not pay any interest. So your money won't be growing unless you open an Interest Pocket, or you decide to invest your funds, which of course entails a whole different set of risks and issues. Get started by downloading the app.
Overall, Plum can be a smart and fun way to put money aside without doing much budgeting, or even having to go into your current account to manually make a transfer. Plum has started to offer interest-paying Interest Pockets, and also has a good range of investing options, some of which are suitable for beginners.
All investing should be regarded as longer term. The value of your investments can go up and down, and you may get back less than you invest. Past performance is no guarantee of future results. If you're not sure which investments are right for you, please seek out a financial adviser. Capital at risk.
Frequently asked questions
Back to top
Banking app ratings
★★★★★ — Excellent
★★★★★ — Good
★★★★★ — Average
★★★★★ — Subpar
★★★★★ — Poor
Our team evaluates banking apps to determine their value against similar products on the market.
We show offers we can track - that's not every product on the market...yet. Unless we've said otherwise, products are in no particular order. The terms "best", "top", "cheap" (and variations of these) aren't ratings, though we always explain what's great about a product when we highlight it. This is subject to our
terms of use
. When you make major financial decisions, consider getting independent financial advice. Always consider your own circumstances when you compare products so you get what's right for you.