Plox Star Wars Bluetooth levitating speaker review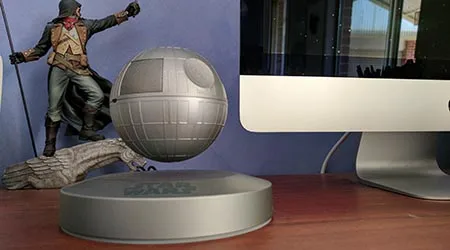 That's no moon… It's a Bluetooth speaker from Plox, and it is most definitely on the Dark Side of audio quality.
It turns out that the true power in the Galaxy isn't Emperor Palpatine, or Darth Vader, or even the Force. Instead, it's the Disney marketing team's merchandising arm, which manages to create some of the craziest and most impressive Star Wars-branded products.
This time around, Disney has partnered with accessory manufacturer Plox to create what seems to be impossible: A Death Star shaped Bluetooth speaker that uses the Force (or some strong magnets) to levitate about an inch above its base.
Is the Force strong with this speaker? Not so much.
Levitating Death Star speaker design
There are two main parts to the speaker: the large, heavy magnetic base and the Death Star itself. Sadly, both parts require independent power sources.
The base needs to be plugged into the mains to power the magnetic field that keeps the speaker floating, while the Death Star has an internal battery with enough juice for about five hours of playback, which needs to be charged via MicroUSB (and annoyingly the cable is not included).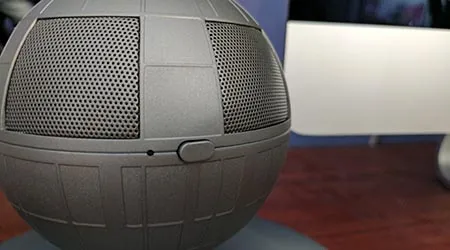 You can take the Death Star speaker with you and use it independently of the base. But that takes away the real cool factor of the device, and leaves you with what amounts to be a sub-standard speaker.
Admittedly, the speaker does look incredible. It may feel a bit plasticky, but the dull grey paint is mesmerising to watch as it spins unaided in space. The concave dome where the laser merges to destroy planets is intricately detailed, and with the right lighting you could almost use this as a prop for your own Star Wars fan film.
Levitating Death Star speaker specs
| Plox levitating Death Star Speaker | Specs |
| --- | --- |
| Speaker output | 5W |
| Battery life | 5 hours |
| Charge time | 2 hours |
| Bluetooth | 4.1 |
| Speaker dimensions | 95mm |
| Base dimensions | 143 x 143 x 30 mm |
| Total weight | 1002g |
| Price | £189.99 |
Upsides: Why you'd want the Levitating Death Star speaker
It freaking floats. It may take a bit of time to actually find that sweet spot, but once the Death Star speaker is fully operational, it will just keep on floating until you turn off the base's power or knock it off course. Most impressive.
5 hour battery life. You get a decent amount of music playback from the Death Star off a single charge, which is nice.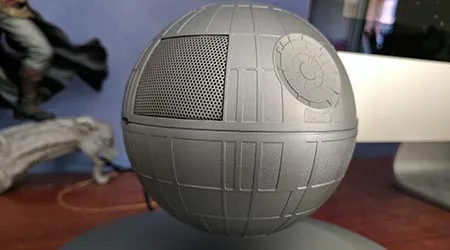 Downsides: Why you might not want the Levitating Death Star Speaker
Sound quality. It's hardly surprising given that speakers use vibration to make sound and vibration may not be the best friend of a device magnetically levitating in space, but the audio quality is rubbish. The volume is low, and you'll find the lack of bass disturbing. For a nearly £200 speaker, poor audio quality is a big turn-off.
Difficult to find the sweet spot. The speaker comes with a conical attachment that you use to try and find the perfect spot to get the Death Star floating in space, but even so it can be a slow process to get it right. On the upside, you can switch the speaker on and off without moving it from its hovering location.
Who is it best suited for? What are my other options?
This is a product for Star Wars fans only. If you saw Rogue One and immediately added it to a personal ranking of the best Star Wars films, then you would appreciate the design of this device.
And to be fair, while the Death Star does a poor job of being a speaker, the cool factor of this being a floating Death Star cannot be understated. As a desk ornament it may be pricey, but it is an incredible feat of design.
If you're after a Bluetooth speaker, something like the UE Boom 2 or the Bose Soundlink Mini II would be much better investments from an audio perspective. But then again, neither of those float in space.
Where can I get it?
The Plox Star Wars levitating Death Star speaker is available online through Plox's website, or you can pick it up for around £189.99 through ebay.