PlayStation 5 hands-on impressions
We've gone hands-on with Sony's next generation PlayStation 5 console. Here's our PS5 review in progress.
Things could not have gone better for Sony in video gaming's eighth generation. The PS4 crushed its rival, Microsoft's Xbox One, at store shelves with more than double the sales. The console also debuted a host of new franchises that were well received by fans and critics alike, and it innovated with the arrival of PlayStation VR.
Yet the PlayStation 5 isn't a case of more of the same only with greater power. That would have been the safe route and, in many ways, is the approach Microsoft has taken with the Xbox Series X. Instead, Sony, to its immense credit, has taken some big risks. The Japanese giant has started from the ground up with its controller and its user-interface and hedged all its bets on a specialised, ultrafast storage solution.
The goal is clear: Sony wants gamers to experience a true next-generation leap. A new way of not just playing games, but immersing players in their worlds.
But it comes at the cost of accessibility. While the pros of the new system vastly outweigh the cons, the negatives can't be ignored. You can't use old PS4 controllers to play new PS5 games. The existing PlayStation Camera doesn't work without an adaptor (although Sony is looking to get this to fans for free). There's no longer an optical audio port (which may challenge some home theatre set-ups). And backwards compatibility is reduced to only PS4 games and not all of them (at least, not at first).
But perhaps more importantly, there's no service to rival Game Pass, and no payment plan to rival All Access.
So, has placing ambition over banality paid off for Sony?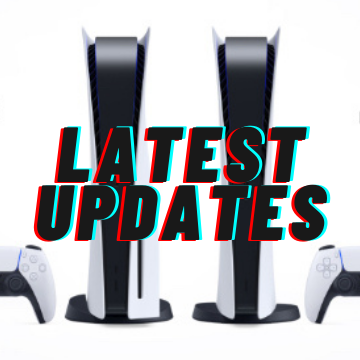 Looking for a PlayStation 5? Get the latest PS5 deals and info straight to your inbox!
Subscribe to Finder's shopping deals emails for info about PlayStation 5 deals and availability.
PS5 review in progress
Pre-release access to Sony's PlayStation 5 console hasn't been as straightforward as it might have been in a COVID-free world. But thankfully, I was able to secure some time with the console. In late October 2020, Sony Australia invited me to its Sydney office to spend around 90 minutes with the PS5.
As well as poking and prodding the console itself, I played through the hub area and a level of built-in platformer Astro's Playroom using a DualSense Controller. I was not allowed to explore the user-interface, try other games, explore load times and PlayStation Activities, take the device online or run through a host of other tests I will undertake closer to launch.
As a result, this PlayStation 5 review will evolve as I get more access to the product. This is not our final review. Please read the below with this understanding in mind.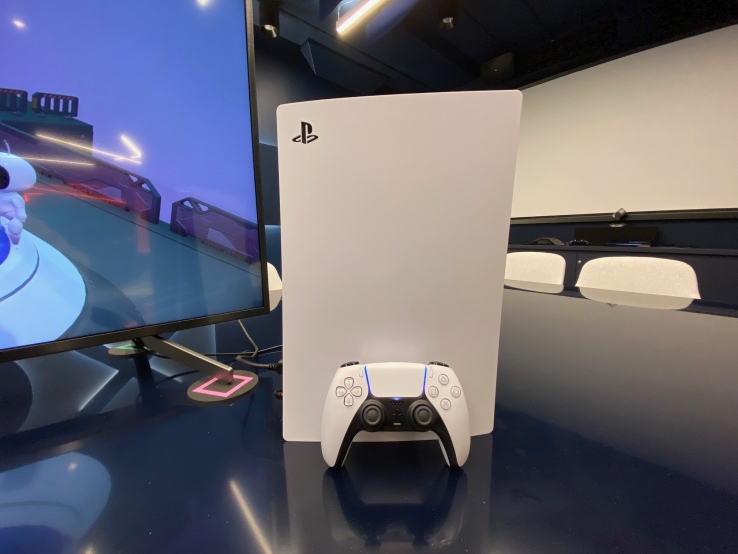 The PS5 is big, but not ugly
Ever since it was unveiled, I've been unable to approach the design of the PS5 with anything other than a raised eyebrow. In isolation, it looked huge and funky; hard to imagine as an elegant addition to one's entertainment unit. Having now held it in my hands, I'm much more comfortable with its look.
The white sails that shelter the console aren't as textured as I had been led to believe, but they also don't appear as curved in real-life as they do in images. They also feel solid under the touch, not flimsy or cheap. I thought I'd want to lay it horizontally ahead of playing with it, but the most striking position was one not shown in official media. I placed it standing vertically but facing front on as seen in the images on this page. The PlayStation logo cut out of the front sail brought to the fore.
The console is big, but it's not overpowering like I had feared. It doesn't even feel as chunky as the original PS3 model despite being technically larger. And as Sony fans would have become accustomed to, I'm happy to report there is no separate power block to contend with, just a typical power cable that plugs directly into the wall.
Heat and USB placements
I feel that putting the front USB ports central to the panel was a poor decision. Had they been tucked away at the bottom end of the machine, it could have allowed cables to be more discretely left plugged in and stowed away to the side. Regardless of which way you position the PS5, cables will be left to dangle at its front when those USB ports are used.
I did notice a fair bit of heat coming from the back of the console, which is worth being somewhat concerned about. Especially if you're planning on enclosing your console in the shelf of an entertainment unit. I'll need to test this further when a final consumer unit arrives and when the machine is under the duress of more complex software.
In better news, the console sure is quiet. I was sitting about a metre away from the PS5 with my hands resting on the same table. I could neither hear it running nor feel it vibrating.

The incredible DualSense
A shockwave resonated through the gaming world when Sony revealed it was ditching the iconic DualShock controller. In its place comes the DualSense and it's a key weapon in the PS5's battle with the Xbox Series X. Microsoft is doing very little to evolve how gaming feels in the hands of players, whereas Sony is all-in with a controller pulsing with new features.
And it's amazing. It truly is.
I almost dropped the controller when I first flicked through the menu of Astro's Playroom such was the kick from the new Haptic Feedback. The jump from Haptic to Rumble is like a Nokia 5110 to an iPhone: there's no way back. The Adaptive Triggers are also amazing. The changes in the tension required to squeeze them closed depending on what happens in the game, heighten the experience considerably.
The controller just feels great; it feels like part of the game world in a way I wouldn't have previously thought possible. The touchpad and motion control elements were already well in play during the DualShock 4 years, but it's the two changes above that make a world of difference. I was also really impressed by the audio coming out of the controller!
Is it all good news?
For all its success, the DualSense isn't without some hiccups, and gamers with big hands may need some time to adjust to the smaller size. I've also been unable to test how long the battery life lasts as yet. I'm told 7 to 10 hours, which is better than the DualShock, but I fear it will be more on the lower side of that rumour given all the new features of the controller.
What remains to be seen is whether all the cool features of the DualSense are embraced by third-party developers in meaningful ways. The list of killer gaming tech that's become little more than a gimmick is long and shameful. We can only hope that Sony works hard to ensure those making games for the console can easily utilise the DualSense's strengths, or they could be left to fade into obscurity as a curious bullet-point on first-party exclusives.
Does the PS5 have the best games?
Both Microsoft and Sony are leaning heavily on third-party developers and even indies to swell their launch line-up of games, ensuring most of the big blockbusters are multiformat. But if you peel it down to just exclusives, the delay of Halo Infinite on XSX has very much put Sony in the box seat.
Marvel's Spider-Man: Miles Morales, Astro's Playroom, Sackboy: A Big Adventure, The Pathless, Godfall, Demon's Souls and (shortly after launch) Worms Rumble is a strong collection of launch exclusives. And they're notable for offering varied experiences suitable for multiple demographics. Marvel's Spider-Man: Miles Morales, in particular, is odds-on to be the biggest selling exclusive of either console through the rest of 2020. It'll likely only be toppled by stalwarts Call of Duty and Assassin's Creed.
The PlayStation Plus Collection also ensures early adopters can swell their stockings with free access to 18 classics from the PS4 era (assuming they're a PlayStation Plus subscriber). It's true though that there is nothing on PS5 that can compete with the fantastic value of Microsoft's Game Pass service.
Decades of writing about these two manufacturers gives me confidence Sony will continue to deliver standout exclusive experiences over the coming seven years. Already the likes of 2021 projects Horizon Forbidden West, God of War Ragnarok and Ratchet & Clank: Rift Apart appear as blimp-sized blips on the radar.
But for many gamers, the value offered by Game Pass and Microsoft's doubling down on first-party studios could be too hard to ignore.
The PS5 Digital Edition is a bargain
Microsoft's Xbox Series X is no slouch, even if it doesn't innovate like the PS5. And it's better placed to battle the financial downturn brought on by the coronavirus pandemic. Game Pass is the cheapest way to play the most games. While Xbox All Access is the most affordable way to get into next-generation gaming. But PS5 does have one ace up its sleeve.
Both Microsoft and Sony enter the next-generation with two models of their consoles. For Microsoft, the Xbox Series X is a powerful beast, while the Xbox Series S is a neutered alternative that strips back the resolution and focuses on frame rate. You can save £150 by going with the lesser machine, while still being able to play the latest games. But it's like getting a VB while your mates are drinking Stone & Wood.
Sony's second model is simply the main PS5 without an optical drive. Inside, it's the same machine. You save £100 on the PS5 Digital Edition over the premium model, so not quite the same discount as the Xbox Series S. But it's not far off. And for many gamers who have ditched physical products like Blu-rays and CDs for the streaming world, there's not much to lose.
Even with spotty Internet speeds, the PS5 Digital Edition is very compelling, and it lets you get the full next-generation experience at a significantly cheaper price than an Xbox Series X.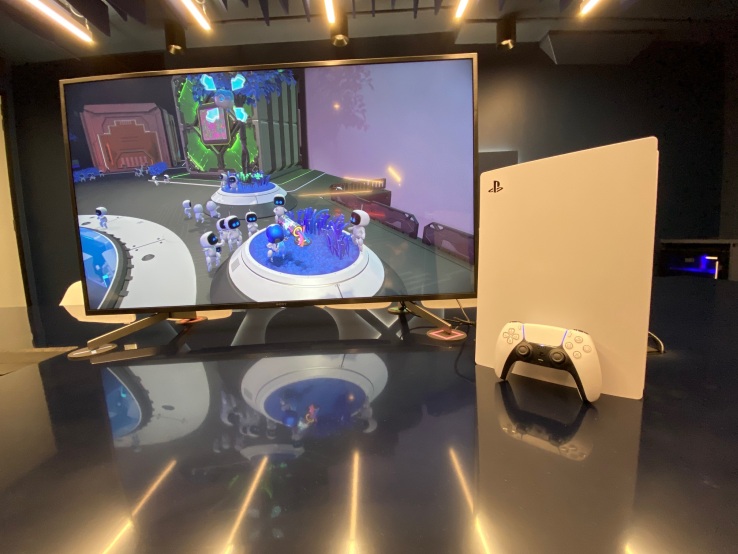 Is the PlayStation 5 worth getting?
Life would be petty boring if we didn't stay receptive to change and be willing to embrace those that have the courage to innovate, even if it can make life a little uncomfortable. Sony's PlayStation 5 is a video game console that tries to do more than just sell units. It wants to push gaming forward and I respect that.
The new user interface, the DualSense controller and the sheer joy the combination of 3D Audio, fast frame rates at high resolutions and fast loading brings to moment-to-moment gameplay, are all success stories. Sony's first-party games, at the very least, are empowered to truly earn the tag of "next-gen", which cannot yet be said of the rival platform.
Yet it still may not be the right console for you. There have been side-effects to Sony's pursuit of hardware greatness. The PlayStation 5 is an awkward transition for existing customers due to backwards compatibility inconsistencies with both software and hardware. A potential key differentiator in PSVR has been left more or less in the cold at launch. And Sony has let Microsoft get the jump on it with regards to the acquisition of new internal studios.
But the PS5's bigger battle is in financial accessibility. Microsoft's Xbox Series X may not be looking to raise the bar on what's possible with games like Sony's PS5, but it has got a low barrier to entry. With Xbox All Access you can pay-as-you-play. With Game Pass you can access hundreds of excellent games for one flat monthly fee, and with xCloud, you can play your games on multiple devices. Plus, you can use all your old peripherals and games.
The COVID effect
In this year, in 2020, such is the economic instability and financial fear in households around the world, that for all of Sony's achievements with the PS5, it may have missed the mark on the most important feature – making it financially viable. Many may just need to save money and make a different decision from what they would have in a COVID-free world. And while you can save a cool £100 on the Digital Edition, it's not as cheap in the long run as Xbox All Access with Game Pass.
At least we can safely say, for those gamers in a financial position to jump in and get playing, the PlayStation 5 is set to be a gaming powerhouse that delivers an experience that's not only unique, but jaw-dropping. Make sure you check back on launch day for our final PS5 review.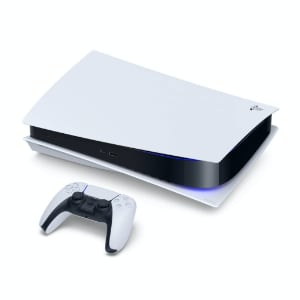 For all your PlayStation needs
Get ready for the PS5 by stocking up on all your PlayStation essentials from these retailers.
eBay
Amazon
Very
John Lewis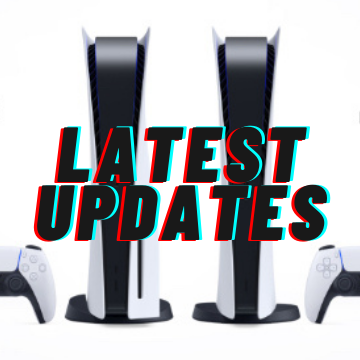 Looking for a PlayStation 5? Get the latest PS5 deals and info straight to your inbox!
Subscribe to Finder's shopping deals emails for info about PlayStation 5 deals and availability.