Pingit app review
Owned by Barclays, mobile payment app Pingit provides a way to send money instantly and effortlessly using just a UK mobile number.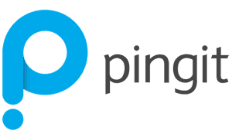 Going head to head with big names like PayPal Mobile is Pingit, a payment app owned by
Barclays Bank
that allows users to make speedy payments to a UK mobile number. If this sounds similar to other payment apps, that's because it is – so the question is, can Pingit stand out?
One distinctive feature of Pingit is the "Giving" feature. This allows the user to raise and donate money to a charity or cause of their choosing, all within the app. There's also a budgeting capacity with the "Organise" feature. Another useful feature offers a way to request money from people or companies that owe you a payment. This is done through the setting up of a Pingit.me link, which can then be shared to request payments from anyone with a UK mobile number.
If Pingit doesn't quite suit your needs though, here's our guide to mobile payment apps to help you find one that does.

What is Pingit?
Pingit is Barclays Bank's foray into the mobile payment app world. It's by no means exclusive to Barclays customers though. The app caters for anyone who wants to make payments on their phone.
How does Pingit work?
The app allows you to make payments to people or businesses using just a UK mobile number. It's available to download from the App Store, Google Play and Windows App Store. Once you've downloaded it, and as long as you're over 16, hold a current account with a UK bank and have a valid UK mobile phone number, you'll be able to register for the app and start using it. To register, just follow the on-screen instructions that will appear after you've downloaded the app.
A verification code will be sent to the mobile number you provided, which you'll then have to enter to confirm your identity. A 1p payment with a reference number will then be sent to your bank account – it's important to note that you'll need this reference number to confirm your details. Once your identity has been confirmed using the verification code and the payment reference number, your registration with Pingit is done. You'll then be able to use the app to:
Send and receive payments using just a UK mobile number.
Make fee-free international payments up to a maximum amount of £2,000 per day.
Receive instant notifications when payments are made or money received – no need to wait as with a traditional bank.
Pingit fees and limits
With the potential exception of Barclays Bank business customers, Pingit can be downloaded and used completely free of charge. However, bear in mind that you may incur charges if you make a payment that takes you into your overdraft.
A major benefit of Pingit is that international payments of between £25 and £2,000 per day won't incur any transaction fees. Any fully registered user is able to enjoy this perk.
Is Pingit safe?
Pingit's security has been recognised by the British Standards Institution, or the BSI, which awarded the app the international certification for security and resilience. Users of the app are protected by the Mobile Banking Guarantee, meaning that any money that leaves your account as a result of fraud will be refunded by Pingit (or Barclays).
Moreover, as an app by Barclays Bank, your money is essentially as safe with Pingit as it would be with Barclays, which is one of the Big Four British banks and is wholly covered by the Financial Services Compensation Scheme (FSCS).
Pros and cons of Pingit
Pros
Quick and easy way to make payments.
No fees for international payments.
The "Pingit.me" feature allows people to pay you via the web, using just a URL, in addition to your mobile number.
Supported by Barclay's Bank, so if anything goes wrong access to a widespread network of high street branches is available.
Cons
To make a payment using the app's flagship UK mobile phone number functionality, your payee has to be registered with either Pingit or Paym.
Barclays business customers may have to pay a fee to use the app.
Compare Pingit against its competitors
Frequently asked questions