How does PayPal.Me work?
Learn how to create a custom link for your PayPal account and what you can use it for.
£0
Fees (pay by bank transfer)
£1
Minimum transfer amount
Details
| | |
| --- | --- |
| Product Name | PayPal International Transfers |
| Pay by | Credit card, Debit card, Bank transfer |
| Receiving options | Bank account, Mobile wallet |
| Customer service | Phone, Email, In person |
| Available currencies | AED, ALL, ANG, AOA, ARS, AUD, AWG, BAM, BBD, BGN, BIF, BMD, BND, BOB, BRL, BSD, BTN, BWP, CAD, CDF, CHF, CLP, CNY, COP, CRC, CVE, CZK, DJF, DKK, DOP, DZD, EGP, ETB, EUR, FJD, FKP, GBP, GEL, GIP, GMD, GNF, GTQ, GYD, HKD, HNL, HRK, HUF, IDR, ILS, INR, ISK, JMD, JPY, KES, KHR, KMF, KRW, KYD, KZT, LAK, LKR, MAD, MDL, MGA, MKD, MNT, MUR, MVR, MWK, MXN, MYR, NAD, NGN, NIO, NOK, NPR, NZD, PAB, PEN, PGK, PHP, PKR, PLN, PYG, QAR, RON, RSD, SAR, SBD, SCR, SEK, SGD, SHP, SLL, SOS, SRD, SZL, THB, TJS, TOP, TRY, TTD, TWD, TZS, UAH, UGX, USD, UYU, VEF, VND, VUV, WST, XAF, XCD, XPF, YER, ZAR, STD, MRO |
| Bank account required? | No |
| Personal account manager? | No |
What is PayPal.Me?
PayPal.Me lets users who have a PayPal account create a customised link to quickly request payments directly to their PayPal account. It was launched in 2015 to remove the need to give out personal information, like an email address or phone number, and can be customised with preset amounts of money.
What are the benefits?
Create a simple, personalised link to share with friends, family, customers, strangers and more.
Customise links with the amount of money you want to be paid.
Have funds transferred directly to your PayPal account.
What should you watch out for?
You can't change your PayPal.Me link once it's created.
You can only have one PayPal.Me link per PayPal account.
There are no tracking features for payments, so you won't know why or what the money was sent for.
PayPal.Me fees
PayPal fees can be confusing at the best of times. But, in a nutshell, because PayPal.Me transactions are the same as PayPal transactions, any fees you'd normally incur from PayPal will be attached to the PayPal.Me transaction.
If you're sending money to friends and family in the UK, it's free. If you're sending it abroad from the UK the fees will be 5% of the transaction amount (£0.99 minimum, £2.99 maximum).
Read our PayPal review to learn more about potential PayPal.Me fees
How to use PayPal.Me
Your PayPal.Me link is designed to make requesting payments easier. Signing up requires you to already have a PayPal account or you must be willing to make one. Once you have a PayPal account, follow these steps to create your PayPal.Me link:
Visit PayPal.Me in the web browser of your choice.
Click Create Your PayPal.Me Link.
Log in to your PayPal account.
Enter the text you want for your PayPal link. Remember, this cannot be changed after you set it.
Review your information and agree to the terms, conditions and privacy policy.
Click Agree and Create to finalise your PayPal.Me link.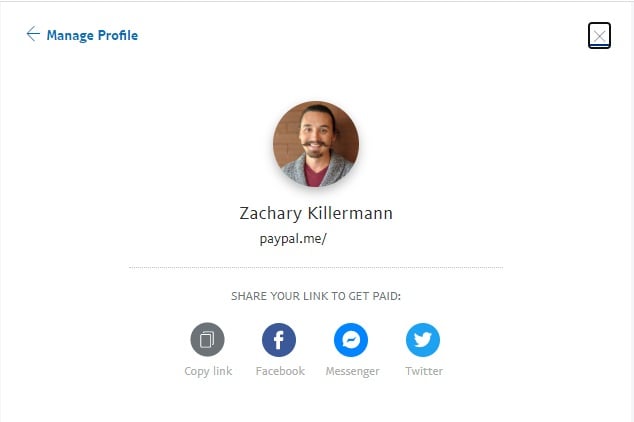 How to request money through PayPal.Me
Requesting money through PayPal.Me is as easy as sending your custom link to whoever you are requesting money from. There are two types of link you can send to request money:
https://www.paypal.me/YOURNAME: This will request a payment without a specific payment amount. For example, paypal.me/finder.com will request any amount of money to be sent to the finder.com PayPal account.
https://www.paypal.me/YOURNAME/number: Whatever number you place at the end will create a request for that amount of money. For example, paypal.me/finder.com/100 will request £100 to be sent to the finder.com PayPal account.
You can create a PayPal.Me link through the PayPal.Me website or using the link structure above.
How do I pay someone through PayPal.Me?
To make a payment through PayPal.Me, just ask the person you want to pay to send you a PayPal.Me link. After you have the link, either paste it into your web browser or click on it if it's already a hyperlink.
The link will take you to a payment page where you can log in to your PayPal account to complete the payment with your preferred payment method.
PayPal.Me vs Cashtag
One of the main differences between PayPal's PayPal.Me feature and Cash App's Cashtag feature is that PayPal.Me is available in many countries around the world. Cashtag, which lets you link an account or set up a customisable debit card to send money for free, is currently limited to the UK and US only.
Other notable differences between the two include:
Cashtags can be paid without a Cash App account, while PayPal.Me requires the payer to have a PayPal account.
Cashtags charge slightly lower fees for businesses, while PayPal.Me uses the same fee structure as regular PayPal transactions.
PayPal.Me links can never be changed. Cash App lets you change your Cashtag link twice.
Compare PayPal with other ways to send money
Table: sorted by promoted deals first
Our table below lets you compare services you can use to send money abroad. Compare fees, exchange rates and discounts from different money transfer services, and when you have made your choice, click Go to site.
Bottom line
PayPal.Me is a convenient way to request money, so long as the person you are requesting money from already has a PayPal account or is willing to create one. These kinds of payments function exactly as other PayPal transactions do and prevent you from having to share any more personal information than the link.
Frequently asked questions
Can you change your PayPal.Me link?
No. Once you've created your PayPal.Me link it cannot be changed, and each PayPal account can only have one PayPal.Me link attached to it.
Are purchases made through PayPal.Me protected by PayPal's buyer and seller protection program?
PayPal.Me operates using the same standards as regular PayPal purchases, so if the purchase in question would be protected when bought through PayPal then it will be protected when bought through a PayPal.Me link.
Is PayPal.Me free to set up?
Yes, but you'll need a PayPal account to use this feature.
What countries is PayPal.Me available in?