Ninja kitchen appliances: Are they any good?
Whether it's an air fryer, ice-cream maker or grill, Ninja has you covered in the kitchen. What did those surveyed think about their appliances?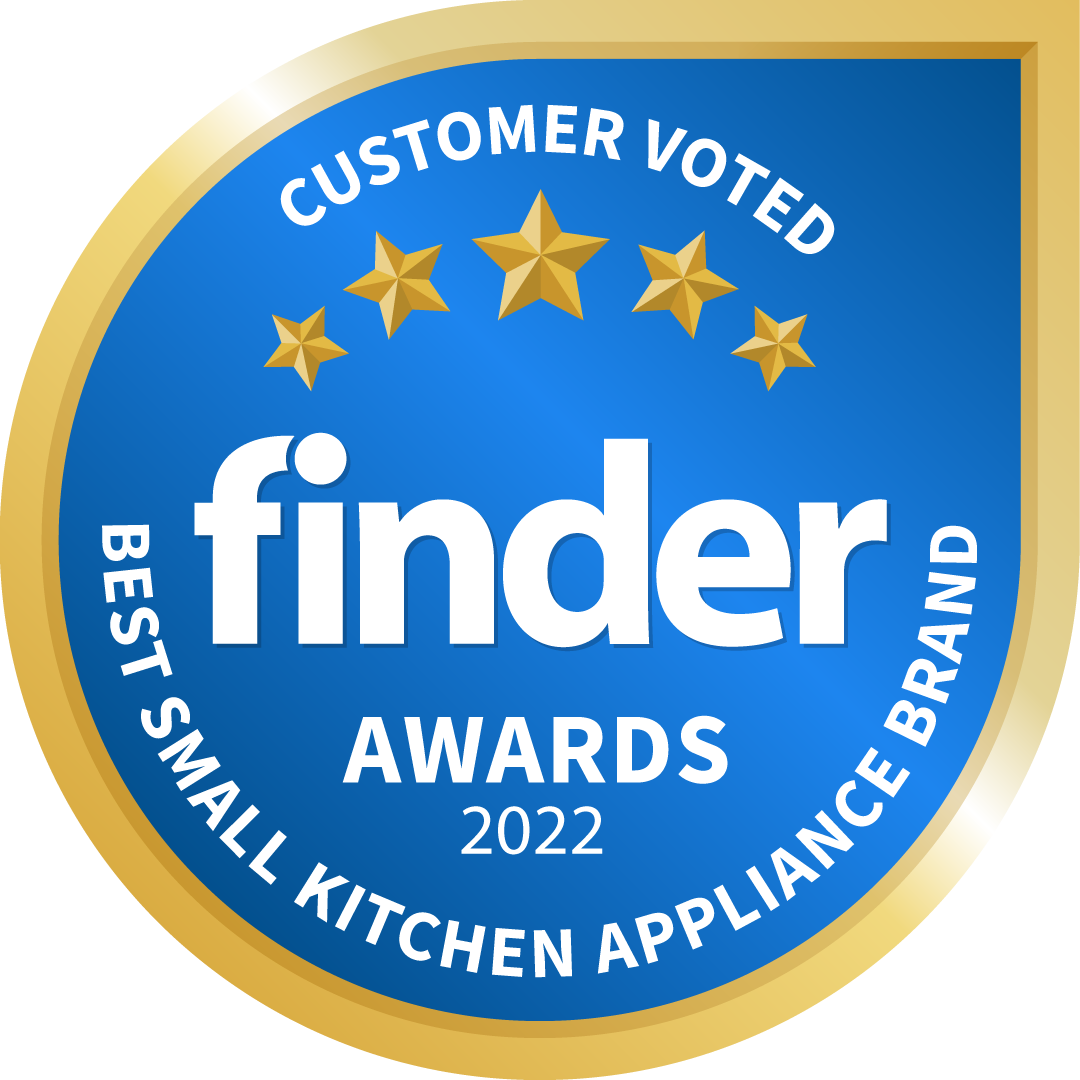 Intuitive appliances that make life in the kitchen easier
Only 1-year warranty
Ninja came top in the Finder Retail Awards 2022 in the small kitchen appliances category with 4.5 stars for overall satisfaction and 91% of Ninja customers saying they'd recommend their Ninja kitchen appliance to a friend. Consumers were asked whether their Ninja products performed well, were value for money, reliable and if they were satisfied with their purchase. Ninja is particularly known for its air fryers, which are rapid cookers as well as easy to use and clean.
| Category | Score |
| --- | --- |
| Overall customer satisfaction | ★★★★★ |
| Value for money | ★★★★★ |
| Reliability | ★★★★★ |
| Performance (customer-rated) | ★★★★★ |
| Satisfaction | ★★★★★ |
| Recommend the brand to a friend (%) | 91% |
Ninja's product range
Ninja makes a full range of countertop appliances for cooking, stirring and blending. This range includes air fryers, health grills, multi-cookers and even a dedicated soup maker. Big fan of smoothies and shakes? Ninja has you covered with blenders, juicers and ice-cream makers. You can also get kettles and toasters from the brand, too.
What is Ninja known for?
The most popular Ninja kitchen appliance is an air fryer. Those who own one are very pleased with their purchase. Ninja dominates the air-fryer market with fryers of different shapes and sizes. So whether you're frying a batch of chips or slow cooking a whole chicken, there'll be one for you. Check out the Ninja air-fryer range here: https://www.finder.com/uk/shopping/air-fryers/ninja
Ninja customer reviews
Most of those surveyed are very satisfied with their Ninja kitchen appliance. They think it is value for money, totally reliable and performs to a very high standard. A huge 91% of users would recommend the brand to a friend.
With air fryers, the recurring comments are about how easy they are to use, how they make cooking efficient and, most importantly, that the food tastes fab. A few comments dispute whether they are value for money. Coffee machines, toasters and kettles are among the other products customers own.
Overall verdict: Ninja small appliances
If you're going to use the appliances regularly, they are definitely worth it and should withstand the test of time. Its products can do a lot and are worth buying if you want to save time and make a delicious meal or drink.
Frequently asked questions
Retail brand customer ratings
These scores are based on a survey of customers carried out in June 2022. Read more about our methodology here.
We show offers we can track - that's not every product on the market...yet. Unless we've said otherwise, products are in no particular order. The terms "best", "top", "cheap" (and variations of these) aren't ratings, though we always explain what's great about a product when we highlight it. This is subject to our
terms of use
. When you make major financial decisions, consider getting independent financial advice. Always consider your own circumstances when you compare products so you get what's right for you.