Ninja Creami review 2022
This no-nonsense, versatile machine is easy to use, but is the ice cream it makes any good?
Craving ice cream and want to try making it yourself? The Ninja Creami could be your answer. It can make a bunch of frozen desserts and is pretty easy to use. But since the proof of the pudding is in the eating, find out how ours turned out in our hands-on review.
Ninja Creami video review
What can you make in a Ninja Creami?
The Creami is a dessert lover's dream machine. Ninja's 49-page recipe guide will have your back if you haven't ventured into home-made frozen goodies before. Its range of ice creams includes vanilla choc chip and strawberry, plus dairy-free alternatives, light ice cream and frozen yoghurt. You can add tidbits of joy to your ice creams with the mix-in program, like pretzels, Oreos and gummy bears.
You can also make gelato, which is more decadent, with a richer custardy base, while sorbets are a more refreshing option. No need to hit up a diner for milkshakes since the Creami does them too, taking a couple of minutes with pre-made ice cream. Finally, if you're health conscious, opt for its smoothie bowls, which is like your regular smoothie, but with toppings.
How well does the Ninja Creami make desserts?
Before anything else, it's important to note that this ice cream maker works more like a food processor than a conventional ice cream maker, where the tub goes into the freezer and the ingredients can be added straight in (not frozen). With the Creami, you'll have to freeze the wet ingredients for 24 hours then use the paddle to blend the icy cylinder into your dessert of choice.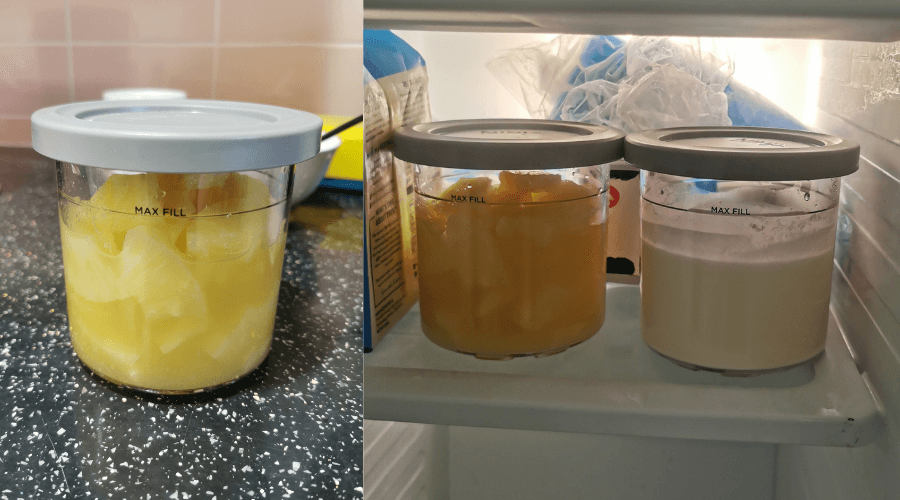 We made vanilla ice cream with chocolate chips first. The ingredients (cream cheese, caster sugar, vanilla extract, double cream, whole milk) were frozen the night before. After assembling the machine, we used the "Ice cream" setting and let the Creami work its magic. It was loud as the paddle drilled into the mixture, and after a couple of minutes the ice cream was ready. It was very smooth, albeit slightly runnier than shop-bought ice cream straight out of the freezer. We mixed in the choc chips, after which the texture of the ice cream was more liquid but still grainy from some bits of ice. The taste was very good – like a Mr Whippy-style ice cream although it melted quite quickly.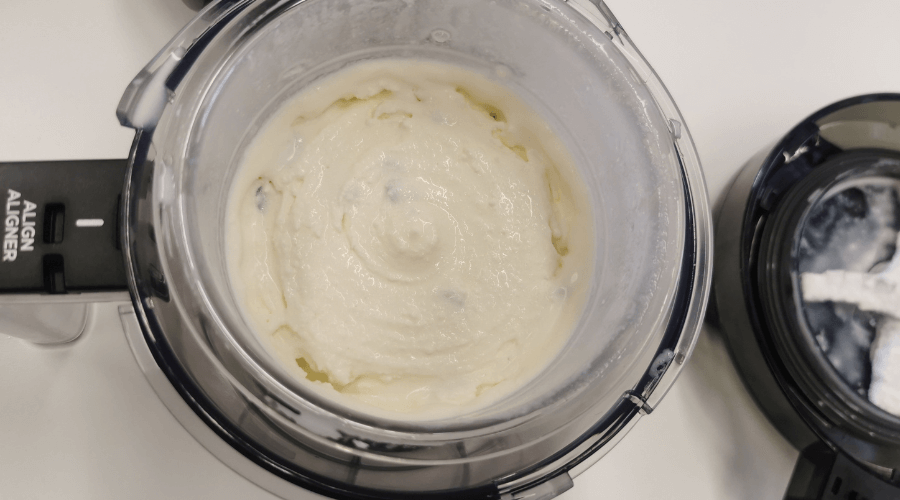 Pineapple sorbet was easier to prep, with a tin of pineapple and its juice frozen overnight. After assembly, we used the "Sorbet" function and in 2-and-a-half minutes it was done. But the texture was clearly not right as there were still bits of pineapple jutting out of the sorbet. It took 3 goes to make it smooth. The taste was pretty good considering it was just a tin of pineapple the night before.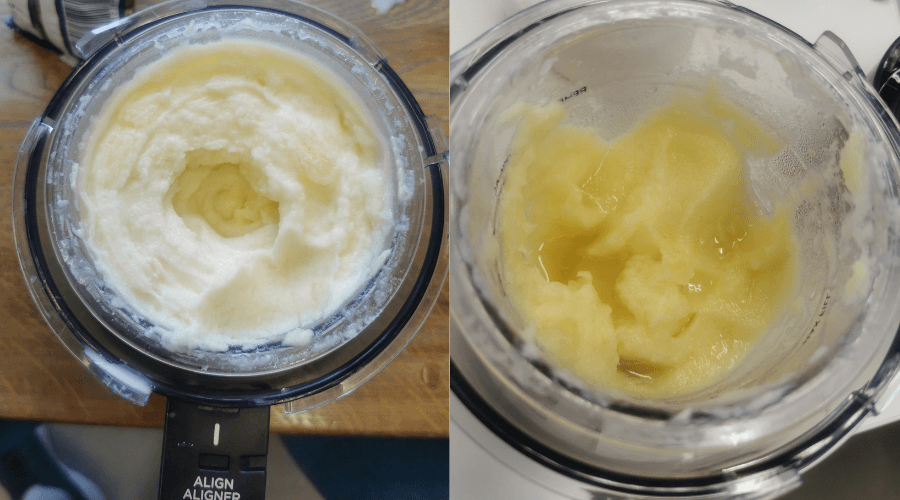 Overall, the Creami did a good job but in our hands-on test, it didn't achieve the same consistency as you'd get from ice cream or sorbet bought in a shop or ice cream parlour – there were some icy bits.
How big is the Ninja Creami?
It's tall, dark and… heavy. At 40cm, it's one of the tallest appliances we've reviewed, even more so than the Ninja OP450UK, one of the largest air fryers we've tried. So if you have low hanging cabinets, take note. However, its width (16.5cm) and depth (27cm) shouldn't pose any problems if you're leaving it on your counter.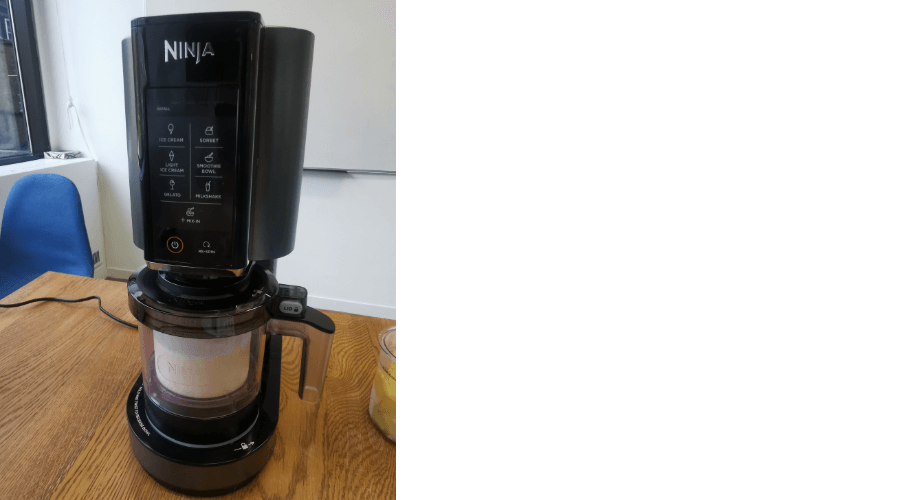 Since you're probably not making ice cream every day and will want to store the machine, it's worth noting that it's fairly hefty, at almost 6.5kg.
The trio of dessert tubs that come with the machine are sizeable at 473ml each – not quite as big as a pint glass but a similar shape.
Is the Ninja Creami convenient to use?
Freezing your ingredients for 24 hours is the biggest inconvenience about this machine. But if you plan ahead, this shouldn't be an issue… it's just not the best if you're craving an instant hit of sweet treat.
Aside from this, Ninja sticks to what it knows by making the Creami simple to use. All 7 programs are clearly displayed, as is the power button and re-spin feature. The tubs and paddle are dishwasher safe.
Assembling the loose parts is a doddle, as everything screws into place, including the paddle on the bowl. Ninja indicates whether a component is meant to be loose or not. However, when we were blending our ice cream and sorbet, the paddle fell into the mixture when we finished mixing. This was a messy ordeal to remove.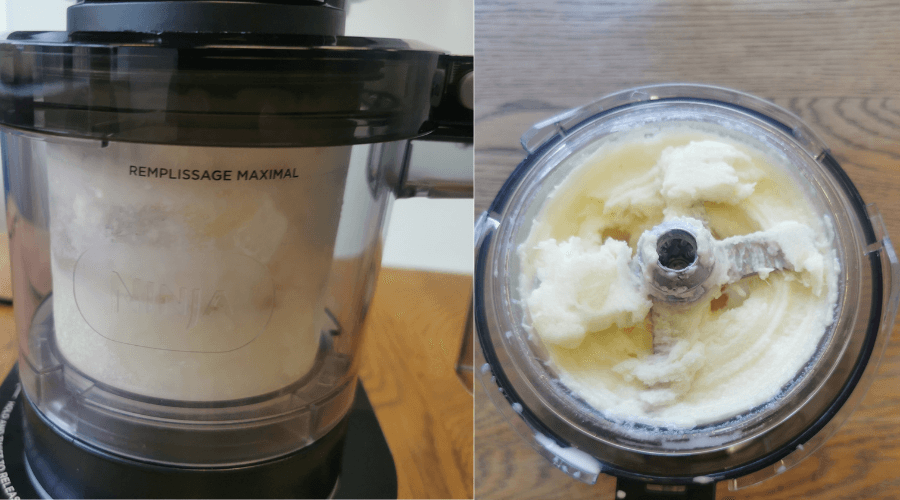 What else do I need to know about the Ninja Creami?
In big, bold letters Ninja states "This is NOT a blender" – it's not made to liquify ingredients. Chances are the paddle blade won't like it if you try.
Ninja Creami customer reviews
Ninja won Best Small Kitchen Appliance Brand in our Retail Awards 2022. While not many in our survey owned this relatively new ice cream maker, most customers were extremely happy with their Ninja air fryers' versatility, performance and ease of use – all attributes that we believe this machine shares, based on our testing.
On Amazon, the Creami is churning out some good reviews with 85% of customers rating it 4 stars or more. Many love how easy it is to use, hence they are using it more frequently than planned. Users are happy with the dessert tubs and how easy they are to clean, but wished more were supplied.
The standout negative is the din the Creami makes as it processes the blocks from the freezer. And while many say the taste is top notch, others have complained about the texture of the desserts being too powdery and that they've had to re-spin the mixture multiple times to get their desired smooth result. However, these are in the minority.
Pros and cons of the Ninja Creami
Pros
Quick to process the frozen mixture
Machine is aesthetically beautiful
Paddle blades aren't dangerously sharp
Simple to use
Tubs are easy to clean
Clear recipe book
Cons
Paddle blade can fall into mixture
Noisy
Bulky and heavy
Extra dessert tubs have to be bought
24-hour wait for base to prep is needed
Expensive
Our verdict: Is the Ninja Creami any good?
The Creami defies tradition in the world of ice cream makers. It's more of a fusion between a mixer and a blender. Freezing the ingredients and churning them the day after requires planning, but the mixing process is quicker. It does what it says on the box – making decent ice cream and other desserts with a simple press of a button. However, the steep price point may not justify the final result you could get with a regular ice cream maker or blender.