Monzo savings review
Spending money is more fun than saving it, but Monzo is great for squirrelling away a few quid each month without thinking about it too much.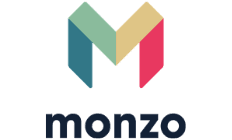 After becoming one of the most popular UK challenger banks offering digital only-current accounts, Monzo is now building a savings marketplace.
What does that mean? Are the deals any good? Should you get an account? We went on a little mission to find out.
Looking for Monzo's current account? Read our review
How do Monzo's savings accounts work?
If you have a current account with Monzo and are looking to open a separate account for your savings, you have two main options:
Pots. More than savings accounts, these are sub-accounts of your main Monzo current account. You can open them without any further documentation or application forms then transfer money in and out of them instantly, but you won't get any interest on your balance. They're often used to save money towards a goal: if you want to save for your next holiday, you can open a Pot called, say, "Greece", then move money there when you like.
Savings Pots. These are actual savings accounts; only, not with Monzo. Monzo manages what it calls a "savings marketplace" instead, which means that you can see different savings deals with the providers Monzo has a partnership with, compare them and open an account directly from the Monzo app. Once you've opened one, you can see the account balance in the app, which will also calculate your weekly interest, and set up a standing order to fund it regularly.
The rates on Savings Pots are fairly competitive, but keep in mind you can still get better ones if you go on the provider's website and apply directly from there.

What types of savings accounts does Monzo offer?
Monzo has just started building its marketplace (it launched in April 2019), so at the time of writing there aren't a lot of account options or providers available. You can choose among the following types of accounts:
Easy access savings accounts. They allow you to access your money when you need it. Unlike with a Pot, it may take up to 24 hours to transfer funds back to your current account.
Easy access ISAs. To earn tax-free interest; the maximum balance is your annual ISA allowance (£20,000 for 2019/20).
Fixed-rate bonds. These have higher rates, but lock away your money for a set period of time.
Monzo says it's working on bringing more providers on board, so the marketplace will probably grow in the next few months. The minimum deposit for all Savings Pots is £10.
Monzo app features that help you save
Apart from opening a savings account, you can also use the Monzo app to organise your spending and get it to save some money for you automatically. Useful features include:
Spending categorisation. Every time you use your card, Monzo automatically categorises your spending and tells you how much you've been spending for groceries, household bills, shopping and so on.
Budgets. You can set monthly budgets for different categories and Monzo will notify you if you're spending too fast.
Round-up feature. If you activate it, your transactions will be automatically rounded up to the nearest pound, with the spare change saved in a Pot. You can thus build up a reasonable amount of savings without having to think about it too much.
Saving goals. You can set one up for each Pot and Monzo will let you know when you've reached your target.
A quick look at the app
Compare Monzo against its competitors
Pros and cons of saving with Monzo
Pros
You can compare accounts and apply for one directly from the app in a few minutes.
You can manage your savings account from the app and see how much you've saved and how much you've earned in interest.
The app has a few innovative features that really make budgeting and saving easy and fun.
Cons
You can get better rates if you apply directly with the provider.
The marketplace is still in the early stages, so there aren't a lot of providers and accounts available.
The verdict
If you're always on the hunt for the very best interest rate and are perfectly aware of your spending and savings patterns, Monzo is competitive but not the best available on the market. However, let's face it, most of us aren't like that.
We want to save, but we also don't want to think about it too much or waste time comparing a million options. If that sounds more like you, Monzo is a good shout. It offers appealing rates and useful tools that make budgeting and saving less painful and more fun.
Finally, if you already have a Monzo current account, opening a savings account too is an effortless and quick process and you can go from not earning anything on your Pot to getting a nice rate on your Savings Pot in a few seconds.
Frequently asked questions