Moneybox app review
Round up everyday purchases and invest your spare change with Moneybox.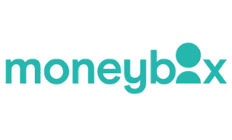 We say
★★★★★
Finder expert rating
You say
★★★★★
Customer satisfaction

Easy to set up and use

The app is slow sometimes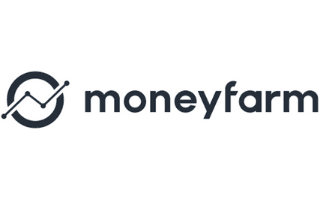 Try Moneyfarm as an alternative to Moneybox
Capital at risk
Personal investment advisors as standard
Globally diversified portfolios, fully managed in-house
Single account fee, which reduces as your investments grow
Withdraw or transfer money with no fees
Uses carefully selected ETFs
Moneybox
launched in 2016 with a nifty feature called "Round ups". Round ups allow investors to connect Moneybox to their bank account, and invest the spare change from their everyday purchases. For example, a coffee costing £2.50 would see 50p invested in a stocks and shares ISA.
Since then, Moneybox has also started to offer savings accounts (including a market leading 1.25% cash lifetime ISA) to help you work towards shorter term goals.
What is Moneybox?
Moneybox is a savings and investing app that aims to make both a seamless part of everyday life.
With as little as £1, you can invest in companies like Amazon, Netflix, Apple, Nintendo, Unilever and Disney via Moneybox's tracker funds.
It takes the whole investment process out of your hands too. All you have to do is spend and the app will round up your purchases to the nearest pound and invest the spare change. Or you can deposit lump sums weekly or monthly yourself.
By connecting a spending card to the Moneybox app, you can set up an investment account from your mobile phone in a couple of minutes. This gives those with little or no investment experience an easy starting point.
How does Moneybox work?
The streamlined smartphone app gives everyone the opportunity to invest by following a few simple steps:
Open an account. To begin you'll need to open an investment account with Moneybox. You have a range of account options to choose among – details below.
Connect a card. You'll also need to connect a spending card to your Moneybox app.
Save as you spend. Moneybox will enable you to round up the spare change from purchases such as your morning coffee or bus fare.
Invest your spare change. It can then be invested in thousands of global companies via tracker funds.
Top-up your investment budget. You can also contribute to your investment account via one off payments or weekly deposits.
Select your starting option. Choose from cautious, balanced or adventurous. More on how these work below.
Automatic withdrawals. Every Wednesday at midday your money is taken by direct debit and invested.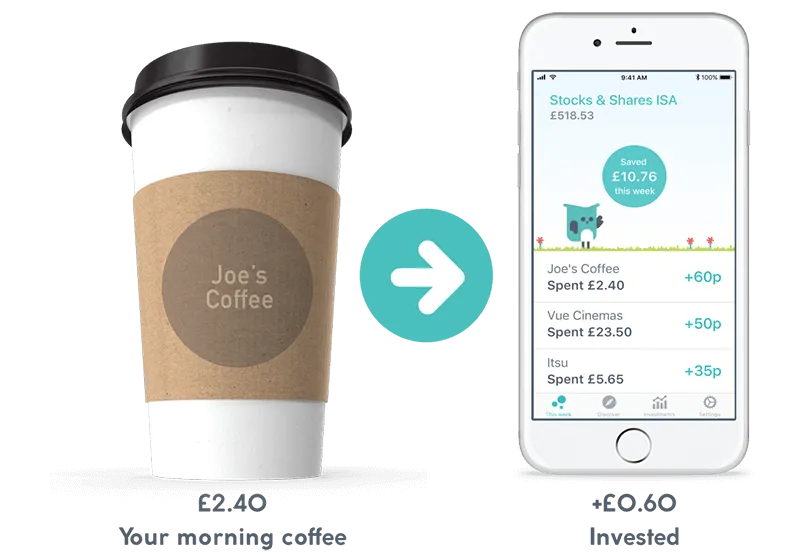 How do Moneybox Round ups work?
With Moneybox Round ups you can regularly squirrel small amounts of money away. As the name suggests, it rounds up your transactions to the nearest pound, before putting the spare change in a savings pot.
If you buy a £2.60 coffee, for instance, it will round the transaction up to £3 and then put the spare 40p in your "digital piggybank".
Your Round ups will be automatically calculated every two days. Or you can do them manually. Head to the account section in the app and choose between the automatic or manual round-up options.
All these round-ups will build up in your weekly savings total, which you can see as a blue circle on your home screen. At midday Wednesday, this little savings pile is taken by your pre-arranged direct debit and invested in your account.
Which types of investment account does Moneybox offer?
Moneybox's investing offer is quite thorough. You can choose among the following:
General Investment Account (GIA). This is a standard investment account. You'll pay taxes on what you earn, but only if you go over your capital gains allowance (£12,000 for tax year 2019/20).
Stocks and shares ISA. You can invest up to £20,000 a year and won't be charged any taxes. More on how these products work on this guide.
Stocks and shares LISA. You can invest up to £4,000 a year tax-free and also get a 25% contribution from the government to either retire or buy your first home. There are quite a few age limitations to be aware of though, so you should read this guide for a complete overview on how LISAs work first.
Junior stocks and shares ISA. This is an investment account you can open for your kids. Earnings are tax-free, but money can only be withdrawn when they turn 18.
Moneybox pension
You can now also apply for a Moneybox pension account along with an ISA or general investment account. You can move your old pensions to Moneybox, and will then be able to track them in the app, set your investment strategy and keep track of how much they're earning.
To set up a Moneybox pension, you'll need to complete the following steps:
Register with Moneybox. You'll need to download the Moneybox app and join the pension waitlist.
Report your old pension pots. If you want to speed up the registration process, you can provide details of the existing pensions you want to transfer into your Moneybox pension. This includes the provider name and policy number.
Wait for your pensions to be transferred. The Moneybox customer service team will then manage the transfer of your old pensions into your new Moneybox pension, and will update you as they do so.
However, Moneybox doesn't accept a pension you or your employee are currently paying into, or any old pensions that provide guaranteed benefits when you retire.
Read the full review of Moneybox's pension
How does Moneybox invest my money?
When you get started with Moneybox, you'll be asked about your risk profile. Depending on what you choose, Moneybox will apply a different investing strategy. You have three basic options:
Cautious. A diversified portfolio that includes government bonds and deposits a good chunk of your money into banks and financial institutions that offer competitive interest rates. Only a relatively small percentage of your money goes towards a global shares fund.
Balanced. Most of your money is invested into a global shares fund, but some is also invested in property companies and bonds.
Adventurous. The vast majority of your investments goes into a global shares fund, but some funds are still invested in property companies.
Full details of Moneybox's pre-set investing strategies can be found on this page. If you're a bit more expert, you can also manually edit your investing strategy and decide which percentage of your money goes into which fund. Don't do that until you are 100% clear on the risks each fund entails though.
Moneybox ethical investing
If you're worried about the impact of your investments, you can choose Moneybox's "socially responsible" option. If you do, the default global shares fund in your investing strategy will replaced by the Socially Responsible fund, which Moneybox offers in partnership with Old Mutual Investment Group.
When deciding which company to invest your money in, this fund takes into account a range of ethical values, from environmental impact to human rights to transparency. It's based on what is commonly referred to as ESG (environmental, social and governance) scoring.
The Socially Responsible fund charges a 0.18% managing fee, which is slightly higher than the standard global shares fund's fee (0.12%).
Moneybox savings accounts
Moneybox's savings accounts aren't directly offered by Moneybox, but by its partners; which means that you can open them from the Moneybox app, but your money will actually be hold by the partner bank.
For now, Moneybox currently offers one type of savings account:
A lifetime ISA. Offering a 1.25% interest on top of the 25% government contribution. It's powered by OakNorth. As with all LISAs, you can open it between when you're 18 and when you're 39 and add up to £4,000 a year to it until you're 50. You can only withdraw the money for free when you're 60 or to buy your first house; if you withdraw it for some other reason, you'll have to give the government contribution back and also pay a fee. Sounds complicated? You can learn more on how lifetime ISAs work on our dedicated guide.
OakNorth doesn't normally offer lifetime ISAs, so it's an exclusive offer, while you can get a notice savings account directly with Investec at a slightly better rate, but only if you invest at least £10,000. Both Moneybox savings accounts can be opened with as little as £1.
Should I get an investment account or a savings account?
They're two very different things, so you should think carefully about what you want to do with your money. Savings accounts' rates aren't exactly stellar these days and apps like Moneybox make investing easier, so it can be a tempting option. Here are a few things to take into account:
Risk. With a savings account, you know from the start how much you're going to earn in interest (even though it's probably not much). If you invest your money, you could earn more, but also lose your capital. That investment disclaimer that says "your capital is at risk" is there for a reason.
Withdrawals. With savings accounts, whether or not you can withdraw your savings depends on the type of account you get (easy-access, notice, fixed term). With investing, you can normally withdraw your money anytime (except with stocks and shares LISAs). On the other hand, investments are meant for the long term, so if you withdraw your money too early you may not make the most of it.
Fees. Savings accounts are usually free, whereas there are a few fees for investing (in Moneybox's case, a £1 monthly fee plus platform and fund fees).
Expertise. Investing may sound scary; there are actually some fairly easy ways of doing it that don't require a lot of experience (funds for "beginners" have become more and more common). Still, it's a bit more complicated (and, depending on how you do it, time consuming) than opening a savings account. You need to be aware of where your money is going, what it's supporting, how much it's earning… so if you're not up for doing a bit of homework, it's better if you stick to savings accounts.
Moneybox's fees and charges
These are the fees you'll be charged to use Moneybox for investing:
Fixed Subscription fee. Free for the first three months, £1 thereafter. Charged monthly.
Platform fee. 0.45%. Charged annually, billed monthly.
Fund provider fees. Between 0.12% and 0.30%. Charged annually, billed monthly.
There are no fees for opening a savings account with Moneybox.
Is Moneybox safe?
As with all investing, the value of your investments are subject to rise and fall. It is important to know that there is some risk involved. You could get back less than you invested.
Moneybox is FCA authorised and covered by the Financial Services Compensation Scheme (FSCS). So if it were to go bust, your investment would be protected up to £50,000. However, this does not protect your money if investments fall in value.
Similarly, all savings accounts offered by Moneybox are covered by the FSCS, which means that deposits are protected up to £85,000.
Finally, Moneybox use 256-bit TLS encryption for all your personal information and will never share any of your details with third parties without your consent.
Related offers
Pros and cons of Moneybox
Pros
The app is simple, making it easy to save and invest.
You could see a greater return than if funds were stored elsewhere.
You are able to select a preferred risk level – cautious, balanced or adventurous.
Great for individuals with no experience in investing.
You can withdraw some, or all, of your money at any time, using the app, as long as that amount has fully settled.
Safe and secure, FCA-authorised with 256-bit encryption protecting your personal details.
If you have online banking, a national insurance number and £1 to spare, it takes a few minutes to invest.
Savings account options are also available, including a competitive cash LISA product.
Cons
Every time you invest, your capital is put at risk.
The charges could be an issue for those starting out with small investments as fees could be higher than monthly profits. You might make more money with a high interest current account.
It can take time to see any substantial return on savings.
Moneybox customer reviews
We carried out a customer satisfaction survey in July 2020.
Moneybox customers like that you can round up your transactions and find that its 10 year forecasting feature is useful for planning. They think that it's easy to use, innovative and reliable.
A few reviewers found that it takes direct debits from your bank accounts on unusual days which takes some getting used to but find that it has very good customer service.
The verdict
Moneybox
started out life as a stocks and shares ISA. The neat app and product make it a great place to start investing your savings if you're not wanting to get too involved. The trade off for this is the fees. The fees are slightly higher than other stocks and shares ISAs, but then those alternatives come with clunkier interfaces and a frankly less fun experience.
Since the early days, Moneybox has branched out into offering savings products, so now it's "Round ups" feature can be coupled nicely with shorter term goals. (Remember, investing is generally best done over the long term!)
Overall, Moneybox is a good option for beginner investors or savers who are looking to put money towards a shorter term goal. The round-ups feature is really fun and Moneybox makes a big deal out of you achieving your goals which is really nice to see. There are other apps out there which allow you to round up though (such as Monzo, Revolut and Starling Bank), and may be better suited to your needs.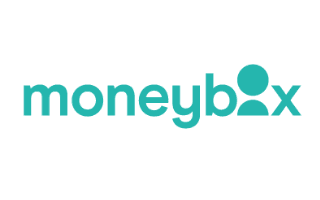 Download Moneybox to save and invest for your future
Download the app and get started with £1
Save and invest starting with your spare change
Market-leading cash Lifetime ISA at 1.25%
Sign up takes minutes
Compare Moneybox against its competitors
FAQs
Back to top
Banking app ratings
★★★★★ — Excellent
★★★★★ — Good
★★★★★ — Average
★★★★★ — Subpar
★★★★★ — Poor
Our team evaluates banking apps to determine their value against similar products on the market.