Mask usage in the UK and around the world
97% of Brits own a face mask, the most out of all the 15 countries in our global study.
The coronavirus pandemic has meant that wearing a mask has quickly become the new normal in the UK and around the world in order to keep each other safe. As each country has a slightly different approach to face masks and where they need to be worn, we have done some research across 15 countries to see how Brits are adapting to the new way of life and how the UK compares to other countries across the globe.
Quick overview
Around 97% of Brits say they own a face mask, making it the country with the highest percentage of citizens who wear masks in the study.
Australia is the country in the study where the lowest percentage of people own a mask (58%).
For Brits, the most important factor when buying a mask is reusability (61% said this was a consideration).
The most popular masks for Brits are plain cloth masks, with 57% choosing this type of face covering.
Mask usage around the world
Our research has found that 97% of Brits say they have a face mask, leaving just 3% – or 1.5 million – who don't own one. This is lower than any other country, making the UK a clear winner when it comes to residents masking up. South Africa is the country with the second-highest percentage of masks owned (90%), but 1 in 10 (10%) still don't own a mask there.
The United States, which has seen a well-publicised "anti-masker" movement, has 78% of its citizens owning a mask. However, the country where residents are least likely to own a mask is Australia, where only 58% of the population currently own one. Across the 15 countries in the study, the average percentage of those who own masks is 80% for each country.
| Country | Population that own a facemask |
| --- | --- |
| UK | 97% |
| South Africa | 90% |
| Philippines | 87% |
| Mexico | 85% |
| Ireland | 84% |
| France | 82% |
| Spain | 81% |
| Italy | 80% |
| United States | 78% |
| Canada | 78% |
| Singapore | 76% |
| Hong Kong | 76% |
| Brazil | 76% |
| New Zealand | 71% |
| Australia | 58% |
What masks are Brits choosing?
The most popular type of mask in the UK is a plain cloth mask (57%), followed closely by blue surgical masks, which are owned by half of the population (51%). Following this was "fashionable or branded" masks, which are owned by a quarter of Brits (25%). Homemade masks were in third place (22%), followed by medical-grade N95 masks (18%) and then by face shields (17%).
These stats show that Brits seem to take more pride in their appearance rather than the mask's ability to filter air, as plain cloth masks are over three times more likely to be worn than medical-grade masks.
| Type of mask | Percentage of Brits who own each mask type |
| --- | --- |
| Cloth mask | 58% |
| Blue surgical mask | 52% |
| Homemade mask | 23% |
| Medical grade mask (N95, KN95 etc) | 18% |
| Face shield | 13% |
| A fashionable or branded mask | 13% |
What are the most important factors for Brits when picking their mask?
Finding a mask that's reusable is the most important factor for us with 3 in 5 (61%) saying they consider this when buying a mask – excellent news for the environment! The other top motivations are safety and being able to breathe easily with 45% of respondents listing both of these options as one of their top priorities. It appears that masks haven't become a fashion accessory just yet, with only 10% of Brits saying that they take this into consideration when buying a mask.
| Factor | Percentage of Brits that consider this feature when purchasing a mask |
| --- | --- |
| Reusable | 61% |
| Safety | 45% |
| Being able to breathe easily | 45% |
| Paying as little as possible | 25% |
| Getting a mask that is good for the environment | 22% |
| Finding one that is sold nearby or readily available | 20% |
| Fashionable | 10% |
| Nothing in particular/N/A – haven't bought a face mask | 8% |
| Other | 3% |
The environmental impact of the UK's mask usage
As mentioned earlier over half (51%) of UK adults say they own blue surgical masks, which is equivalent to 26.7 million people. This means that 53.5 million disposable masks are used per day in the UK alone. This is based upon the assumption that blue-surgical mask users would go through at least two masks a day as these masks are intended to be single-use. As these masks cannot be recycled it means that we are sending 53.5 million masks to the landfill every day. Over a month, the UK will use 1.6 billion of the non-biodegradable masks, where they will take between 20 and 30 years to breakdown.
To put this in perspective, per day the number of masks Brits go through equals the weight of 100 cars. In less than two days enough masks would be used to cover the whole of London. In just two and a half days the total amount of masks used by Brits would reach the moon if they were laid in a straight line.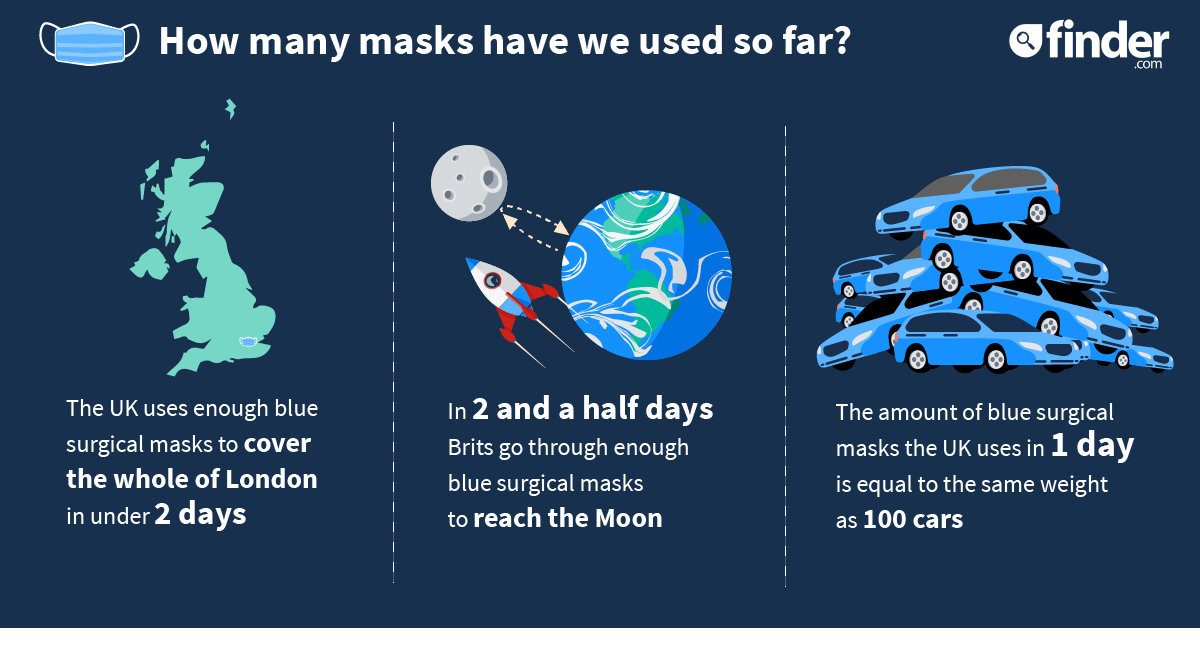 How to dispose of a mask properly
Before putting on a mask, wash your hands with an alcohol-based hand rub or soap and water.
Cover your mouth and nose with the mask and make sure there are no gaps between your face and the mask. Avoid touching the mask while using it; if you do, clean your hands with an alcohol-based hand rub or soap and water.
Replace the mask with a new one as soon as it is damp and do not re-use single-use masks.
To remove the mask, remove it from behind (do not touch the front of the mask), discard immediately in a closed bin and wash your hands with an alcohol-based hand rub or soap and water.
Wearing a mask is an important part of controlling the virus, so it is encouraging to see so many Brits leading the way. The fact that safety was one of the top reasons behind our mask choices also bodes well for us all.

Masks are likely to be part of our daily lives for the foreseeable future, so choosing reusable masks is a sensible way to keep costs down and help the environment. Choosing a cloth or medical-grade mask will enable you to wear them multiple times and should provide a higher level of comfort. You can see a detailed guide on the differences here."
Are we using masks correctly?
According to our research, only 24% of the population is washing or disposing of their mask after one use. This means that almost three quarters (72%) of Brits are going against official advice from the World Health Organisation (WHO) that disposable masks, such as blue surgical masks, are replaced after every use and that reusable masks, like cotton masks, are washed after every use.
The average number of times wearing a mask before disposing or washing it was 3.6 times. However, worryingly, 1 in 10 (11%) people claim to be using their mask upwards of 10 times in between washes or getting a new one.
In terms of reasons for wearing masks, our research found that reusability was the number one factor, with 3 in 5 (61%) saying this.
The second top reason for Brits when buying a mask was safety (45%), tied with being able to breathe easily (45%). The third top reason was the price, with a quarter of the population (25%) aiming "to spend as little as possible".
For all media enquiries, please contact
Sources and methodology
finder.com commissioned surveys in 15 countries around the world throughout August 2020. Respondents ranged from 1,200 to 2,000 depending on the country.
A total of 2,000 people were questioned throughout Great Britain, with representative quotas for gender, age and region.
UN.org
Earth Organisation