Blinkbox Review | Price, Features and Content
Are you better off going with a streaming service, or the amazing £0.99 movies offered by Blinkbox?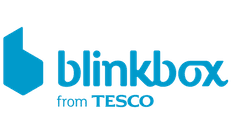 Founded in 2006, BlinkBox is an online pay-as-you-go entertainment system. It allows you to rent or buy movies and TV shows over the internet. You simply set up an account, enter your payment details and then you pay for each item of content that you watch. It has a quietly impressive catalogue of content, including many of the latest television and cinema releases, and comes available on a wide range of devices. Interested? Then read on for the full story.
Price and packages
There is no subscription with BlinkBox, and no lock-in contract. It's a pay-as-you-go service that allows you to rent or buy individual movies and TV shows. You only pay for what you watch. Here's a guide to the prices:
| Movies | Price |
| --- | --- |
| Rent | £3.49 |
| Buy | £8.99 |
| TV Shows | Price |
| Single episodes | £1.89 |
| Whole series | £5.99 |
Also, keep your eyes peeled for special offers with prices starting from just £0.99.
Renting:
If you rent a movie then you have 30 days to watch the movie. Once you start you will have 48-hours to finish on up to 2 devices.
Buying:
It's yours forever. Watch on up to 5 devices.
Back to top
What devices is BlinkBox UK compatible with?
You can stream BlinkBox through any of the following devices:
You can also download content to be watched later (ideal for long journeys and commutes) on the following devices:
iPhone
iPad
Android phone
Android tablet
Top picks on Blinkbox
How do I sign up to BlinkBox UK?
Signing up to BlinkBox is easy. Simply follow the instructions below.
First of all, head over to the BlinkBox website using any of the links provided on this page.
When you get there you'll see a blue button in the top right-hand corner that reads 'Sign up now'. Click it!
You'll be taken to a page that looks like this, and asked to create an account.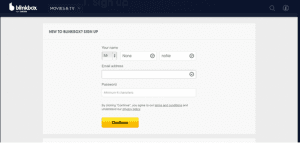 4. You'll then be asked to enter your payment details. BlinkBox accepts Visa, MasterCard and Maestro.
5. You're now free to browse the BlinkBox catalogue, make your selections and watch your favourite movies and TV shows.
BlinkBox UK pros and cons
Pros
No subscription, no lock-in contract
Special offers and prices starting at just £0.99
Available on a wide range of devices.
Cons
Might work out more expensive than a subscription service for heavy users.
Verdict
BlinkBox is a versatile, usable and relatively cheap service. It won't replace your television or any subscription TV services that you might have, but it will give you access to great on-demand content, including latest releases, at a really nice price. It is available across many devices and the content can sometimes be downloaded for watching at a later date, which is really handy for long journeys, or any times when you might be left without an internet connection. The range of content is good and includes many of the latest movies and TV shows, that will be available long before they come to subscription services. All in all, if you're heavily into movies and TV it's worth having an account with BlinkBox. Since there's no monthly fee and no lock in, so you can dip in and out whenever you want something specific, but for regular viewing, you'll probably want to look elsewhere.
Blinkbox FAQ