Send money to Seychelles
How to send a fast, secure and affordable money transfer to Seychelles from the UK.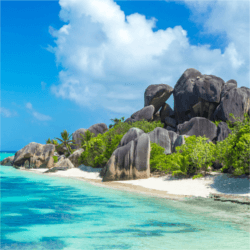 When you need to get money to a loved one overseas, the last thing you want to have to deal with is navigating a potentially complicated and expensive process. Sending money from the United Kingdom to the Seychelles doesn't have to be expensive. Compare the transfer fees and exchange rates of the many options available to you to get the most Seychellois rupees for your dollar.
From bank transfers and online transactions to options that allow recipients to collect your funds within minutes, sending an international money transfer to the Seychelles is easy. However, do your research and shop around for the best available deal.
Compare services that send money to Seychelles from the UK
Table: sorted by a combination of service offering and the amount your recipient will receive
Disclaimer: Exchange rates change often. Confirm the total cost with the provider before transferring money.
Banks versus money transfer companies
We use our banks to take care of all our other financial needs, so surely we should use them when we need to send an international money transfer, right? Not necessarily. While major UK banks offer money transfer services, they usually present less competitive exchange rates coupled with high transfer fees.
You can often save money by using the services of a dedicated money transfer company. These providers specialise in handling overseas money transfers, offering attractive exchange rates and affordable transfer fees.
Case Study: Sue sends money to the Seychelles
Sue needs to send £500 to her son Pete, who is on holiday in the Seychelles. Pete lost his wallet on a snorkelling trip and needs some extra money as fast as Sue can send it. Sue knows that her bank will offer a dismal exchange rate and then take a couple of days to complete the transfer, so she compares two well-known cash pickup transfer companies to see if she can find a better deal.
As you can see from the table below, while the second company offers a superior exchange rate, using the first company allows Sue to save £35 in transfer fees.
| | Money transfer company 1 | Money transfer company 2 |
| --- | --- | --- |
| Exchange rate | £1 = $16.145 SCR | £1 = $16.395 SCR |
| Transfer fee | £15 | £50 |
| Transfer method | Cash pickup transfer | Cash pickup transfer |
| Processing time | 10 minutes | 10 minutes |
| Amount received (in SCR) | $8,072.50 SCR | $8,197.50 |
Back to top
How do I compare transfer companies when transferring and receiving money via the Seychelles?
Exchange rates. Exchange rates can differ substantially between providers. How do each company's exchange rates compare to the competition?
Transfer fees. How much will you need to pay in fees each time you send a transfer? Can you avoid paying fees when you send a large amount?
Transfer methods. Does the company offer a transfer method that is convenient for you, such as online or in-branch transfers?
Transfer options. Can you schedule repeat payments in advance rather than manually making a transfer request each time? Are there transfer options such as limit orders available to help you get the exchange rate you want?
Minimum and maximum limits. Check the minimum and maximum limit the company applies to each transaction and make sure they suit your needs.
Processing times. While some companies take multiple business days to process transfers, others can complete transactions within 10 minutes — but you usually have to pay more for rapid transfers.
Pickup options. Will the money be sent as a bank account transfer, cash pickup transfer or via another method?
Customer service. Check out how customer support is offered (online chat, phone, email) and whether the company has a good reputation for dealing with customer complaints.
Back to top
Foreign exchange rates explained
The exchange rate determines how much one country's currency is worth in another currency. When a country's currency is strong, it will yield more money when exchanging it in a country with a weak currency. For example, in December 2016, the pound was worth approximately 26 Mexican pesos. However, most countries' exchange rates are flexible, which means it can change from moment to moment. Factors that influence the exchange rate include interest rates, economic stability and inflation.
What are my options for sending money to the Seychelles from the UK?
Specialist transfer providers. Shop around to see which online transfer companies send money to Seychelles from the UK
Cash pickup transfer companies. Western Union and MoneyGram both have several cash pickup locations in Seychelles.
Bank transfers. Compare your bank's exchange rates and fees with those offered by other providers.
International checks. If you're not in a hurry, you could consider mailing an international guaranteed check.
Back to top
Emergency cash transfers in Seychelles
If time is of the essence and you need to send money to Seychelles as quickly as possible, cash pickup transfer companies can complete transactions in as little as 10 minutes. Before you send a cash transfer, however, make sure you review just how much the transaction is going to cost you. Higher fees and lower exchange rates often apply, so know what you're agreeing to before you part with any money.
Back to top
Tips for picking up cash in Seychelles
Take a friend with you and avoid any areas where crime is known to be a problem.
Keep the money hidden and never display it in public.
Don't carry the funds on your person for any longer than is absolutely necessary — deposit them into your bank account as soon as possible
Back to top
What are the steps to send money to Seychelles?
Sign up for an account. Many online transfer companies will require you to sign up for a free account, but this may not always be necessary. However, you will need to provide your name, address and contact details.
Enter your transaction information. The next step is to provide all the details of your transaction, including where you are sending your money, in what currency, and the amount to be transferred.
Pay for your transfer. If you're happy with the exchange rate and transfer fee on offer, pay for your transfer and keep any receipt so you can track your transfer.