How to send money to Madagascar
Compare fees and exchange rates to get the best deal on your next money transfer to Madagascar.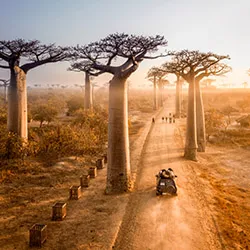 The UK is Madagascar's 13th biggest trading partner when it comes to exports. Their top exports are raw nickel and vanilla, with most of their economic activity coming from agriculture, fishing and forestry.
The UK maintains a special relationship with Madagascar, being one of eleven countries with an embassy in this island nation.
Compare services that send money to Madagascar from the UK
Table: sorted by a combination of service offering and the amount your recipient will receive
Disclaimer: Exchange rates change often. Confirm the total cost with the provider before transferring money.
Neil's comparisons on money transfer companies with a cash pickup
Inspired by his favourite childhood movie, Madagascar, Neil has wanted to visit this country since he was a young boy. Neil couldn't find a solution from his local bank in the UK to send him a cash pickup in the MGA and has therefore compared two money transfer companies with a cash pickup option. He uses £1,000 as a comparing amount.
| | Money transfer company A | Money transfer company B |
| --- | --- | --- |
| Exchange rate | 1 GBP = 3998.90 MGA | 1 GBP = 3876.50 MGA |
| Transfer fee | 15 GBP | 30 GBP |
| Amount of MGA received in Madagascar for £1,000 | 3,998,900 MGA | 3,876,500 MGA |
| Transfer time | Minutes | Minutes |
| Transfer options | Online, agent, phone | Online, agent, phone |
| Difference in MGA | | 122,400 MGA |
Back to top
What factors can Neil include in comparing different services for sending money between Madagascar and the UK
Exchange rates. The exchange rate is fairly consistent with some volatile movements. Consider a forwarded contract if you see a more favourable exchange rate.
Pickup methods. Send money to physical agent locations for a cash pickup, mobile devices and bank accounts.
Fees. Fees range from 15 GBP to 70 GBP, companies like OFX International will offer a solid rate with a low sending fee but the delivery of the currency can take 2 days and more depending on the recipient location.
Bank to bank benefits
Turnaround time. A quicker turnaround usually comes at a cost. The cash pickup options as explored above usually implicate a higher sending fee and in some instances a lower rate. The turnaround time with the available companies will take anywhere between ten minutes and four days.
Transfer methods. The different transfer methods range from basic services like agent or phone, to online portals and mobile apps.
Transfer options. You can choose between spot contracts, booked rates/forwarded contracts, recurring payments, and limit orders.
Minimum/maximum transfer amounts. Minimum amounts start at 10 GBP for Western Union and at 100 GBP for the other money transfer companies. For some maximum amounts, it will realise in a lower fee but will also require you to go into the branch or agent location to make the transfer.
Customer service. Keep in mind that sending money overseas can be a stressful task if it's a new activity for you. Customer support can make or break whether it a good or bad experience. Many of the companies listed below have a proven track record of good customer support that makes the process enjoyable.
What options do you have when sending money to Madagascar?
Money transfer services
The available transfer companies to send money from the United Kingdom to Madagascar include OFX International, World First Foreign Exchange, Moneygram, Western Union, and Xpress Money.
Banks
You should look in to your bank to see if they offer transfers to Madagascar, keeping in mind their fees.
Paypal
The Paypal service is available in the Madagascar market but does not support the MGA currency as of yet. The EUR and USD are accepted occasionally and can be received for currency exchange at a local exchange bureau.
Back to top
Is it possible for Neil to send money to the UK from Madagascar?
Money transfer services
Neil can use a money transfer service with an online portal to send money to the UK from Madagascar. If he can access his bank accounts, he can send money to the transfer company to complete the transaction. If it's cash, he can use agent locations like Moneygram, Western Union and Xpress Money and send it to a bank account or agent location in the UK.
Bank accounts
ANZ, Citibank, Commonwealth Bank, and Macquarie Bank all accept the MGA currency and can receive money from Madagascar in this currency.
What are the emergency cash transfer options to Madagascar?
Neil has already explored the options for cash transfers which will also be used in cases of emergency. Neil's family and friends have the option to send him cash through Moneygram, Western Union, and Xpress Money.
All three of these services offer great customer support and have locations available in at least two of the main cities in Madagascar. Below are listed some of the locations that Neil can visit to pick up any emergency cash and after that follows some tips that you can keep in mind when picking up money.Back to top
Top tips for picking up cash in Madagascar
It is advised that a traveller in Madagascar do not walk around with their passport as something that is easily accessible due to identity fraud cases. Phone ahead to the agent location you will be visiting and check if you can take along a copy of your ID or passport instead of the original document when picking up your cash.
There are some recurring cases of theft and violence as well, so when going to pick up cash, make sure that you are in a safely populated area and keep the transaction as discreet as possible. It is also advised to not travel alone when picking up cash as it makes for easy targeting.
Back to top
What steps can you follow to send money to Madagascar?
Sending money through a bank or online service provider to a bank account in Madagascar
If you are sending the money online, you will need an online account with the bank or service provider
You will need the full name, address (basic details) and account number of the person you would like to send money to
The name of the bank, branch number and address or in most cases the SWIFT BIC
Currency and amount that you want to send
If you are receiving money from Madagascar, you will need to supply the sender with the above details.
Send money to a person for cash pickup
Payments can only be made by individuals 18 years and older
Provide the recipient's full name and surname (a copy of their ID will be handy) and address of the sending location
You will need to provide either the cash that you want to send or pay with an accepted Visa or Mastercard according to the location you are sending from
Picking up cash from an agent location
Provide your ID along with the tracking / reference number of the transaction
It's always a good idea to take along a receipt of the original transaction
Background information on Madagascar
The Foreign and Commonwealth Office (FCO) advise against all travel to Batterie Beach, north of Toliara (Tuléar), where there have been violent attacks including fatalities. The FCO also advises travellers to take caution as there may be signs of political instability since the 2009 coup d'état.