Send money to Croatia
Send money to Croatia using an international money transfer service and you could beat the bank's rates.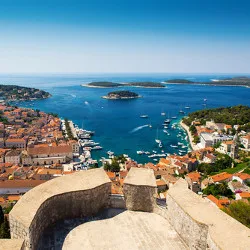 London is home to almost 2,500 Croatians, one of the smallest foreign communities in the city, some of which settled thirty years ago, while others arrived recently as students or au pairs.
The Croatian economy is one of the most developed in southeast Europe, making it an attractive business partner for the UK. UK exports are worth over £16Bn, only expected to grow as central and eastern Europe continues its GDP growth of 4-5% per annum.
Compare services that send money to Croatia from the UK
Table: sorted by a combination of service offering and the amount your recipient will receive
Disclaimer: Exchange rates change often. Confirm the total cost with the provider before transferring money.
Banks versus money transfer companies
Maggie lives in Doncaster with her husband and three children. Her parents have just retired and decided to buy a house on the Dalmatian coast. Maggie would like to share the cost of a new refrigerator with her old sister still based in Croatia. After some research, she's come upon two of the following service providers.
| | Money transfer 1 | Money transfer 2 |
| --- | --- | --- |
| Exchange rate | £1 = 8.43 HRK | £1 = 8.39 HRK |
| Transfer fee | £1 | £5 |
| Amount received for £500 | 4,215HRK | 4,195 HRK |
| Transfer time | 1 to 2 working days | 1 to 3 working days |
| Transfer options | Bank deposit | Online transfer, on the phone |
| Difference | 20HRK | |
Money Transfer Service 2 offers a lower exchange rate and charges a higher transfer fee, but without the benefit of quicker delivery.
Back to top
How do I compare transfer companies when transferring and receiving money to Croatia?
Exchange rates. Besides what you pay for the transfer service, it's important to choose a service that offers a competitive exchange rate.
Pick-up methods. Check with your recipient to see which pick-up method would suit them best, especially if they're not mobile or far from a pick-up point.
Fees. Even if a service offers a competitive exchange rate, make sure that you aren't being charged service or conversion fees for the transfer. Sometimes a good exchange rate is negated by additional fees.
Bank to bank transfers. If your recipient has a bank account with the same bank, you can effect a same-bank transfer, usually for no fee.
Turnaround time. Depending on how urgently your recipient needs the money, you can choose between services that offer instantaneous delivery (Western Union, for example) or those that make money available within one to three working days.
Transfer methods. The quickest way to send money is usually via online transfer, but you can also choose transactions concluded over the phone, in person or through your bank. Your choice depends on your preferred turnaround and fees you're willing to pay.
Transfer options. Besides just once-off transfers, you can also choose to set up regular scheduled payments, forwards contracts and market orders.
Minimum transfer amounts. Some services require that you send a minimum amount, usually between £10 and £50. In some cases, fees are waived for transfers over a certain amount.
Customer service. It's imperative that the money transfer service has a reliable and efficient customer service. You should be issued a tracking number to use as a reference when making enquiries about the transaction's status.
Back to top
How do I send money to Croatia from the UK?
Thanks to cordial relations between the UK and Croatia, there are several ways to send money between the two countries. Here are a few to consider:
Xendpay. This money transfer service will send money directly to your recipient's bank account.
Western Union. Your recipient can collect the deposit at a Western Union agent or withdraw it from his or her bank account.
Banks. Sending money between banks usually implies higher fees, but if your recipient has a bank account within the same bank, the transfer will be effected without a fee.
Exchange4Free. This services facilitates bank-to-bank transfers for zero fees charged no matter the amount. Be sure to compare exchange rates and delivery time. You can effect a transfer online or by phone.
How do I receive money from Croatia in the UK?
In the same way that recipients in Croatia can access their deposits quickly and easily, sending money from Croatia to the UK is facilitated by several banks and online transfer services. If your priority is speedy delivery, your best bet would be an online transfer service like MoneyGram or Western Union. These services deliver within minutes and recipients can collect their money at a number of agencies or pick-up points.
Worldremit. This transfer service allows you to receive a transfer in the UK within 10 minutes of the transaction being effected. Recipients can collect their money at a MoneyGram pick-up point.
Paypal. One of the most recognisable and reliable money transfer services, Paypal facilitates instantaneous transfers between Paypal accounts and to bank accounts.
Back to top
Emergency cash transfers in Croatia
If you find yourself in an emergency while in Croatia, there are a few ways to have money sent to where you are.
Pick-up options. Transfer companies like Western Union and MoneyGram have pick-up points from which you can collect your deposit. Money is usually available within minutes of the transaction.
Online transfers. These money transfer companies facilitate quick transfers between bank accounts, usually within one to three business days.
Travel insurance. Your travel insurance policy will cover you for loss and theft while on holiday. Get in touch with your insurer, but make sure you're eligible for cover before submitting a claim.
Tips for picking up cash in Croatia
The Department of Foreign Affairs and Trade advises a normal degree of caution while in Croatia. While crime is relatively low, you should still be vigilant while travelling, especially if you're collecting money from a pick-up point. Be sure to get there during opening hours and try to take someone along.
Back to top
What are the steps to send money to Croatia?
Depending on the transfer service you choose, you'll be asked to supply certain personal and financial details. Some online services require that you open an account before effecting a transfer.
You'll be asked to be supply the following:
Your contact details
Email address
Bank account information
Your recipient's personal and bank account information
Once the transfer has been completed, you'll receive a tracking number to use as reference when making enquiries.