How to safely reopen your business
How best to prepare for welcoming customers and looking after staff as lockdown eases.
As the country continues to open up amid lockdown restrictions easing, many retailers will be breathing a sigh of relief at the prospect of trading again.
Conducting business is likely to look different though, as the government is encouraging — and in some cases requiring — heightened safety precautions to help slow the spread of COVID-19. Maintaining open communication with your employees about coronavirus concerns can help you adapt as a business owner and respond to their needs.
At a glance
Top three steps for reopening:
Communicate with customers.
Stock up on supplies for protection and sanitation.
Top picks for supplies in stock and in bulk quantities
When should I reopen my business?
This will all depend on your industry specific guidelines. After your sector has been given the green light for business owners to reopen, it's up to you as the owner to devise and implement a plan that considers the safety of your employees and customers.
Resources from the UK government
Official guidelines from the UK government can be a handy way of ensuring all your boxes are checked before and during the reopening process. If you are in an area affected by coronavirus outbreak, take a look at your local guidelines here.
How to safely reopen your business
Each industry has been given specific policies for what is and isn't required for a business to reopen. While businesses like train companies and cinemas require the wearing of masks for their employees, others such as hospitality settings like pubs and restaurants leave it up to each business owner.
Consider seven steps to shoring up a successful and safe reopening when lockdown restrictions ease.
1. Write out a reopening plan.
Carefully read the reopening guidance for your industry and write out the steps necessary to meet them.
The governing body for your sector may require you to post a safe reopening plan at the entrance to your business. And you'll likely need to post signage and policies for employee protection, social distancing, cleaning and disinfecting.
2. Communicate with your customers.
It may be more difficult to maintain contact with your customers during lockdown, but technology can help you keep an ear to the ground. Many businesses are inviting interaction and feedback on private Facebook groups to gain a better understanding of customer needs and concerns. By talking directly with the public online, you can hear about what might keep them from returning to your business and explore ways to address those concerns together.
Consider other ways that technology can help. Depending on your business or industry, virtual appointments or televisits can help you meet your customers halfway, as does delivery or curbside pickup, to limit in-person interaction. When it's time for in-person interaction with customers, live chat or text messages can communicate what to expect and whether there's anything you need them to do.
3. Take it one step at a time.
The government is encouraging business owners to make the call when it comes to working from the office or from home, so consider what you feel is best for your company. In areas of the country where only limited reopening is authorised, restaurants and businesses are limited to delivery and many other businesses are reopening with limited hours to accommodate extra cleaning or other safety measures, further limiting staff capacity.
If you aren't yet set up for contactless payments, many companies allow merchants to sign up and begin accepting mobile or online payments quickly. Contactless card readers not only make ordering online or by phone more efficient, but they're also a safe option for in-person payments when you fully open your doors.
4. Rearrange your physical spaces.
Social distancing is a major part of the government's reopening plans, and you'll need to think about how you'll manage long lines and crowding to prevent confusion or discomfort among your employees and customers.
Your industry or local area may require you to install spacial markers to help customers stay at a safe distance or implement density restrictions designed to keep spaces from becoming crowded. If you run a store front, that could include one-way traffic directions for narrow aisles. Physical barriers may also be required to protect your employees behind the counter.
5. Provide your staff with tools for protection.
The UK government recommends business owners provide their employees with access to:
If you own a business where social distancing isn't feasible, consider providing gear for specialised protection. For example, stylists at barber shops and beauty salons might use disposable paper capes, safety glasses or even face shields.
Our top picks for protecting staff and customers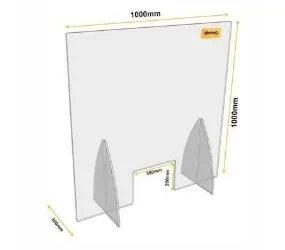 Sneeze guard / cough screen: Clear acrylic plastic
from Etsy
This clear acrylic plastic sneeze guard is the perfect size for check out counters, salon tables and hotel check in desks.
When our crew last checked this product it was
IN STOCK.
Shop now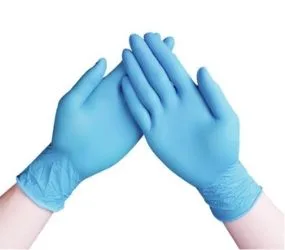 Blue disposable nitrile gloves - 50 pairs Medium
from OnBuy
Stock up on these disposable nitrile, powder-free gloves from OnBuy.
When our crew last checked this product it was
IN STOCK.
Shop now
Maintaining open communication with your employees about coronavirus concerns can help you adapt as a business owner and respond to their needs.
6. Screen staff for symptoms.
The UK government also requires business owners to actively encourage sick employees to stay home.
To meet this requirement, employees should be screened for COVID-19 symptoms as regularly as possible, which includes taking risk assessments regularly. Non-essential businesses may be held to more stringent standards. For example, non-critical retailers such as restaurants and pubs may be required to conduct daily temperature checks and monitor symptoms for all employees.

7. Train your staff on safety.
Many businesses are hosting training for staff prior to reopening. Agendas include ironing out logistics for safely taking temperatures, wearing masks properly, hand-washing and cleaning protocols and tips to enforce social distancing.
Weigh the benefits of taking on the liabilities of disinfecting and cleaning your business on your own — such as implementing fogging or disinfecting systems — or contracting out a professional cleaning company to do it for you.
List of businesses that can reopen
Restaurants and bars
Shopping centres and retail stores
Personal care services
Gyms
Parks
Youth and club team sports
Elective health procedures
Hairdressers and barbers
Hotels and other guest accommodation
Working from a vehicle including lorry drivers and mobile workers
Bottom line
The key to reopening your business in a post-lockdown world is developing a plan that meets government guidelines and enlists the help of your employees to help your business stick to it. Arming your staff and customers with safety information and protective gear is necessary, and reaching out to the public early through social media or other technology can help you answer concerns and foster collaboration before you reopen your doors.
Frequently asked questions