Policy Expert home insurance
Find out if Policy Expert home insurance can provide the right cover to give you peace of mind in your home.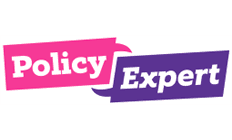 Customers say
★★★★★
Customer satisfaction

Customers were satisfied with service provided

Some customers found the claims process difficult
Policy Expert offers two levels of home insurance cover and a range of optional extras. It also compares a range of home insurance policies from other providers including AXA, Ageas and Aviva, so you can find cover that's tailored to what you need.
We've analysed what's on offer to show you what you get with Policy Expert.
Who is Policy Expert?
Policy Expert launched in 2011 and gets 4.5 stars out of 5 on Trustpilot based on more than 19,000 reviews.
The company says it insures over 400,000 homes in the UK.
Policy Expert has been awarded a Crystal Mark from the Plain English campaign for its jargon-free policies and is also a member of the Flood Re scheme. This scheme helps people in flood-risk areas to access flood cover that's affordable.
What are Policy Expert's cover options
Policy Expert offers buildings and contents home insurance or both together. There are two levels of cover so you can choose the cover that's the right fit.
Policy Expert Essentials Cover
Essentials Cover is Policy Expert's most basic level of cover and you can choose a buildings or contents insurance policy. If you would like to combine your buildings and contents insurance, you can choose the Policy Expert Select policy.
Features of the Essentials policy include:
Buildings cover
Contents cover
New for old cover
Alternative accommodation
Credit card cover
Personal money in the home
Deep freezer contents
Property owners liability
Replacement lock and keys
Policy Expert Premier Cover
Premier Cover offers similar benefits to the Essentials cover, but the limits are higher.
Features of this policy include:
Buildings cover
Contents cover
New for old cover
Alternative accommodation
Credit card cover
Personal money in the home
Deep freezer contents
Property owners liability
Replacement lock and keys
Student belongings
Gadgets cover
Policy Expert optional extras
Policy Expert home insurance offers additional cover options for their customers, these include:
Home emergency cover This gives you cover all day every day for the year.
Legal expenses cover This gives you and your family help with any legal issues you face.
Key cover This gives you cover for when you lose your home or car keys.
Cycle cover This covers your bicycles if they are stolen while your away from home.
Accidental damage cover This gives you cover against any accidental damages that occur in your home.
Away from home cover This cover will protect your items and money that are stolen while you are away from home.
What's covered under my policy?
Policy Expert's most basic Essential cover home insurance policy offers cover and protection for your home against certain risks, depending on whether you choose Buildings or Contents insurance. Both buildings and contents insurance will cover:
Fire, lightning, explosion or earthquake
Smoke
Riot, civil commotion, political disturbance
Collision
Falling trees or branches
Falling television and radio aerials
Storms
Theft/vandalism
Accidental damage to underground drains, pipes, cables and tanks
Escaped oil/water
Subsidence
Policy Expert offer a range of additional benefits which are included as standard. These are:
| Benefits | Buildings | Contents |
| --- | --- | --- |
| Buildings sum insured | ✓ | |
| Trade and access | ✓ | |
| Accidental damage to fixed glass | ✓ | |
| Alternative accommodation | ✓ | ✓ |
| Replacement lock and keys | ✓ | ✓ |
| Property owner's liability | ✓ | ✓ |
| Contents sum insured | | ✓ |
| Valuables inside your home | | ✓ |
| Business equipment | | ✓ |
| Contents in outbuildings | | ✓ |
| Freezer contents | | ✓ |
| Money | | ✓ |
| Credit cards | | ✓ |
| Vistor's personal belongings | | ✓ |
| Increase in contents sum for weddings, birthdays and religious festivals | | ✓ |
| Personal liability | | ✓ |
| Student belongings | | ✓ |
| Theft of contents | | ✓ |
| Gadgets | | ✓ |
What is my excess?
An excess is the amount of money you contribute when you make a claim. The amount of your excess will depend on the level of cover you have and the nature of your claim. If the nature of your claim is both buildings and contents, the higher excess will be applied.
Make sure you refer to your policy schedule as this will outline the amount of excess you have agreed to pay.
How much is this going to cost me?
There are a number of factors that can affect the cost of your Policy Expert home insurance premium, including:
The level of cover you choose. A Premier policy offer more features and broader cover than an Essential home insurance policy, and this is reflected in its price.
Your sum insured. The greater the amount you wish to insure your home or contents for, the more you can expect to pay for cover.
Your home. The age of your home and the materials from which it is constructed can influence its ability to withstand damage.
Where your home is located. Certain risks, for example storm and theft, are more prevalent in certain areas, and insurers will take this into consideration when calculating your premiums.
Security. Security measures such as an alarm system and deadbolts can act as a deterrent to thieves and therefore reduce the cost of your cover.
What is the claims process for Policy Expert home insurance?
If you wish to make a claim on your home insurance policy, you will need to get in contact with Trinity Claims, who handle claims for Policy Expert.
You can call Trinity Claims on 03300600633 or write to them as soon as you can and within 30 days of the event. Their address can be found in your policy booklet.
For greater detail about how to claim, make sure to refer to your policy booklet.
---
The offers compared on this page are chosen from a range of products we can track; we don't cover every product on the market...yet. Unless we've indicated otherwise, products are shown in no particular order or ranking. The terms "best", "top", "cheap" (and variations), aren't product ratings, although we always explain what's great about a product when we highlight it; this is
subject to our terms of use
. When making a big financial decision, it's wise to consider getting independent financial advice, and always consider your own financial circumstances when comparing products so you get what's right for you.
More guides on Finder