Holvi review
Holvi offers a clean app that combines business banking and invoicing, and even has a basic free option.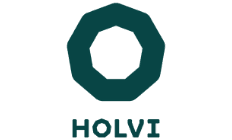 Whether you've just set up your ice-cream stall at the local market or you run a small independent music firm that's been around for a while, getting a new business account is always a pain. Holvi has the potential to be a solution to the problem.
Our review looks at its features, fees, pros and cons to help you figure out whether it's got what your business needs.
What is Holvi?
Holvi is a Finnish digital banking company that was founded in 2011 and currently operates in 10 different European countries.
It does business accounts for freelancers and small businesses, integrating basic business banking with invoicing and expense management.
Holvi works both via browser and through the app.
How does Holvi work?
Once you've signed up to Holvi, you get:
A prepaid card. It's a bright yellow Mastercard.
The Holvi app. It looks clean and tidy and instantly notifies you whenever you use your card or when an invoice is paid.
An expense management tool. Every time the card is used, Holvi categorises your purchase, asks for a receipt and stores the information. It also automatically generates expense reports.
An invoicing tool. It helps you create your invoices more quickly by filling in your company's details automatically, and also tracks your received payments to tell you which invoices haven't been paid yet.
In other countries, Holvi allows you to set up an online store for your business, but this feature is currently unavailable in the UK. Also, at the moment you can only receive bank transfers in pounds.
How do I apply for a Holvi business account?
You can apply for a Holvi business account online, through a fairly straightforward application process. You're going to need the following:
Valid ID (passport or EU identity card)
Company registration number
VAT number (only if you are VAT registered)
Registry extract from Companies House
The card will then be posted to you, which can take 7 to 10 days to arrive.
Holvi fees
In the UK, Holvi currently offers two plans: a free one, that has no monthly fees, and a so-called "basic" one, that comes for £9 a month.
The main difference between them is that the free plan doesn't include the invoicing tool.
Holvi also comes with some charges that aren't included in the monthly fee (remember, there's no such thing as both comprehensive and free business banking!).
Cash withdrawal fee. Withdrawing cash from the ATM costs 2.5% of the withdrawal amount.
Abroad usage fee. Every transaction made in a currency other than sterling is charged a 2% fee. Holvi uses the Mastercard exchange rate, which is among the most competitive in the market.
Additional card fee. If you need an extra card, it'll cost you £3 per month.
In other countries, Holvi has two more pricing options, which are more comprehensive and reduce or scrap some of the fees – but again, you can't apply for them in the UK yet.
Is Holvi safe?
Holvi is licensed and regulated by the Financial Supervisory Authority of Finland (FIN-FSA), which is the Finnish equivalent of our FCA (Financial Conduct Authority), and holds companies to the same safety standards that EU regulations demand.
Holvi thus has to keep all customers' funds separated from the company's finances, in the so-called "segregated accounts", which means that even if the company were to go bust, your money can't be used to pay off its debts.
However, Holvi isn't a bank, so the Financial Services Compensation Scheme (FSCS), which normally protects deposits up to £85,000, doesn't apply.
Pros and cons
Pros
It brings together banking, expense management and invoicing.
You can get a very basic service for free.
Easy application process and account set-up.
Available both on browser and on mobile.
Clean-looking and slick mobile app.
Cons
Not all the features are available in the UK.
Quite a few different fees and charges.
It doesn't offer anything more than a current account (no overdrafts or credit cards, for example).
Safe, but not as safe as a bank.
The verdict
The UK isn't Holvi's market of choice, and it shows. Not all the pricing options are available and some interesting features (namely, the online store) are still missing. Also, the fact that the monthly fee doesn't include a basic service such as ATM withdrawals is a bit annoying.
However, its expense and invoicing tools are quite cool. There may be something for you in there, especially if you are a freelancer or if you run a small company that doesn't have much to do with cash and doesn't do much business outside the UK. In that case, Holvi could be an easy (and potentially free) way to separate your personal and your business finances, and also get some help with the accounting side of things on top.
Frequently asked questions