Thinking about getting a VPN service? Hide My Ass is currently offering deals to help you save. Get them here!
About Hide My Ass VPN
The brilliantly named Hide My Ass is a London based VPN provider. With the help of a bright and colourful website, and a trench coat clad Donkey mascot, they provide internet users with advanced privacy, web anonymity services and location setting all for fairly low monthly rates.
---
---
Hide My Ass promo codes and discount vouchers – October 2021
It looks like we don't have any coupons at the moment.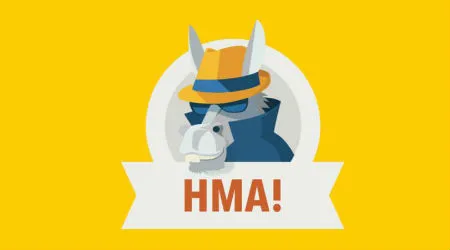 Save up to 43% on your annual subscription
from Hide My Ass
Plus, all plans give you the full VPN service and have a 30 day money back guarantee.
View details
---
What are Hide My Ass's pricing and plans?
Hide My Ass offers three well named and differently priced options for users. All the plans offer the same VPN service, for differing amounts of time, and all come with a 30-day money back guarantee. The company is currently celebrating a big sale, with up to 59% off the service's regular pricing.
Note: all prices are in US dollars
1 month
6 months
12 months
$9.99 per month
$39.96
($6.66 per month)
$59.88
($4.99 per month)
Prices last checked August 2017
---
What operating systems can you use Hide My Ass on?
Hide My Ass is very proud to offer its services on all devices including phones, tablets, computers, smart TVs and games consoles. They also allow two devices to use the service at the same time.
---
How do I setup Hide My Ass?
Once you have decided which package you want, paid and setup your username, then you will download the Hide My Ass client, which will sit on your device like a little app. When you want to use it, simply click on it, enter your username and password and select which country server you would like to connect to. It will connect you and you're good to go.
---
What are the benefits of using Hide My Ass?
Like any other VPN provider, there are three main benefits to using this service.
Access content from other countries. This helps you watch videos or access websites that are, for whatever reason, not available in your country.
Anonymity. No one likes to think that Big Brother is always watching, and VPN providers will give you the upper hand if privacy is an issue.
Security. Hiding yourself on the Internet is also hiding yourself from hackers, or those who use the net for the wrong reasons.
---
How is AVG technologies involved with Hide My Ass?
Hide My Ass teamed up with security company AVG technologies last year. This partnership is the result of AVG technologies acquiring HMA's parent company, Privax. Hide My Ass VPN have promised via their blog that this deal will only benefit customers as the team at AVG share HMA's ambition to become 'the biggest and best VPN in the world.
Other than that, the details are pretty scarce at the moment. However, AVG is one of the most trusted online security companies in the world with over 200 million users. One thing's for sure, we're looking forward to seeing how AVG shapes Hide My Ass in the coming months.
---
What is a VPN and how does it work?
A Virtual Private Network (VPN) is a clever little tool that has become very popular in recent years. If you haven't heard of it, don't worry, it's easy to understand. Basically, a VPN hides your device's Internet Protocol (IP) address, by re-routing it through another IP address. It's essentially an online disguise for your device, and is great for increasing your personal security, restricting tracking and allowing you to access content that is not usually available in your country or region.
---
Frequently asked questions