Google Home is the speaker hub for Google to rule your life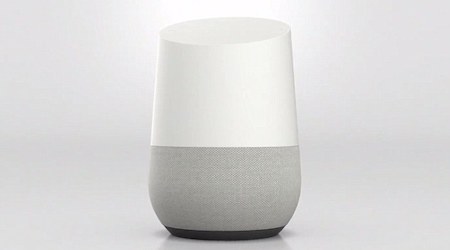 Google's digital assistant isn't just the core of its new Pixel smartphones, but also the new Google Home speaker.
If there was one recurring theme from today's Google Pixel event, it wasn't the arrival of the new Pixel and Pixel XL smartphones, or even the delivery of the Daydream view VR headset. It was that Google is basing a big part of its future success on its new digital assistant platform. One of the key examples of this was the announcement of the Google Home speaker, a centralised hub for your home that uses the digital assistant to let you do pretty much anything Google can do from the comfort of your home.
For all intents and purposes, the Google Home is the search giant's take on the Amazon Echo speaker, which not only works as a speaker for music, but also a voice control system for home automation. Where Google's offering stands apart is in the robust, open nature of its voice recognition, allowing the Home to do almost everything Google can do, but in a friendly, conversational way.
During the launch event, Google showed how the speaker could play back music, even contextually recognising songs or artists when you can't remember them. It can offer real time information on pretty much anything, getting the information from Google's informative featured snippets found in web searches. Like the Pixel assistant, the Home speaker understands the thread of conversation, so if you ask follow up questions you don't need to specify the subject of the question each and every time.
The speaker even has a bit of fun worked in, with examples like being able to virtually flip a coin using the speaker, or get a daily briefing of your planned activities for the day when you wake up.
Thanks to Google's robust platform, the Home will also let you control your smart home appliances, with Philips Hue, Smartthings and IFTTT support built in.
And even better, if you have a Chromecast plugged into your television, you can use the Home speaker to control your viewing. Initially, this will be limited to things like Google Photos and Youtube, but Google has promised Netflix control is incoming.
If you don't want everything you say in your home monitored, there's a mic mute button on the side, and the top of the speaker is a touch sensitive control panel for those times you just can't be heard over the death metal you have cranking out of the networked speakers.
Latest technology headlines