Goldman Sachs attracts 50,000 UK savers to new Marcus account in less than two weeks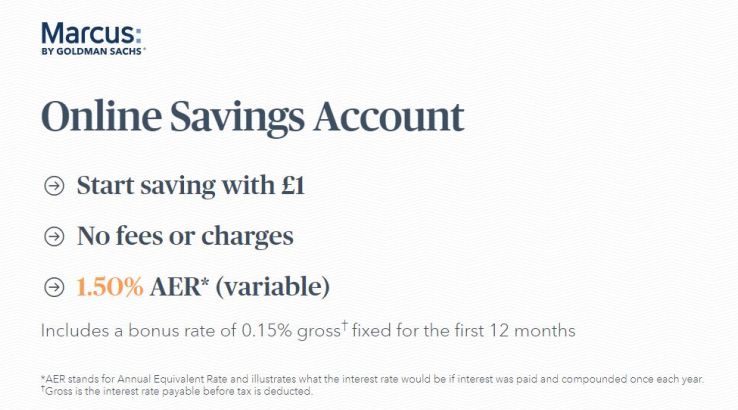 The Wall Street titan is enjoying a rapid uptake of its new offshoot's high-yield easy-access savings account.
Goldman Sachs has drawn more than 50,000 hard pressed UK savers to its new Marcus digital savings account, which pays 1.5%, and includes a 0.15% bonus that expires after the first year.
Savers are able to put aside between £1 and £250,000 and the bank believes the rapid take up is confirmation of the growing frustration UK savers feel after suffering record low interest rates for years.
The new account launched on 27 September offering a 1.5% high yield rate significantly trumps the easy-access savings accounts' national average.
Marcus MD, Des McDaid, says the 50,000 account sign-ups in less than 14 days is "astounding" and exceeds the banking giant's most aspirational expectations. He adds that it sends a clear message that people are very discontented with low interest rates. McDaid also emphasises that hard working people need their savings "to work harder".
The Marcus brand initially trialled its platform with Goldman's UK staff in early September, but began opening accounts to all customers throughout the UK late last month.
The brand is named after one of the bank's founders, Marcus Goldman, and this is its first expansion outside the US, where it was launched offering personal loans and savings accounts online in 2016. It joins the UK's growing number of digital-only banks, that include Revolut, Monzo and Starling Bank, and similarly has no plans to open any High Street branches.
Goldman, which is better known as an investment bank specialising in trading, mergers and acquisitions, made its move into retail banking following a difficult stretch for investment banks. Commentators believe it won't be long before savers benefit from a positive knock-on effect as other providers move to compete with the success of Marcus.
Prior to the Marcus's launch, the average rate being offered by competitors sat at 0.55%. Now, the next best rate to what Marcus offers comes from the Yorkshire Building Society at 1.41%, but here savers are limited to just one withdrawal per year. Otherwise, savers have to look to Shawbrook Bank and Charter Savings Bank, which are both paying 1.4% to customers.
In the run up to the Marcus launch, Goldman Sachs hired 150 extra staff for its London operation, including 100 IT, management and product developers along with 50 customer service, call-centre operatives. As the digital bank grows further hiring is expected.
Goldman is also believed to be planning to expand Marcus into Germany followed by other European countries, with the aim to boost revenues by US$5 billion by 2020. However, Goldman cautions that the 1.5% rate could be subject to change "depending on market conditions".
As finder UK has reported, the investment giant is making other moves in the banking sphere including considering offering custodial services to cryptocurrency funds.
For anyone who is looking to begin or increase their savings, finder UK can help you select the right account. You can also browse our list of the most popular digital banking apps and catch up with the latest reviews of what's on offer.
Picture: Marcus by Goldman Sachs