First apartment checklist: Make moving day stress free
Worried you're forgetting something? Use our handy checklist to make sure you've got all your new home essentials sorted.
You probably don't have the cash to buy every little trinket or piece of furniture you could ever want before you move out, but there's nothing worse than realising you've forgotten one of the essentials.
To save you eating off of paper plates and drinking your first bottle of celebratory wine out of a coffee mug, here's our list of every possible item you should need for every room in the house (or the flat) upon moving in.
We've also listed the best places to buy affordable appliances and furniture… because we're nice like that.
Your bedroom
The chances are, you're waiting until you've got some more cash behind you to shop for a bed, but you will still need a decent mattress. Yes, you can get them on the cheap, but we think a mattress is the one product that's worth investing in – it reinforces good sleeping posture and supports your spine as you snooze.
---
---
Your kitchen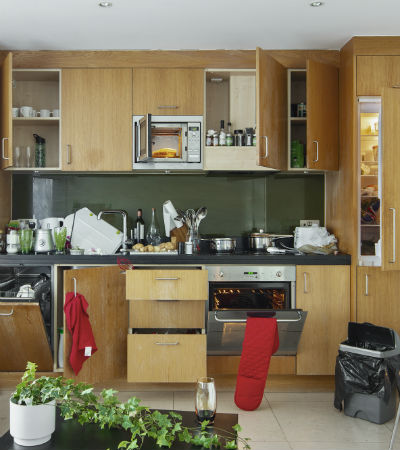 The kitchen is where you really need to think carefully. No one wants to get halfway through preparing a delicious meal, only to realise that you don't have a sieve, a rolling pin or a grater to finish the job. Luckily, most kitchenware is relatively inexpensive and makes for a pretty great housewarming gift… so start hinting now.
---
---
Your bathroom
The bathroom is one area that you can save a bit of cash on. Let's face it, the main priority here is having a good towel set or two, as well as a bath mat to stop your floor from getting all wet and slippery. If you're living with housemates, you may also want to invest in drawer dividers. These can help to separate your personal things and avoid arguments later on.
---
---
Your living Room
We recommend that you buy all your essentials first, but you don't need to feel bad about spending money on items that will help make your house feel like a home. We're talking a cosy, comfy area to watch a movie, or a comfortable reading space to curl up with a good book. Indoor plants can work wonders for this, so too can fairy lights, candles and diffusers. And when it comes to a TV, remember that you don't have to spend a fortune on the latest model. It just needs to work.
---
---
Your laundry
Moving into your own place is oh so exciting until you realise you will probably need to buy your own washing machine and dryer (not very glamorous). They're appliances that you will need to use often though, so don't skimp. If you are really tight on cash, you can save money by keeping an eye out for package deals that offer both machines for less.
---
---
Other essentials
It's often these little essentials that don't really fit into any other category that most people forget about. We recommend investing in a basic tool kit and a first aid kit. It also pays to have items like a flashlight and spare batteries in case your power goes out (it happens). And if your new place doesn't come with curtains or window coverings, you may also want to start shopping around.
---
---
First home checklist:
Your bedroom
Mattress
Pillows and pillow covers
Sheets
Quilts and covers
Blankets
Coat hangers
Bed
Bedside tables
Bedside lamps
Storage solutions (boxes, shoe racks, etc.)
Full-length mirror
Kitchen
Fridge
Microwave
Kettle
Toaster
Dining chairs and table
Dinner plate set
Cutlery
Pots and pans
Drinking glasses
Spatulas, ladles, whisks
Can and bottle openers
Bin
Sieves, graters and peelers
Mugs
Oven gloves
Bakeware (trays and baking dishes)
Frying pan
Knife set
Cutting boards
Measuring cups and spoons
Dish towels
Dish drying rack
Mixing bowls
Bathroom
At least one good towel set (two is better)
Bath mat
Toothbrush holder
Toilet brush
Shower caddy
Shower curtain (if needed)
Living Room
Couch
Television
Television stand (if needed)
Coffee table
Armchair
Bookshelf
Candles, a diffuser or fairy lights
Indoor plants
Laundry
Washing machine
Dryer
Iron
Ironing board
Laundry hamper
Broom and dustpan
Vacuum
Mop
Other essentials
Curtains
Cleaning supplies (cloths, bleach, rubber gloves)
First aid kit
Flashlight
Toolkit with basic tools (screwdriver, hammer, etc.)
Rubbish bags
Washing up liquid
Spare light bulbs
Spare batteries
Fan (if you don't have air conditioning)
---
Where to buy items for your first home
Our very best deals and discounts
Popular Reads